A ¾ motorcycle helmet leaves the wearer's face open and protects the back, side, and top of the head. This helmet type doesn't have a chin guard, leaving your face completely exposed. With these helmets, you will get more coverage than not wearing a helmet or half-face helmet when on the road.
With technological advancements, ¾ motorcycle helmets are now available with such configurations that you will get a feel of wearing a full-face helmet. The best 3 4 motorcycle helmet offers unobstructed and peripheral vision. Some models come with removable and retractable visors for your convenience.
This comprehensive guide reviewed and compared the safest, well-ventilated, and lightest ¾ motorcycle helmet.
9 Best ¾ Motorcycle Helmet Reviews 2023
All the reviewed ¾ motorcycle helmets offer reliable performance since they are DOT certified. A few models are ECE and FMVSS certified also. So, you can be assured that these enlisted helmets will protect your head against impacts.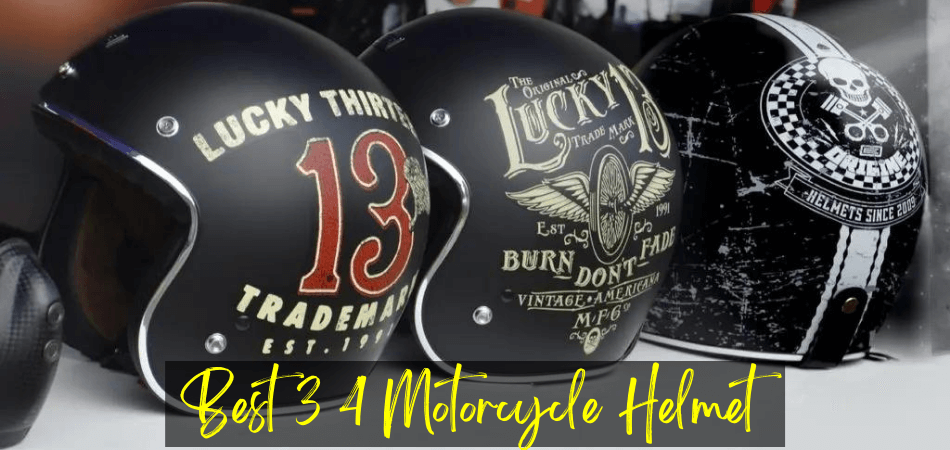 1. Best Overall: ScorpionExo Covert Unisex Motorcycle Helmet
On some days, you will want full-face protection when riding. On other days, you want the wind to blow around your face. The ScorpionExo Covert Unisex Motorcycle Helmet is a 3/4 open helmet, giving you complete face protection and freedom to enjoy the wind, simultaneously. Both men and women can wear it for its dull black finish. When choosing a helmet with strength and style, this would be an ideal choice.
| | |
| --- | --- |
| | |
| + More colors | + More colors |
| Available Size: X-Small, S , M , L , XL, XXL | Available Size: X-Small, S , M , L , XL, XXL |
Technical Details of ScorpionExo Covert Unisex Helmet
| | |
| --- | --- |
| Shell Material | Polycarbonate |
| Weight | 3.5 lbs. |
| Liner | Anti-Microbial Comfort Liner |
| Vehicle Service Type | Street-sport-motorcycles, ATV, Off-Road Bike, Scooter, UTV, Street Bike, Snowmobile |
| Safety Rating | DOT FMVSS No. 218 Certified |
Features & Benefits
Revolutionary 3-in-1 Design: Being a 3-in-1 design means the helmet is customizable according to your required protection level and look when on the road. It comes in 3 pieces: the helmet top, rear comfort sleeve, and face mask. The helmet top makes it a standard half-face version. Then, the rear comfort sleeve hooks into the top and gives the helmet a ¾ look, ensuring ultimate protection to your neck and back of the head. Lastly, the face mask provides a distinctive look attached using high-powered magnets, allowing you to get the helmet on and off without hassle.
Sturdy Construction: The shell is constructed using polycarbonate, minimizing severe impact to protect your head. Also, the magnets in the face mask are much more stable for its neodymium construction, eliminating accidental on and off. People prefer this helmet over other models for its futuristic and sleek look.
Comfortable Fit: Thanks to the modularity of the Scorpion helmet, which confirms snug fitting on your head. The plush lining at the top of the helmet gives a tight yet comfortable fitting. Also, keep in mind these liners are removable and washable. So, remove and wash the liners to keep the helmet odor-free. More importantly, KwikWick II material is used in the liners, removing moisture effectively to keep you cool. Additionally, the materials are anti-bacterial, keeping your helmet clean.
Clear and Glare-free Visibility: When you wear the helmet with ¾ mode, you will always have an obstacles-free vision. After attaching the face mask, there is an easy to maneuver clear and tinted visor to give you glare-free vision. You will get clear vision during both day and night rides. The visor flips up and down quickly, making it suitable for all types of riders. Another outstanding feature of the visors is the EverClear coating. This feature keeps the visor free from fog or moisture on cold or rainy days.
Impressively Quiet: Road noise reduces tremendously after putting on the face mask. However, seams are available between each section; the helmet is not as quiet as a full-face helmet. But the sound level remains at a minimal level so that you can concentrate on the road while riding.
Multiple Venting Option: Add and remove the pieces to decrease or increase the ventilation. Even after adding the face mask, enough air flows within the helmet for its multiple venting options. Two smartly positioned vents on the top provide sufficient air on your head. Vents in the chin guard keep your face sweat-free in the long rides.
2. Best Lightweight: Daytona ¾ Open Face Motorcycle Helmet
The Daytona ¾ Open Face is one of the lightest ¾ motorcycle helmets in the market, which is DOT certified. Due to the contoured, slim, and smooth shell construction, it eliminates the mushroom appearance. Also, it comes with a quick release ratchet-style chin strap, allowing a rider to use it while wearing gloves. The entire finish is nice, and the liner is comfortable.
| | |
| --- | --- |
| | |
| + More colors | + More colors |
| Available Size: X-Small, S , M , L , XL, XXL | Available Size: X-Small, S , M , L , XL, XXL |
Technical Details of Daytona ¾ Open Face Helmet
| | |
| --- | --- |
| Shell Material | ABS |
| Weight | 2.45 lbs. |
| Liner | Moisture Wicking Fabric |
| Recommended Uses for Product | Motorcycling |
| Safety Rating | DOT approved |
Features & Benefits
Lightweight 3/4 Slim Design: This headgear is well-known for its light ABS plastic constriction weighs only 2.45 lbs. As a result, you can wear it comfortably during long rides. If you don't like to wear bulky helmets, the Daytona ¾ open face helmet will surely meet your requirement. Moreover, it reduces neck fatigue for an enjoyable riding experience. True to its low-profile claim, the Daytona is well made and still fits comfortably well.
Fits Just Right: The helmet doesn't leave any pressure points in your head and any part of your face. It will snugly fit on your head for the contoured shell design. In addition, if you feel uncomfortable, change the position of the chin strap forward or backward according to your convenience. The straps quality seems to be of utmost good, allowing the helmet to fit on your head perfectly. Overall, the ratcheting chin strap is a pleasure to use over the common D-ring.
Cool and Cozy: Moisture-wicking fabric is used in the helmet's interior. This way, it absorbs sweat moisture efficiently and keeps the inner area odor-free. At the same time, your head remains cool throughout a ride. Also, due to its ¾ design, your head and face receive enough air to cool you down on a hot and humid day.
Removable Sun Shield: Generally, an ¾ open face helmet doesn't come with a sun shield. This helmet is an exception. It comes with a sun shield that works well to shade your eyes from the sun. Even when you ride in the west in the afternoon, sun rays can't hit your eyes. The visor is positioned low enough not to catch the wind like other 3/4 helmets.
Premium Quality Finishing: Many users appreciate its durability and high-quality finishing. You will never find chips or dents or color fading when exposed to sunlight for a prolonged period. The color remains shiny, glossy, and flat for long days.
DOT Standard: It is rigorously tested to give your head the necessary protection on the road. Since DOT is certified, your head will be protected from fatal accidents. The helmet resists hard impact and ensures a safe journey. Its robust construction ensures that no head injuries will be there during a crash.
3. Best Unisex: ILM Open Face Motorcycle ¾ Half Helmet
Every cruiser motorcyclist wants to wear a lightweight helmet without compromising safety. The ILM Open Face Motorcycle ¾ Half Helmet provides ultimate comfort and protection for both men and women. Whether you drive a dirt bike, MTB, street bike, cruiser, ATV, etc., this ¾ motorcycle helmet guarantees riders are not compromised in any area.
Technical Details of ILM Open Face Helmet
| | |
| --- | --- |
| Shell Material | ABS |
| Weight | 3.74 lbs. |
| Recommended Uses for Product | Cycling, Motorcycling |
| Vehicle Service Type | ATV, MTB, Dirt Bike, Street Bike, Cruiser, Scooter, Moped, and Other Outdoor Sports |
| Safety Rating | DOT approved |
Features & Benefits
Detachable Accessories: This ¾ motorcycle helmet is equipped with an adjustable sun shield, removable face mask, and a drop-down sun visor. The detachable feature of all these accessories gives riders the convenience of wearing it whatever way they need. Remove the face mask when you require fresh air while riding. In addition, a drop-down sun visor protects you from sun glare or light glare in both day and night. Moreover, drop up the sun visor when you don't require it. Furthermore, the adjustable sun shield blocks sunlight from entering your eyes when riding.
Quality ABS Shell: Characteristically, ABS is a solid and rigid material. Also, it is scratch-resistant. The shell is made of ABS, protecting your head from a heavy collision. For its ABS construction, it becomes partially resistant to chemicals and weathering. The helmet also remains stable at high temperatures and tough at low temperatures.
Quick Release Buckle: The helmet features a quick-release buckle, a reliable, convenient, and quick fastening and unfastening method for helmets. This mechanism allows the helmet to stay in its position stably during a collision. Also, unfastening the helmet becomes effortless in an emergency. More importantly, the helmet will not shake when riding because of this feature.
Multiple Vents: Comfortability is significantly important when riding a motorcycle. Without comfort, you can't concentrate on the road; thus, the chance of an accident increases. You will love to know that this helmet features several vents in different positions. Moreover, the air vents come with a one-touch control mechanism. Using one of your fingers, you can easily open and close the vents. This way, when riding in the rain or cold temperature, close the vents for comfortable riding. Moreover, excessive heat gets released through the vents on hot and humid days.
Removable and Washable Liners: Removing the liners is extremely easy for maintenance purposes using the buckles. Clean the liners with soapy water to keep odor away. As a result, the interior of the helmet will remain bacteria-free. Also, you will feel comfortable wearing the helmet every time. Besides, the liners give you comfort in the long rides by absorbing sweat and moisture effectively.
Detachable Chin Guard: The detachable chin guard is an innovative feature of this helmet. It allows a rider to explore different terrains and conditions. When climbing uphill, remove the chin bar to reduce the weight. On the other hand, attach the chin bar for ultimate protection to your head.
4. Best Vintage Helmet: TORC T50 Route 66 ¾ Motorcycle Helmet
The TORC T50 Route 66 ¾ Motorcycle Helmet is ideally designed for bikers who want a lightweight helmet. It weighs only 3 lbs., permitting you to enjoy every ride without a burden on your head. Wearing this ¾ helmet is effortless; put it on your head, and you are ready to go. This vintage-looking helmet brings a retro look when you zoom away on your bike.
| | |
| --- | --- |
| | |
| + More colors | + More colors |
| Available Size: X-Small, S , M , L , XL, XXL | Available Size: X-Small, S , M , L , XL, XXL |
Technical Details of TORC T50 Route Helmet
| | |
| --- | --- |
| Shell Material | ABS |
| Weight | 3 lbs. |
| Recommended Uses for Product | Motorcycling |
| Interior Material | Ultra Suede Technical Fabric Inner |
| Safety Rating | DOT and FMVSS 218 |
Features & Benefits
Tough Build Quality: Despite its lightweight build, the helmet is solid and rigid enough to protect your head during an accident. Advanced ABS shell is approved by DOT and built to last. It is comfortable to wear. So, if you are a regular biker, riding short distances frequently, this would be an ideal solution for you. Its premium build quality is exceptional that you will rarely find in other ¾ motorcycle helmets. Despite its affordable price tag, it seems like a high-grade motorcycle helmet.
Comfortable Interior: The ultra-sued technical interior provides cushioning and padding. Moreover, remove the interior lining for washing whenever necessary. Low-priced helmets don't have this feature, and the rider feels discomfort. Since you can wash the interior, you don't have to deal with the murky sweat smell after wearing it. More importantly, you will never experience the trickle of sweat over your face for the moisture-wicking interior. Besides, if you need more room inside the helmet, remove the interior lining and enjoy your ride. The lining is not too thick and not so thin; you can hear your radio on your bike.
Removable Visor: It is equipped with a removable sun visor. With a ¾ motorcycle helmet, the sun visor provides the required protection by eliminating the sun from shining brightly on your eyes. Sun visor is an important aspect of a decent motorcycle helmet designed to offer maximum security and ease of use. Apart from protecting the eyes from the harsh sunlight, the visor enhances the aesthetics of the helmets.
DOT Certified Helmet: Many bikers don't want to wear 3 4 motorcycle helmets for safety concerns. They think ¾ helmets don't provide the necessary protection to the head. The good news is that this helmet is DOT approved, giving you peace of mind when riding on the highways. It is comfy and can be removed from the head effortlessly in a critical situation. Overall, the helmet gives you the proper protection for your head.
Excellent Graphics and Design: Unique graphic design is one of the interesting features which makes it unique from other retro-style helmets. If you are fond of retro style and vintage look, you will never want to take it off. It is a style statement for its rugged and worn-off look.
5. Best Long-lasting: Shoei J-Cruise II Helmet
The Shoei J-Cruise II Helmet is designed with all the functionality of an open-face helmet, except the chin bar. It is slightly lightweight, has better sealing in the main visor, a deeper sun visor, improved aero, and better venting. This is a high-quality ¾ motorcycle helmet, offering the same aero, comfort, protection, and features of a full-face helmet.
| | |
| --- | --- |
| | |
| + More colors | + More colors |
| Available Size: X-Small, S , M , L , XL, XXL | Available Size: X-Small, S , M , L , XL, XXL |
Technical Details of Shoei J-Cruise II Helmet
| | |
| --- | --- |
| Shell Material | Fiberglass Composite |
| Weight | 3.79 lbs. |
| Recommended Uses for Product | Motorcycling |
| Inner Material | Expanded Polystyrene |
| Safety Rating | DOT, ECE |
Features & Benefits
Compact Lightweight Design: Lightweight yet durable AIM outer shell gives it a rugged look. High-quality composites are blended with organic and glass fibers, giving it flexibility and strength under impact. A shock wave spreads out more evenly across the helmet, which means you will never experience a hard impact. Another vital thing is this composite fiber helmet score 3.76 out of 5 for safety when tested by That makes this helmet the second-best for safety and weight. Overall, the shell is built to give your balanced and stress-reducing motorcycling experience.
Improved Ventilation Performance: It consists of 3 big vents on the top to ensure a ton of air gets through. You will enjoy 20% – 30% more airflow than other helmets in terms of ventilation. Hot air gets passed quickly through the rear air vents to keep you relaxed. Another great thing about the 3 top vents is they are adjustable. These vents can be adjusted in the half-open and closed positions. So, if you feel relaxed in the winter or rainy days, adjust the vents according to your requirement.
Multi-density EPS Liner: The manufacturer built a multi-density EPS liner with a harder and softer EPS foam blend. As a result, during high-speed impact, it efficiently reduces energy transfer. Simultaneously, the softer nature is ideal for slower speed, absorbing lower-energy impact quite effectively. So, the rider will be protected from all accident types. The EPS liner is smartly positioned in different helmet areas, improving cooling and confirming smooth airflow.
Decent Noise Level: No other ¾ helmets are impressively quiet as the Shoei J-cruise II. It is because of the face shield design and interior padding. The face shield is more extended and has a wide curve design that helps divert airflow. In addition, the new upper seal further keeps air out. However, during urban riding, you may need to keep the face shield slightly open to keep it fog-free. Interestingly, whatever noise you will get after wearing it, the noise level is tolerable.
Solid Visibility: The J-cruise 2 is broad and massive, giving you a clear view of the road ahead. You can easily adjust the face shield in 3 secure positions: full up, full down, and slightly up position. More importantly, the shield features a tight-to-lock mechanism, preventing accidental shut down. The tight hold lets you cruise at high speed perfectly fine when the shield is fully up or slightly up position.
6. Best for Mountain Climb: TORC T50 Route 66 Open Face Helmet
The TORC T50 Route 66 Open Face Helmet is popular among motorcyclists for its styling and design. Whether you plan to race out in the open or for a mountain climb, it offers a good fit. Although it is open-faced, it helps you protect yourself during an accident. It is easy to wear and has a solid helmet with impressive artwork.
| | |
| --- | --- |
| | |
| + More colors | + More colors |
| Available Size: X-Small, S , M , L , XL, XXL | Available Size: X-Small, S , M , L , XL, XXL |
Technical Details of TORC T50 Open Face Helmet
| | |
| --- | --- |
| Shell Material | Acrylonitrile Butadiene Styrene |
| Weight | 3 lbs. |
| Inner Material | Suede |
| Recommended Uses for Product | Motorcycling |
| Safety Rating | DOT Certified |
Features & Benefits
Acrylonitrile Butadiene Styrene Shell Construction: The helmet weight is reduced due to the Acrylonitrile Butadiene Styrene Shell Construction. Also, this material makes it rugged and robust, resisting hard collisions. Moreover, the helmet delivers optimum protection in sudden accidents or jerks. Furthermore, in terms of withstanding abrasion, it also provides good performance. Overall, the build quality is excellent, unavailable in affordable helmets.
High-quality Interior Padding: The interior of a helmet must be made with high-quality fabrics that quickly remove moisture and sweat from the rider's head. This helmet's interior is equipped with a moisture-wicking material. It wicks away moisture and sweat on hot and humid days and produces a cooling effect. So, a rider will not hesitate to go for long rides. Simultaneously, the fabric is breathable, allowing enough air to flow in.
Detachable and Washable Pads: Many riders feel discomfort in the ears due to the padding on the summer days. The detachable feature lets you remove the padding around the ear to make it much cooler to wear. Additionally, During the winter months, it's easy to snap in the padding that goes around the ears, so your ear doesn't turn into ice cubes while riding. Besides, you can wash the pads using soap and a warm water mixture to avoid odor build-up.
Snap-on Closure: Snap-on helmets are easy to wear and removing doesn't consider a complicated mechanism. If you are looking for a helmet with an easy and hassle-free design, this will meet your requirements. The snap at the chin strap eliminates flapping when riding at high speed. Also, the helmet stays on the head stably during critical situations. Furthermore, you can remove them without trouble in emergencies.
Removable Sun Visor: Usually, affordably priced ¾ motorcycle helmets don't come with a sun visor. The good news is; it features a removable sun visor that can easily be removed when not required. While with the sun visor, you will get adequate protection from sunlight. Plus, if you want a clear visor, buy a suitable one separately. This means you will have the full freedom to style the helmet as per your preference.
Unique Graphic Design: Most motorcyclists are impressed with its excellent graphic design. The design is pretty versatile and matches both men and women. Never faded color will give a new and fresh look for many days.
7. Best Reliable: Protoee ¾ Motorcycle Helmet with Visor
Are you looking for a reliable ¾ motorcycle helmet at an affordable price? With so many technological advances, the Protoee ¾ Motorcycle helmet with visor is promised to give you the most secure riding experience. It has an incredibly functional design with a visor and a rugged exterior to resist heavy impacts. The design is also stylish and vintage, which will certainly grab your attention.
Technical Details of Protoee ¾ Motorcycle Helmet
| | |
| --- | --- |
| Shell Material | ABS Engineering Plastic |
| Weight | 1050 g |
| Suitable for the Season | 4 seasons |
| Vehicle Service Type | Cruiser, ATV, Scooter, Chopper |
| Safety Rating | DOT and ECE certified |
Features & Benefits
Vintage and Lightweight ABS Design: While riding long distances, a rider may feel fatigued in the neck and head. Keeping this point in mind, it is designed with lightweight ABS materials. The helmet weighs only 1050g and doesn't put any pressure on your head, neck, or other areas. Thus, it becomes suitable for city commutes and long-distance rides. Additionally, vintage construction makes it hard from the outside and comfortable from the inside.
EPS Buffer Layer: The EPS buffer layer plays a significant role in helmets in terms of energy management. The helmet protects single strong impacts by distributing the weight throughout the headgear. Collision energy absorbing characteristics of the EPS buffer layer are better than other materials. The top of the helmet effectively minimizes peak acceleration of collision to ensure the safety of the wearer's head. Moreover, the EPS buffer layer improves cushioning performance.
Multipurpose Helmet: Whether motorcycling, cruising, biking, touring, or other general use, this helmet is made for multipurpose use. This means you don't need to buy different helmets for different motorcycling activities. Also, it can be worn by adults, men, and women for its actual size feature. However, it is recommended to measure your head before buying.
Comfortable Lining: The comfortable liner facilitates breathability and evaporates heat transfer quite efficiently. Although, it doesn't have any vents in the top or rear area. But it is lined with soft and comfortable fabric, offering maximum airflow in the helmet. The helmet gives you 4 season ventilation. In order to keep you cool, the liner absorbs moisture and sweat. Moreover, you can conveniently wash the liner by removing it and preventing sweat buildup. So, the helmet liner will look fresh and new all the time.
Anti-scratch, Detachable Visor: Protect your face and eyes by wearing this helmet since it is engineered with a detachable and anti-scratch visor. Stones, pebbles, dust, dirt, etc., can't harm you due to the visor. Also, the visor remains damage-free and spot-free for long days for the anti-scratch coating. In addition, the visor gives you a wide and clear view of the road. So, motorcycling will be much more enjoyable and safer than before.
8. Best for Breathability: Daytona ¾ Open Face Motorcycle Helmet
The Daytona ¾ Open Face Motorcycle Helmet is intended to offer maximum protection and safety to its wearer. It prioritizes rider protection over other things suitable for the cruisers. You won't have to worry about its fitment because of its all wearers either with small or big heads. This ¾ helmet fits snugly on your head and offers maximum breathability when you are on the road.
| | |
| --- | --- |
| | |
| + More colors | + More colors |
| Available Size: X-Small, S , M , L , XL, XXL | Available Size: X-Small, S , M , L , XL, XXL |
Technical Details of Daytona ¾ Open Face Helmet
| | |
| --- | --- |
| Shell Material | Acrylonitrile Butadiene Styrene |
| Weight | 2.1 lbs. |
| Recommended Uses for Product | Motorcycling |
| Vehicle Service Type | Sport Bike, Cruiser, Adventure Tourer, Street Bike, Chopper |
| Safety Rating | DOT certified |
Features & Benefits
Superior Impact Protection: This is a low profile ¾ helmet made with energy-absorbing and impact-distributing properties. Its rigid outer shell resists penetration, and the inner liner absorbs energy. Moreover, the construction spreads forces over a larger area, keeping your head safe. Furthermore, Daytona prevents head injuries in uncontrolled environments. So, you can use it with a sport bike, cruiser, adventure tourer, street bike, chopper, motorcycle, etc.
Nylon Strap Retention and Quick-release System: Like all other standards ¾ motorcycle helmets, it also includes nylon strap retention. This retention type stabilizes the helmet weight by distributing light and even pressure throughout the head. More importantly, nylon strap retention keeps the helmet perfectly in the head so that you can continue riding at high speed. In addition, the quick-release system eliminates pinching in your head or ear. At the same time, this mechanism lets you adjust the helmet forward and backward based on your comfort level.
Moisture-wicking Inner Liner Fabric: Undoubtedly, you will sweat when motorcycling on hot and humid days. This can make riding uncomfortable, and odor buildup will also happen. Thanks to the moisture-wicking inner liner fabric, which eliminates moisture and sweat buildup. The material pulls the sweat and moisture away from your skin and absorbs sweat to keep you cool. Simultaneously, it prevents bacterial and fungal growth. Moisture-wicking fabric creates an additional layer of air insulation.
Adjustable Chin Strap: The chin strap comes with an adjustability feature for your convenience. This feature keeps the helmet on the wearer's head steadily during a hard crash. For this reason, the strap is manufactured with strength and durability in mind. Also, you can remove the helmet from the head with the easy-to-use chin strap in certain situations.
Lightweight and Breathable: ABS shell makes it lightweight for excellent comfort. Despite becoming a light helmet, it delivers you reliable and consistent protection. For its soft lining, it becomes extremely breathable too. It means your riding will always be comfortable regardless of the distance, terrain type, and weather conditions. With a breathable feature, it is perfect for warm-weather riders.
9. Best for Clear Visibility: LS2 Open Face Track Helmet
The LS2 Open Face Track Helmet offers the same benefits as standard helmets that cost more than twice its price. Its ¾ open-face design has a kinetic polymer alloy shell that meets DOT and ECE certificates. This means ultimate protection is confirmed when you have this helmet on your head. Even if you are riding in a dark tunnel or full sunlight, no disruption will be there in your visibility for the integrated dual shield mechanism.
Technical Details of LS2 Open Face Helmet
| | |
| --- | --- |
| Shell Material | Kinetic Polymer Alloy Shell |
| Weight | 2.95 lbs. |
| Recommended Uses for Product | Motorcycling |
| Vehicle Service Type | Street-sport-motorcycles, Street-cruiser-motorcycles, Street-motor-scooters |
| Safety Rating | DOT and ECE Certified |
Features & Benefits
Open Face ¾ Design: Open face ¾ motorcycle helmets are much lighter than full-face motorcycle helmets. Therefore, it is less fatiguing on the head and neck. It uses lightweight polymer kinetic alloy, meeting and exceeding DOT and ECE certificates. KPA is impact-resistant, giving you protection against hard impact. This material is also well-known for its energy-absorbing capability and extremely tough nature. So, hard impacts can't damage the outer shell.
Built-in Twin Shield System: This helmet includes an optically precise polycarbonate twin shield system. This shield protects your eyes and face from impact as they are characteristically high-resistant material. At the same time, scratches can't appear on the visors. This means you will always have better clarity when riding. Controlling these visors is also effortless with the push of a button. Thus, you can control the air and light to get into the helmet as per your requirement.
Fully adjustable flow-through ventilation: Another worth-mentioning feature of this helmet is the excellent ventilation system. It comes with 4 vents on the rear side and 2 vents at the top. Fresh air enters the helmet through the top vents, and hot air leaves via the rear vents. So, you will always remain sweat-free when riding in humid weather. Moreover, on the winter and rainy days, you can close the vents to keep you warm and comfortable throughout a long or short ride.
Double D Fastener: Secured fit is confirmed every time because of the double D-ring fastener. It promotes correct fastening with every use. This fastening type consists of a few moving parts, allowing you to secure the helmet over your head in an effective way. During a crash or emergency, a D-ring fastener always provides reliable performance. You can easily put the helmet on and off due to the D-fastener.
Plush Comfort Liner: Fully removable and washable plush comfort liner is made with breathable fabric. Enough air passes through the liners to give you superior comfort when riding. Thus, you will never experience sweat on your face, which can distract you from the road.
Great Fitment: The fitment is comfortable for everyone. After wearing the helmet, there will be no pressure points. When the face shield is fully lowered, rain stays out, and the air gets deflected perfectly. There is plenty of room for sunglasses and glasses. It is easy to use and secure in every situation.
When Should I Wear a 3/4 Helmet?
Open face or ¾ helmets have become popular nowadays, for a good reason. If you are confused about whether you should buy a 3/ helmet, below are a few answers.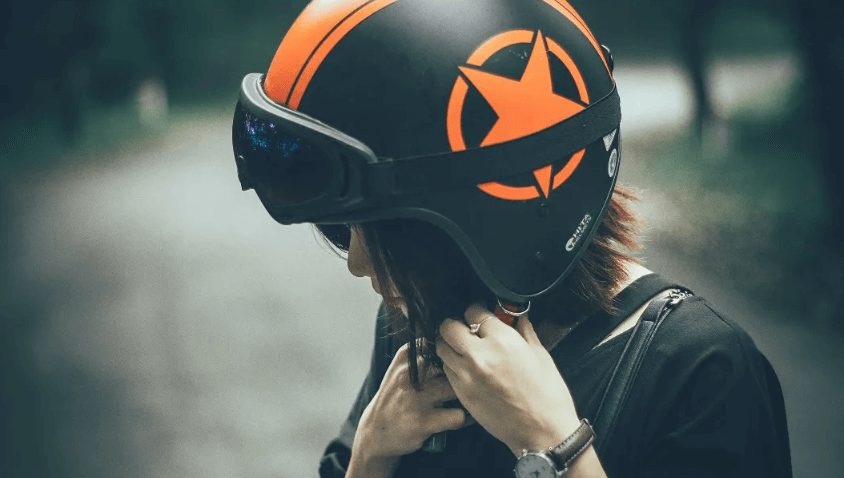 For Good Ventilation
You will get a substantial amount of air ventilation throughout a ride. Good air ventilation is required by a rider when motorcycling in hot traffic or tropical climate.
For Preventing Fatigue
¾ helmets are lighter than full-face helmets. After wearing them, a wearer will not experience fatigue or strain on the neck, head, and shoulder. So, if you want to keep your head, neck, and shoulder more relaxed, an open face or ¾ motorcycle helmet would be an ideal choice.
For Tight Budgeted Customers
¾ helmets are inexpensive. If your budget is tight and you require a reliable helmet, go with ¾ helmets.
Practical for Short Trips
They are suitable for short and peaceful trips on well-kept roads. Open face helmets ventilate perfectly inside of headgear in quick trips under the scorching heat of the sun.
Advantages of a ¾ Motorcycle Helmet
We all know that wearing a motorcycle helmet is a must. People have several benefits for preferring a ¾ motorcycle helmet. Here are a few reasons.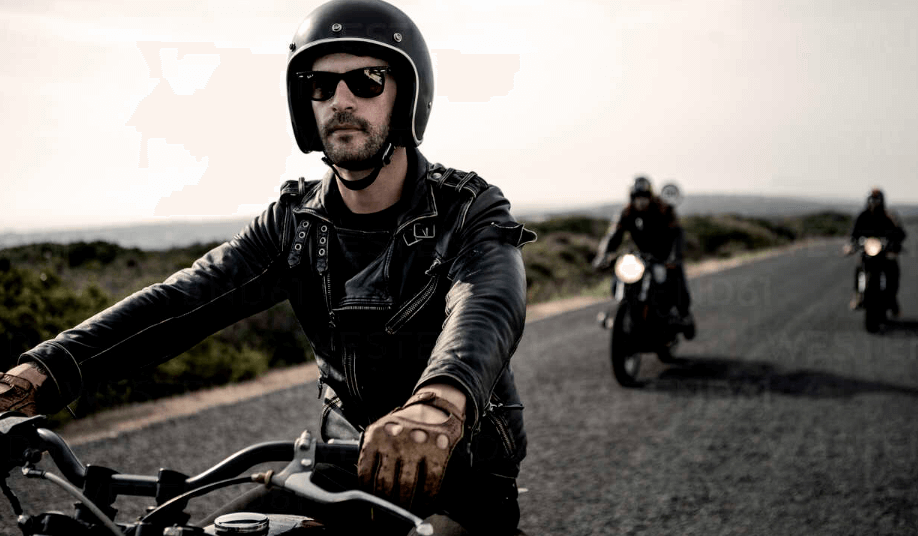 Comfortable to Wear
One of the most significant benefits of ¾ motorcycle helmets is they are incredibly comfortable to wear, especially in hot and humid weather. They are easy to put on and off. Also, after wearing them, you will not feel pressure in any points of your head, ensuring comfortable wear.
Lighter and Easier to Carry
Most ¾ motorcycle helmets are made of lightweight material. So, a rider can conveniently carry them when walking around. At the same time, they don't put much pressure on the wearer's head and neck by providing a secured fit.
Less Expensive
A ¾ motorcycle helmets are less expensive compared to full-face helmets. Don't think that they tend to be less featured for being less expensive. They also come with a similar feature that full-face motorcycle helmets have.
Provides Excellent View
Compared to full-face motorcycle helmets, ¾ helmets do not tend to build fog or moisture. Thus, you will always have clear visibility. Moreover, keeping track of the traffic lights and other things get easier.
Let you Feel Wind and Sun
You will be able to feel the wind and sun on your skin. Most riders love the freedom the motorcycle gives. But a full-face helmet may let them feel stifled. A ¾ motorcycle helmet would be an effective alternative in this case.
Frequently Asked Questions
Is a ¾ motorcycle helmet safe?
Yes, a ¾ motorcycle is safe. However, ¾ motorcycle helmets don't provide protection as full-face helmets. But they are better than half-face helmets or not wearing helmets when riding a motorbike.
Which brand produces the best ¾ helmets?
Several brands are manufacturing ¾ helmets. That is why there is an ocean of ¾ helmets with different models and designs. Daytona, LS2, ScorpionExo, ILM, TORC, Shoei, etc., are renowned brands for manufacturing reliable ¾ motorcycle helmets.
How should a ¾ helmet fit?
After buying a ¾ helmet, the next focus should be on proper fitment. You just need to measure your head size and learn the shape to ensure the exact size. Generally, 3 head shapes are available: round oval, intermediate oval, and long oval. Then measure your head size. Grab a measuring tape and wrap it around your head. While measuring, make sure the tape is positioned 2" above your eyebrows.
Now, get your selected helmet size chart and compare your head size against the chart. Choose the size that matches the measurement of your head. Next, order the helmet. After receiving the helmet, you must wear it. Initially, you may feel discomfort, and adjusting will be tricky. Once adjusted, you will feel snug.
Check for any pressure points. If there are no pressure points, the helmet is good to go. To ensure proper adjustment and satisfaction, wear the helmet for a minimum of half an hour. Contact the seller and change or replace it following the correct size option if you feel discomfort. Choose a helmet that fits snugly for a better and more comfortable riding experience.
Wrapping Up
Not wearing a motorcycle helmet is dangerous because, this way, you are exposing yourself to a life-threatening accident. The best 3 4 motorcycle helmet is reliable enough to give you the required head protection during an accident. This helmet type is comfortable and easy to wear as well.
We recommend you to buy the ScorpionExo Covert Unisex Motorcycle Helmet as it comes with solid and durable polycarbonate construction. With its revolutionary 3-in1 design, your head will be protected during a crash. The design also gives you the freedom to enjoy wind and air with the removable front mask and rear sleeve. Additionally, an aero-tuned ventilation system, comfortable liner, dual-density EPS perform all together to give you ultimate comfort.