Every rider wants to wear the best gear available when riding. If you prefer a clear vision and wind on your face along with safety, then there's nothing safer than a full-face helmet. These helmets are designed to protect your head, face, and jaw. In addition, they are comfortable to wear.
People think the best product comes with an expensive price tag. But this conception is not true at all. You can find a full-face motorcycle helmet at a reasonable price with extensive research. Since many models are available in the market, the decision can go wrong if you don't know how and where to find them.
To save you from the hassle of extensive research, we find out the best full face motorcycle helmet under $200. Don't sweat! These models meet the standard of road safety.
Are Full-face Motorcycle Helmets Safer?
A full-face motorcycle helmet provides 3X times more protection to the wearer's face, head, chin, and jaw than other helmet types. This study proves full-face motorcycle helmets are safer.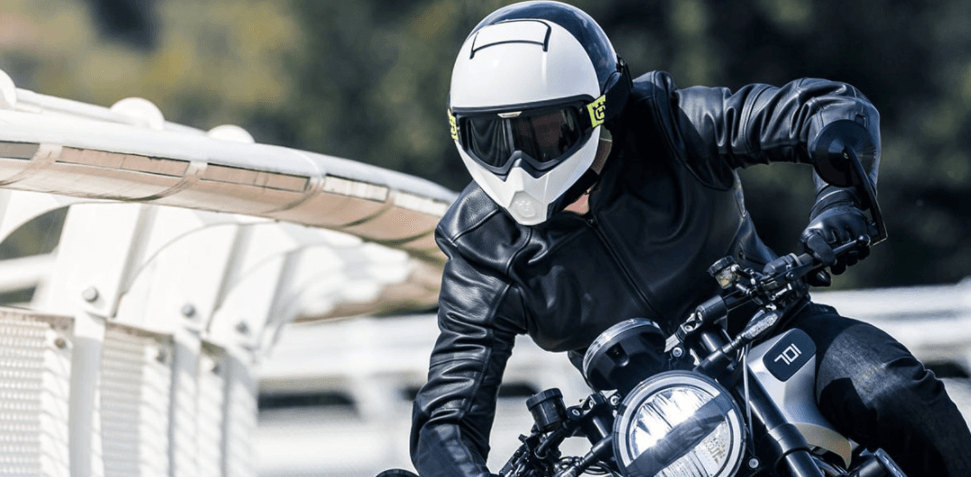 Protects Chin, Face, and Head from Severe Impacts
You should always provide maximum protection to your chin, face, and head. During a crash, a full-face helmet offers superior protection from severe impacts.
Full-coverage helmets are also known as "integral helmets." A single exterior shell is used to manufacture these helmets. Also, they don't have seams or hinges like modular helmets. As a result, this front part of this headgear stays in its place stably during a sudden crash. Therefore, keeping your head, face, and chin safe.
Effectively Blocks Sun Rays, Rain, and Wind
You will feel discomfort from the heavy wind when riding a motorcycle at high speed. Windburn may happen if your face gets exposed to windy and cold air for a prolonged period. Moreover, sun rays may cause sunburn. Furthermore, riding on rainy days is another challenge.
Most full face motorcycle helmets come with tinted visors, providing maximum protection from the sun. Since full-face helmets cover your whole face, rainwater or heavy wind can't enter the helmet. Thus, you can ride conveniently.
Keeping Your Face Safe from Bugs and Debris
Bugs, tiny stones, or debris may disturb you while riding a motorbike wearing half-face helmets. In addition, your face may take too much dust or debris if you wear half-face helmets. In this case, a full-face helmet is a lifesaver. Flying stones, debris, dust, and bug bite can't collide with your face due to full coverage headgear.
Less Noisy
Excessive noise in the helmet can increase the risk of an accident. Besides, a permanent hearing problem may occur if you constantly ride a motorcycle for 50 minutes with 95 dB of sound level. Thanks to the full-face motorbike helmet for its less noisy feature. Full coverage motorcycle helmets are quieter compared to other types, protecting you from hearing problems.
10 Best Full Face Motorcycle Helmet Under $200 Reviews 2023
We give priority to protection, construction, and safety rating while selecting a pocket-friendly full-face motorcycle helmet. All the reviewed helmets are reliable in terms of their performance. Read the reviews carefully and choose the best-suited one.
1. Best Overall: ILM Carbon Fiber Motorcycle Street Bike Helmet
The ILM Motorcycle Street Bike Helmet is built to last with an attention-grabbing design. It is DOT certified, and the design is chock full of attitude. This helmet is a perfect combination of style and protection. Moreover, you will get this unit at an affordable price tag.
Technical Details For ILM Carbon Helmet
| | |
| --- | --- |
| Department | Unisex-adult |
| Shell Material | Carbon Fiber |
| Recommended Uses for Product | Cycling, Motorcycling |
| Vehicle Service Type | ATV, Off-Road Bike, Scooter, Dirt Bike, Street Bike, Mountain Bike |
| Safety Rating | DOT |
Features & Benefits
Carbon Fiber Shell Construction: Advantages of carbon fiber shells are limitless. This material is lightweight, aging resistant, high strength, has stable physical properties, and has good durability. Moreover, the tensile strength of carbon fiber is 7-10 times more than steel. It absorbs shock and reduces impact effectively, providing premium security.
Wide View Visors: There are 2 visors: clear and tinted. More importantly, both are wide enough, providing a wide field of vision. The included clear visor allows maximum light to pass through it and ensures clear visibility. While a tinted visor reduces sun glare when riding. Also, it blocks harmful UV rays efficiently.
Multiple Air Vents: Several air vents in this model keep you cool and warm throughout your motorbike riding time. It has large air vents in the top, forehead, and chin areas. These multiple air vents allow enough air to pass through the helmet. Due to the chin vent, the clear visor remains free from moisture.
Double D-ring Mechanism: Although it is a simple feature but compelling enough to secure your helmet in place. This closure mechanism is of utmost reliability to use. Moreover, you can easily open it during an emergency. The D-ring mechanism ensures a secure and firm fit.
Removable and Washable Inner: You can easily remove the chin curtain top liner and cheek liner to wash when necessary. This way, the interior becomes odor-free. More importantly, the replacement of cheek liner is more effortless, allowing better fitment of the helmet. Besides, the chin curtain minimizes cold and heavy airflow to let you feel comfortable.
Why Should You Buy It?
Nothing can stop you from buying this full-face motorcycle helmet if you are looking for a helmet at a reasonable price. This unit is lightweight and fits perfectly on the head. Also, it is relatively quiet, even with vents open. The lenses are fog-resistant and moisture-proof, which means you can wear them in any weather conditions.
2. Best Bluetooth Modular Helmet: SENA Outrush Bluetooth Motorcycle Helmet
Outstanding performance, sleek, and smart – these words perfectly match the SENA Outrush Bluetooth Motorcycle Helmet. With HD intercom and 5.0 Bluetooth, this helmet wins the heart of many motorcycle riders. It comes with a multi-density EPS liner to offer utmost comfort, which is the prime requirement of ultimate riding. However, it is not an expensive model for all these impressive features at all.
Technical Details For SENA Outrush Bluetooth Motorcycle Helmet
| | |
| --- | --- |
| Inner Material | Expanded Polyester |
| Dimension | 14.25"X11.57"X11.18" |
| Weight | 3.8 lbs. |
| Bluetooth | 5.0 |
| Battery | 1 Lithium Polymer Battery |
Features & Benefits
2-Way HD Intercom: During group motorcycle riding, communication is significantly important. SENA introduces a 2-way HD intercom in this helmet, keeping this point in mind. It creates a stable and strong wireless connection between 2 Outrush wearers. With a half a mile range of the intercom, you can conveniently communicate with your companion rider. In addition, the futuristic jog-dial mechanism on the left side of the shell allows you to control the intercom, adjust the volume, and change the FM radio station.
SENA Digital Noise Reduction System: You will always hear crystal clear sounds from the helmet speaker because of the SENA digital noise reduction system. This feature cancels out the noise and clarifies the speaker's sound. Even in the loudest traffic, the helmet speaker will deliver the clear voice of your buddy rider.
Smartphone Connectivity: The helmet features Bluetooth version 5.0. This means connecting or pairing it with your smartphone will never be a stressful task. Once 2 gadgets are paired, you can receive phone calls without trouble. Also, this feature will let you enjoy your favorite music during your bike ride.
Modular Design: Another excellent feature of this unit is its modular design. It is a hybrid of an open face and a full-face helmet. As a result, you will get the required safety of a full-face helmet. Simultaneously, you can enjoy the openness of an open-face helmet. Moreover, simply flip up the chin guard when you need to drink or eat. Then when riding, flip the chin bar down and get back the required safety.
Multifunctional Visor: SENA Outrush Modular Helmet features a clear visor along with an inner sun visor. The manufacturer uses scratch-proof and UV-resistant material for longevity. You will also love to know that the visors are fog-resistant too.
Long Battery Life: It is equipped with 1 Lithium Polymer Battery that runs up to 15 hours of talk time per charge. So, you can remain connected with other riders throughout your riding.
Reinforced Chin Strap: Securing the helmet on your head is mandatory when you ride. Its quick-release ratchet strap mechanism comes with a reinforced chin strap, keeping the helmet well-attached to the wearer's head.
Why Should You Buy It?
This headgear includes several advanced features to give you the required safety and comfort in long rides. It is a sleek-looking aerodynamic modular helmet with excellent ventilation. Additionally, you don't need to pay a large amount of money to buy it. Polycarbonate shell, multi-density EPS liner, no pain points, lightweight feature, etc., makes it worth every penny.
3. Best for Experienced Rider: TORC T14B Bluetooth Full Face Helmet
Are you an experienced motorcycle rider and looking for an affordably priced helmet? The TORC T14B would be the best option for you. It is a solid helmet and a great deal of structural ability, offering plenty of support. Due to its modern technology, it becomes the ultimate solution for a comfortable ride.
Technical Details For TORC T14B Bluetooth Full Face Helmet
| | |
| --- | --- |
| Outer Material | Advanced Thermal Polymer Alloy |
| Inner Material | Dual-Density EPS |
| Bluetooth | Integrated Bluetooth System |
| Weight | 5.158 lbs. |
| Vehicle Service Type | Street-sport-motorcycles, Scooter, Street Bike |
Features & Benefits
Exterior and Interior Face Shield: Optically correct exterior flat panel clear shield and locking drop-down internal sun visor are the 2 impressive features of this helmet. Both shields play a vital role in ensuring the safety of the rider. The transparent exterior shield keeps dust, debris, stone, etc. out of your face without compromising the vision. On the other hand, the sun visor guarantees clear visibility by blocking sun glare.
High-tech Blinc Bluetooth Mechanism: Undoubtedly, modern Bluetooth technology adds value to the headgear. This system helps a group of riders to communicate with each other who uses the similar Blinc Bluetooth technology while cruising. You will find a button on the helmet, and by taping it, you can dial, reject, or answer a call. Moreover, if you love to enjoy your best tracks when riding, this helmet will let you do so.
Incredibly Comfortable: The inner section is well-padded, soft, and thick, confirming additional comfort that every rider will enjoy. Your every riding moment will be more pleasurable due to the laser contour comfort liner padding. The liner quality will surely satisfy you.
Easy to Maintain: Riding with a stinky liner is difficult as the smell distracts the rider. The outstanding feature of this helmet is the removable and 100% machine washable inner liner. So, you can say "bye-bye" to those smelly liners by washing them in the machine. It means keeping the interior hygiene is so straightforward. You will not get this benefit with other helmets at this price tag.
DOT Certified Helmet: Safety and protection are always a concern when riding a motorbike. This helmet meets and exceeds DOT certification in giving you 100% safety. The adequate visor seals the front of the helmet perfectly and protects your head and face during a crash. In addition, the standard chin strap is easy to operate and doesn't open accidentally.
Why Should You Buy It?
The TORC T14B is well-known because of its protective abilities. Its look is also appealing with good quality construction, making it distinctive from the competitors. The helmet is easy to maintain and long-lasting. Overall, it is a solid helmet, has good Bluetooth, worth the price for a Bluetooth integrated helmet.
4. Best Budget-friendly Helmet: O'Neal Sierra II Mens Full-Face Helmet
Some riders fall in love with the catchy design of the O'Neal Sierra II Mens Full-Face Helmet. It is strategically designed, almost giving it a prototype and advanced look. Its sturdy and rugged construction resists all types of impacts, bumps, and damages quite effectively. This budget-friendly option will surely exceed your expectations and let you drive through highways safely.
Technical Details For O'Neal Sierra II Mens Helmet
| | |
| --- | --- |
| Outer Shell | ABS |
| Weight | 1590 g |
| Safety Rating | ECE 22.05 and DOT |
| Recommended Uses for Product | Cycling, Motorcycling |
| Vehicle Service Type | ATV, Street-sport-motorcycles, Off-Road Bike, Scooter, UTV, Street Bike, Snowmobile, Water Scooter |
Features & Benefits
Outer Shell and Design: Outer shell is made of ABS material. ABS is highly resistant, tough at low temperature, and stable at high temperature. The construction gives it a shiny, modern-day look and premium finish. It is a blend of an elegant and lightweight design that makes it great for the price.
Tinted and Clear Visor: This helmet includes 2 visors: tinted and clear. Instead of the fancy system to lock the visor, it consists of 2 protruding notches on both sides of the helmet. These notches allow you to lift the visors up and down. So, you can smoothly use the visors according to your requirement. Another important thing is this helmet is sun-protective for the tinted visor. Sadly, the tinted visor lacks fog-proof technology. Lift the visor and keep a little gap when riding in the winter regions.
Multiple Vents: One of the best features of this helmet is several vents in different positions. It comes with mouthpiece vents, chimney vents, passive rear, and jawline vents. All these vents perform together in removing stacked humid and hot air from the lid. However, ventilation doesn't work well in the winter. Despite having so many vents, you will feel cold.
Soft Padding and Lining: Breathing components and channeled liner are used in the interior. The used pads are soft enough and absorb sweat and moisture quickly to keep the interior odor-free. Moreover, the channeled liner removes hot air, providing superior comfort on hot days.
Reliable Fastening Method: Modern double D-safety lock is one of the modern features which will impress you the most. This fastening method is straightforward to open and close. More importantly, after fastening, the lock will not open in the event of an accident.
Noiseless Construction: Noise can distract riders, and crashes may happen because of it. The good news is it comes with noiseless construction, helping you avoid discomfort when riding. Using earplugs to reduce noise becomes unnecessary after wearing this helmet. Plus, the aerodynamic structure will really help you with sufficient airflow throughout the helmet.
Go-to Option: Sierra II is ideal for your daily commuting and long drives. You will feel comfortable during every journey. Concrete-like exterior and safety features ensure a stress-free ride.
Why Should You Buy It?
No features and aspects of Sierra II will dissatisfy you for sure. In terms of design, durability, affordability, and features, this helmet is one of the best full face motorcycle helmets under $200. It can meet all your requirements to guarantee protection. Undoubtedly, it is worth buying.
5. Best for Comfort: LS2 Full-Face Street Helmet
There is a conception that less priced helmets come with inferior quality. You will be shocked looking at the price tag and features of the LS2 Full-face Street Helmet. Functionality and reliability are significantly impressive of this headgear, and you will wonder, "how a premium-quality full-face helmet is available for less than $200?"
Technical Details For LS2 Full-Face Street Helmet
| | |
| --- | --- |
| Inner Material | Moisture Wicking Fabric |
| Weight | 4 lbs. |
| Recommended Uses for Product | Motorcycling |
| Vehicle Service Type | Motorcycling |
| Safety Rating | DOT and ECE |
Feature & Benefits
Perfect Fit: 3D laser technology and a single piece of high-quality foam are used to manufacture this helmet's cheek pads. Your face will be contoured perfectly by these cheeks and confirm a comfortable fit. Most head shapes will nicely accept the intermediate oval-shaped helmet. You will not feel pressure points on the forehead or any other parts of your face. You can wear goggles with the helmet if necessary.
Twin Shield System: Double shield system is available in high-end full-face helmets. Riders need to change the face shield manually depending on the weather type. Activating the drop-down shield is so simple by pressing a switch. Moreover, starting the sun visor is straightforward, wearing hand gloves. You will get the best protection from direct sunlight during the day.
Efficient Ventilation: Smartly positioned vents offer ultimate comfort on a hot day. Sufficient air circulates in every inch of the helmet through the top and chin vents. There are exhaust vents in the back of the helmet responsible for pushing warm air out of the unit. Thus, your head will remain cool on hot days. Unfortunately, the vents are not adjustable. So, you need to be cautious about wearing the headgear in winter.
Breathable and Hypoallergenic Liner: The LS2 helmet has a breathable and hypoallergenic liner, helping you avoid odor smell. Moreover, the liner absorbs moisture and sweat to keep you dry in humid conditions. Additionally, removal of the inner fabric is easy for washing. The manufacturer advises you to provide hand wash instead of machine wash.
100% Safety and Protection: Multi-density EPS offers 100% safety during a sudden crash. It also features a neck roll that protects and supports the neck when riding at high speed. Putting on and taking off the helmet is trouble-free with the reinforced chin strap and quick release strap.
DOT & ECE Certified: It is ideal for all types of riding conditions as it meets the standards of DOT and ECE. These certifications ensure better fit and protection.
Why Should You Buy It?
If you are looking for a solid helmet at a lower price, the LS2 will definitely meet your requirements. It is pretty reliable and robust in the case of accidents. The helmet fits perfectly according to your face structure. All in all, it is engineered for safety more than anything else.
6. Best for ATV Riders: CRG Full-face Motorcycle Helmet
Aesthetic and subtle look, eye-port position, ventilation scheme gives it an aggressive and deep styling. It is specifically designed for ATV users. Looking at its design, it feels expensive, but you need to cost less than $150 for this exclusive helmet.
Technical Details For CRG Full-fac Helmet
| | |
| --- | --- |
| Shell Material | Fiberglass |
| Liner Material | COOLMAX |
| Recommended Uses for Product | Cycling, Motorcycling |
| Vehicle Service Type | ATV, UTV |
| Safety Rating | DOT |
Features & Benefits
Fiberglass Reinforced Plastic Outer Shell: Fiberglass shell makes it a less brittle one. No cracks or scratches may appear on the shield unless the helmet comes in contact with heavy loads. Simultaneously, the shell is extremely lightweight and won't pressure your face or forehead.
Polycarbonate Clear Shield: This ATV helmet is equipped with a clear polycarbonate shield. It is advertised as scratch-resistant and does the same as what it says. However, the helmet is pretty resistant to light impacts and bruises. Nonetheless, your helmet will be protected from every type of collision.
Effective Ventilation Scheme: It includes several vents in the top, forehead, and chin area, very effective in letting in adequate air. The chin vents allow air in your mouth and jaws, keeping your face sweat-free. Moreover, the forehead and top vents ensure extra air in your skull to keep you cool.
Smooth and Comfortable COOLMAX Inner Fabric: COOLMAX fabric wicks up dust and sweat efficiently. Moreover, it is breathable. As a result, the helmet never irritates you during your longer tours. Additionally, a removable and washable comfort liner enables you to wear it for a long time.
Changeable Visors: You will barely find changeable visors feature at a reasonably priced helmet. The visors can easily be swapped out within a few seconds. Visors provide ultimate protection since they extend from the top of the helmet to the chin.
Why Should You Buy It?
The CRG helmet hits the nail at this price range and gained much popularity among aggressive and ATV riders. The airflow is excellent, especially on humid days. It is well-constructed and fits comfortably. An easy-to-change visor adds extra benefit to this helmet. You will never regret buying this helmet for your next motorbike journey.
7. Best for the Ventilation: GDM Venom Full-face Motorcycle Helmet
When it comes to protection, the GDM Venom Full-face Motorcycle Helmet is the topmost priority for its valuable features like double D-ring chin strap, composite poly-alloy, removable and washable cheek pads, liner, etc. It offers protection and comfort in this price range as no other helmet does.
Technical Details For GDM Venom Helmet
| | |
| --- | --- |
| Shell Material | ABS |
| Weight | 4 lbs |
| Recommended Uses for Product | Motorcycling |
| Vehicle Service Type | Motorcycle |
| Safety Rating | DOT |
Features & Benefits
Aerodynamic Design: The shell design is specifically focused on aerodynamics and robustness. Advanced lightweight ABS material construction makes it a lightweight helmet. That is why it is excellent for all-around performance such as impact resistance, heat resistance, low-temperature resistance, and chemical resistance. ABS is not an expensive material, so the product's price is reasonable too.
Liner and Cheek Pads: Most motorcycle helmets, cheek pads, and liners wear out quickly. The good news is that this helmet's interior serves a long time without compromising the quality. Liner and cheek pads offer a fresh feeling and a firmer fit.
Multiple Points of Ventilation: Several vents are a distinguishing feature of this helmet. Riders need to feel comfortable in their journeys. The risk of accident increases if the rider feels discomfort wearing a helmet. Thanks to the multiple ventilation points, which ensures coziness in the long rides. These strategically placed vents increase the flow of air inside the helmet.
Interior and Comfort Level: This helmet is equipped with a super-comfort interior. The interior absorbs sweat and moisture and confirms a custom fit. Its cheek pads adjust according to the rider's head shape for custom fit and provide a firm hold in high-speed riding. Also, it doesn't leave a hot spot or pressure point on the rider's head or face.
Protection Level: Safety is the topmost priority of every customer, and this helmet is a CHAMPION in protecting your head, face, chin, and neck. It resists heavy impacts, bumps, stones, and other particles efficiently. The shell is exceptionally reliable and lightweight.
Why Should You Buy It?
The GDM Venom has several features that everyone desires. Its comfort level is significantly impressive, and the enlarged viewport lets you see everything clearly. Moreover, the ventilation system makes it worth buying. Plus, it minimizes noise really well, which increases the comfort level even further.
8. Best Stylish: BELL Qualifier Full-face Street Helmet
Ever wondered if a full-face motorcycle helmet blend of sleekness, durability, and strength? The Bell Qualifier Full-face Street Helmet is exceptional with the features mentioned above. More importantly, it will not cost you more. It comes with all the features of the best full face motorcycle helmet under $200.
Technical Details For BELL Qualifier Full-face Street Helmet
| | |
| --- | --- |
| Shell Material | Polycarbonate/ABS |
| Weight | 3.5 lbs. |
| Recommended Uses for Product | Motorcycle |
| Vehicle Service Type | ATV, Street-sport-motorcycles, Scooter, UTV, Street Bike |
| Safety Rating | DOT and FMVSS 218 Standard |
Features & Benefits
Stylish and Elegant Body Design: This helmet enables the rider to enjoy a ride without wind interference with an aerodynamic shell design. The helmet confirms swift airflow, improving clarity. In addition, due to the polycarbonate/ABS construction, it withstands scratches quite efficiently.
NutraFog II UV-protected Shield: Moisture and fog can build up inside the visor. Thus, the rider will not clearly see the road and surroundings, causing an accident. It is made with NutraFog II fog-proof shield to avoid such unwanted situations. This feature prevents the formation of fog and moisture. Plus, anti-UV-ray properties block harmful UV rays. Also, a scratch-resistant surface guarantees its longevity.
D-ring lock: The helmet stays in its place securely on the head with its D-ring safety in the straps. For this, it will not be knocked off your head because of the pressure of a heavy impact. It also meets DOT and ECE safety ratings. So, you can be assured of 100% protection.
Velocity Flow Ventilation Technology: BELL designed the helmet with tactically positioned air vents. The air vents use velocity flow ventilation technology to enable ventilation within the helmet. Plus, you can regulate the amount of air on your face with its FlowAdjustmet facility. All the vents perform together to permit you to concentrate on the road for a better riding experience.
Padded Wind Collar: With smartly designed padded wind collar noise, the wind is minimized drastically. It filters unusual sound and noise efficiently when riding. At the same time, it enables the rider to hear the vital sound that helps the biker stay safe and sound on the road.
Integrated Speaker Pocket: The interior is engineered with an integrated speaker pocket. So, you can conveniently put on earphones and speakers, making them suitable for music lovers.
Why Should You Buy It?
Finding a helmet that fits all your expectations within an affordable price tag is much challenging. This helmet is a package of all the required features, so you can enjoy every ride. It offers complete protection and comfort along with outstanding value. It is indeed worth the price with a changeable visor, speaker pockets, and wind collar.
9. Best Durable Helmet: YEMA YM-925 Modular Full-face Helmet
Anyone who wants to ride in style should buy the YEMA YM-925 Modular Full-face Helmet. It has an elegant and shiny look and several safety features that riders will feel protected. The helmet is highly durable, and DOT approved to give you peace of mind.
Technical Details For YEMA YM-925 Helmet
| | |
| --- | --- |
| Shell Material | ABS |
| Weight | 3.7 lbs. |
| Recommended Uses for Product | Cycling, Motorcycling |
| Vehicle Service Type | ATV, Adventure, Scooter, Cruiser/ Touring, UTV, Street Bike, Dirt Bike, Snowmobile |
| Safety Rating | FMVSS -218 and DOT |
Features & Benefits
High Impact-resistant Dual Visor: The helmet includes an impact-resistant and shatter-resistant outer visor. It protects your face and eyes from dust, debris, stone, etc. Simultaneously, it features an anti-scratch and fog-proof coating for better visibility. On the other hand, the inner visor is tinted. This visor is responsible for controlling the light intensity and eliminating glare.
Large Field of Vision: This helmet doesn't compromise peripheral vision. Its wide field of vision reduces the chance of accidents and allows you to soak in the scenery. You will see clearly as it maintains clarity on all angles.
Reinforced Chin Strap: Chinstrap secures the helmet on the wearer's head and prevents it from rolling off. This piece keeps the helmet on your head securely, especially during a crash. In general, the fitment of the helmet will improve on your head due to the chin strap. Also, this feature maximizes protection and safety.
Laser-cut Foam: The helmet uses laser-cut foam instead of conventional foam in the cheek pads. It is a rigid material that leaves smooth edges. Thus, you will not feel an unusual rough feeling after wearing the helmet. In fact, because of this foam type, the interior will give you superior comfort. More importantly, it prevents odor-buildup by absorbing sweat and moisture.
Quick Release Button: Strain on the neck after wearing a helmet is the reason for the poor release button. The manufacturer knows the solution, and they designed this headgear with a quick-release button. It ensures less strain on the neck and quick helmet removal during an emergency.
Comfortable Liners and Pads: It helps you wear the helmet snugly. You can remove the padding for cleaning. Moreover, the interior has additional space for glasses. If you love to ride a motorcycle wearing sunglasses, this feature would be beneficial.
Why Should You Buy It?
The YEMA YM-925 is designed to provide full-face protection along with modular design. It is an excellent headgear for security and safety reasons. The included shield and visor offer eye protection against anything. It is a low-cost product packed with lots of useful features.
10. Best for Off-road Racer: Fly Racing Kinetic Thrive Helmet
For a genuine off-road racer, a specialized helmet is mandatory. The Fly Racing Kinetic Thrive Helmet is promised to give you ultimate safety when riding your off-road vehicle. It combines aesthetic beauty and structural design with several beneficial features. The DOT and FMVSS 218 certificate guarantees to protect you from potential danger.
Technical Details For Fly Racing Kinetic Thrive Helmet
| | |
| --- | --- |
| Shell Material | Carbon |
| Weight | 2.95 lbs. |
| Recommended Uses for Product | Cycling, Motorcycling |
| Vehicle Service Type | ATV, Off-Road Bike, UTV, Dirt Bike, Mountain Bike, Snowmobile |
| Safety Rating | DOT and FMVSS 218 |
Features & Benefits
Lightweight Shell: This helmet weighs only 2.95 lbs. and is made of carbon shell. So, you can easily carry it anywhere and will not feel pressure on your head after wearing it. Don't assume that being lightweight doesn't resist severe impacts efficiently. The truth is, it withstands heavy penetration.
EPS Formula: The inner liner uses EPS technology that controls impact absorption in the helmet. Due to the expanded EPS volume, there are good enough gaps between the ground and your head, assuring 100% safety. Moreover, it absorbs the force of impact pretty effectively. Furthermore, 4 EPS sizes offer an accurate fit for a wide head size range.
True Functional Ventilation: For an off-road racer, it is significantly crucial to consider the factor of ventilation. Otherwise, you may experience discomfort and lose your aim. The air vents are so smartly designed that you will get proper air circulation inside the helmet. Since the helmet features an EPS liner, air passes through every corner of the helmet. This fantastic feature serves you complete comfort and cooling inside the headgear.
Convenient Maintenance: Proper maintenance is mandatory to get long-term service from any product. You can conveniently clean the helmet to keep it dirt-free and odor-free. It is designed in such a way so that you can clean and wash it without effort. Quick-release cheek pads and comfort liner are made using moisture-wicking material. You can comfortably clean and dry the helmet for reuse.
DOT Approval: The durability, protect-ability, and strength of this helmet are tested by DOT. It successfully passed the tests, which ensures that it will protect your head from all types of collisions.
Why Should You Buy It?
If you are a beginner or amateur off-road racer, this helmet would be the most helpful companion for you. For its lightweight characteristics, you can wear them comfortably when riding at great speed. It will facilitate good airflow throughout the helmet and keep your head cool in a long ride journey.
How Do I Choose the Best Full Face Motorcycle Helmet Under $200 – Buying Guide
Buying the best full-face motorcycle helmet under $200 can be a challenging task because a plethora of manufacturers and models are available. Your hard-earned money has to be well-valued. Read the below factors carefully, which will help you find the best-suited full-face helmets.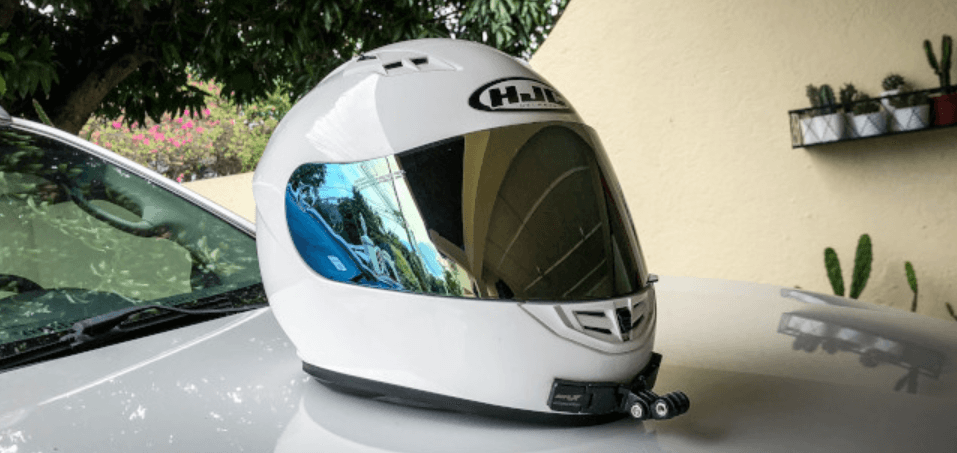 Helmet Construction
The best way to determine the quality of a helmet is to learn about its construction. Don't forget to evaluate the outer shell and inner shell before making a buying decision. Different parts are constructed using a range of density and strength
Crown (Outer Shell): Composite materials like plastic blended with fiberglass, carbon fiber, or Kevlar manufacture premium-quality helmets. The blends make them lightweight and strong to resist impacts.
Core (Inner Shell): Generally, it is a combo of fabric and foam; used in the inner shell. Manufacturers select the internal materials based on 2 criteria: protection and comfort. EPS is the most popular material used for the inner shell.
Helmet Styles
Although the difference between the helmet style is minimal, you can make a precise decision by learning about them. Full-face motorcycle helmet falls into 3 different categories, which are:
Street: These helmet types are manufactured for urban street riders. They offer the best protection to the user's face, chin, head, etc., and help high-speed riders to overcome the challenges.
Touring: You will get 100% protection after wearing touring helmets regardless of the condition type. Touring full-face motorcycle helmet will make your long journeys enjoyable and safe.
Dirt: The design of dirt bikes is pretty different from the other 2 types and significantly noticeable. They are popular among off-road racers for providing full-face and eye protection.
Correct Fitting
You must not overlook the size of your selected model. A wrong-sized helmet will be unable to support you on the street. Thus, the risk of injury increases. Always wear the helmet before buying to check the fit. Avoid buying a too loose or too tight helmet. After wearing, if you see a small gap between your forehead and the helmet ground, be sure, it will fit on your head snugly.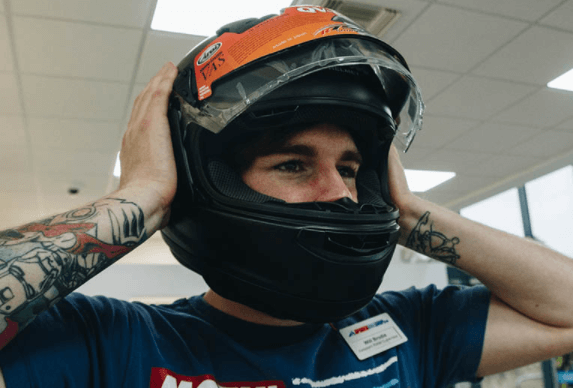 Weight
Consider buying a lightweight helmet. These helmets will transfer less energy to your head during a collision, keeping you safer. Moreover, lightweight motorcycles are comfortable to put on. Bring more enjoyment in both short and long rides.
Safety Features
Why do we invest in a full-face motorcycle helmet under $200 dollars? The prime responsibility of helmets is to ensure safety and protection when riding. This is one factor that you must not compromise. Shortlist the models available with different safety features, including a dual visor, comfortable cheek pads, liner, quick release system, noise-canceling mechanism, etc.
Safety Rating
It is mandatory to learn the safety rating of your chosen model. DOT is one of the essential safety ratings provided by the Department of Transport, USA. Some racing bodies require SNELL certifications. While, for racing purposes, FIM is the globally recognized safety standard.
Ventilation
You can't ride a long trip without a good ventilated full-face motorcycle helmet. Going for a short journey is impossible if you feel heated after wearing a helmet. In this case, find a model with a suitable ventilation mechanism.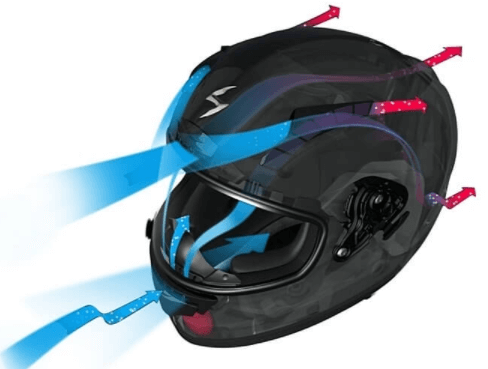 Usually, most full-face motorcycle helmets come with several air vents in their construction. A helmet with multiple vents will keep you cool and calm under the sun.
Price
Don't think that the expensive helmet provides the best safety and protection. You can still get the required security from an affordably priced helmet. We enlisted a full-face motorcycle helmet with a different price range in this guide.
It would be best to look at your selected model's actual specifications. Then consider the price range.
Closing Remarks
Consider DOT certifications first when selecting the best full face motorcycle helmet under $200. This certificate will ensure that your chosen helmet is 100% safe to wear.
We suggest you buy the ILM Carbon Fiber Motorcycle Street Bike Helmet. This headgear meets all the required expectations of a motorbike rider. It is lightweight, comfortable to wear, and has enough ventilation for adequate airflow. Moreover, this helmet is true to size. Furthermore, an ILM helmet is convenient to put on and off.