There is nothing more annoying than not buying your preferred motorcycle helmet only because it doesn't fit your big head. Needless to say, riding your motorcycle without protective gear is not bravery as it is similar to a death wish.
Motorcycle helmets are life-saving products, keeping us protected from different potential injuries. Various shapes, sizes, and designs of motorbike helmets are available in the market. But finding the best motorcycle helmets for big heads that combine perfect fit, breathability, and comfortability is not an easy fish to fry. We understand your pain, and for this, we compiled a list of 10 motorcycle helmets for guys with big heads.
So, let's get right in.
Can I Really Get a Perfect Helmet if My Head is Big?
Yes, undoubtedly. Top-rated brands manufacture helmets for all head sizes. All you need to do is, check the size list while buying online. On the other hand, wear your preferred helmet to check the fit when you buy from your nearest store.
Always ensure to look at the sizing chart to avoid misleading information. Some top-rated brands manufacture motorcycle helmets of 4XL and 6XL size.
Also, measure your head to learn the size before buying a helmet model. This way, you can avoid buying a too tight or too loose helmet.
How do I Choose the Right Helmet Size for My Big Head?
You may pick a wrong and inferior helmet if you are unaware of the key factors while choosing. It happens especially with beginner riders who have a big head.
In this section, we aim to help you select the best motorcycle helmets for big heads.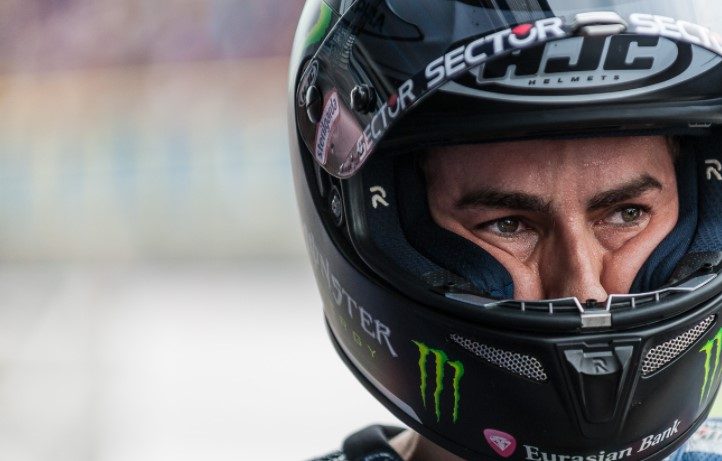 Helmet Types
Helmets are of 3 different types: full-face, half-face, and open face. Depending on your choice, way of riding, hairstyle, etc., you can choose any type.
You might have seen that most riders wear full-face helmets because it provides safety to the wearer's face and eyes along with the head.
While open or half-face helmets are an ideal option if you ride a cruise. A higher level of protection is not required for this type of ride compared to motorbike riding.
Helmet Fitting
A fitting problem is the first complication you face with a big head. So, it would be best to choose a helmet with good fittings, and adjustable features would be the best option for a big head.
Moreover, you will have a stable riding experience after wearing a perfectly fitting helmet. Furthermore, the unwanted movement of the helmet will not be there.
Now, you might be wondering how to measure the head size?
Use a tape to measure your head. In order to get an accurate result, take the measurements 3 times. Then buy a helmet that matches your head size. You will find small to extra-large helmets in the market. Choose based on the size of your head.
Shell Material
The helmet shell materials need to be strong enough to withstand heavy collision and impact. Usually, a helmet shell is made of fiberglass, carbon fiber, ABS plastic, carbon composite, polycarbonate. Characteristically, all these materials are lightweight and durable to ensure the required protection.
You can choose any helmet which is manufactured with the above materials according to your preference. More importantly, their lifespan is also long-lasting, so you don't need to change them too frequently.
Comfort and Snug Fitting
Avoid buying a hard surface helmet; it will feel like a brick in the head. Select a motorcycle helmet that comes with multi-density inner pads. You will surely get a comfortable feeling wearing these helmets.
At the same time, check the fabric of the inner pads. AKA Styrofoam, expanded polystyrene, EPS foam are the best materials for inner pads.
Also, go for a model with removable and washable inner pads, allowing you to clean them when necessary.
Ventilation
Riding a motorcycle under the scorching sun can be a strenuous job if you wear a poor-ventilated helmet. For this, check whether your selected helmet has the exhaust enough air vents or not. More air vents mean you will remain cool and dry, regardless of the temperature.
Sun Visor
Single and double – these are the 2 different types of sun visors attached to a motorcycle helmet.
When you ride a motorcycle at high speed, dust and debris can come in your face. The face shield is responsible for preventing dust and dirt.
Some helmets feature an anti-fog and anti-scratch coating to let you get a clear view through the visor. However, fog-proof and scratch-resistant helmets are a bit more expensive than regular ones.
Certification
Certification approvals such as SNELL and DOT have been established to set a standard for helmet quality, functionality, and features. Although all motorcycle helmets come with different features, all are not certified because of some dodges in their weight, safety, etc.
We suggest you don't buy uncertified helmets. Be sure; such helmets will fail to provide safety during emergencies.
To get reliable performance, always select certified helmets. They tick all the boxes of safety measures being tested.
10 Best Motorcycle Helmets for Big Heads Reviews 2023
We carefully enlisted the helmets for big heads in this section. Our selected helmets are lightweight, provide utmost comfort and protection to your head.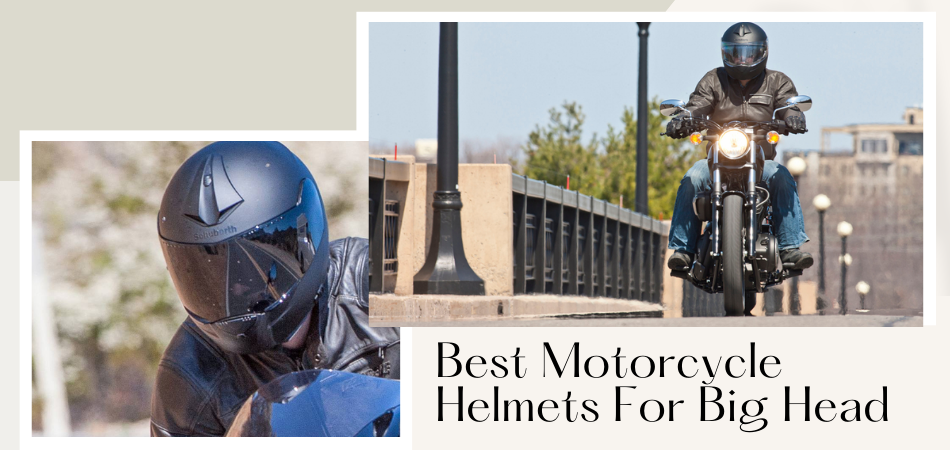 1. Best Overall: Bell SRT Modular Adult Full Face Helmet
If you are a lover of a lightweight motorcycle helmet, no other option can beat the Bell SRT Modular Adult Full Face Helmet. The available size range of this helmet is up to XXX-Large, attending to people with a large head.
Besides, the Lightweight shell will not put extra pressure on your forehead and neck. So, your riding experience will be enjoyable all the time. You can be assured that the helmet will provide you 100% protection from accidents for its DOT and FMVSS 218 certifications.
Bell SRT Modular Adult Full Face Helmet : Technical Details
| | |
| --- | --- |
| Size | XXX-Large |
| Color | Matte/Gloss Blackout |
| Recommended Uses For Product | Motorcycling |
| Brand | BELL |
| Vehicle Service Type | Street-sport-motorcycles, Scooter, UTV, Street Bike, Snowmobile |
Features & Benefits:
Size: Finding the right size helmet is the most complicated thing that you might experience when looking for a stylish, protective, and featureful headgear for a big head. But when you choose the Bell SRT modular helmet, you don't need to worry about the size at all. The size map of this model is enormous, from an extra small size to a vast XXXL size is available. So it doesn't matter how big your head is; Bell SRT will perfectly fit on your head.
Modular Helmet Design: This helmet is designed to prevent injuries to your head, brain, face, neck, and ears. That is why it is considered one of the safest helmets on the market. Like all other modular helmets, it also comes with a flippable front visor. Flipping up of the front visor gives you the freedom to enjoy fresh air and rain. Simultaneously, allows you to flip down the visor for maximum protection.
Fiberglass Composite Shell: The helmet shell is made of fiberglass. Characteristically, fiberglass is a lightweight and durable material, which means, wearing it, you will always feel comfortable while ensuring your safety as well.
Removable Quality Interior: Interior plays a vital role in having a comfy motorcycle ride. Keeping this point in mind, the manufacturer has built this helmet with a removable quality interior. This feature allows you to wash the interior to keep the pads bacteria-free.
Drop Down Sun Shield: The sun shield of this model is easy to move up and down. Even wearing hand gloves, you will not face trouble controlling the sun shield. As a result, stopping your motorcycle or taking off the gloves is entirely unnecessary to adjust the position of the sun shield.
Class 1 Optics Panovision Shield: Riders will always get lateral and vertical visibility because of the Panovision viewport which is quite exceptional compared to the traditional viewport. As a result, lane changes will be safer and riders will be able to see better in a tight position.
Final Thoughts
You will rarely find a motorcycle helmet at an affordable price tag with so many features. The chin vent directs air up and across the interior face shield, so you'll always feel relaxed inside the helmet. Also, the interior breath deflector works well. And, the variety of sizes from XS to XXXL makes this an appropriate choice for all head sizes of people, especially the big head one.
2. Best for the Construction: HJC i90 Davan Helmet
Add the HJC i90 Davan Helmet to your wish list that guarantees the safest riding experience with the chin bar open as well as closed. The chin bar controlling mechanism is so effortless with gloves on.
Moreover, the quality of the construction is extremely high to give you an extended period of service along with a variety of sizes. So, if you are looking for an advanced quality construction modular helmet for big heads, this i90 from HJC is an excellent choice with a vast XXL size.
HJC i90 Davan Helmet : Technical Details
| | |
| --- | --- |
| Size | XX-Large |
| Color | BLACK/GREY |
| Recommended Uses For Product | Motorcycling |
| Brand | HJC Helmets |
| Outer Material | Polycarbonate |
Features & Benefits:
Construction, Design, And Size: Polycarbonate constructed helmet effectively withstands heavy impacts and collisions, keeping your head and face safe. Also, it is designed to be lightweight. With only 3.13lbs., this helmet is relatively lighter compared to other modular helmets. Plus, it comes in a variety of sizes from XM to XXL, so that you can easily pick the right one according to your head size.
Dual-visor Helmet: This helmet includes a clear face shield and an internal sun visor. Pinlock-ready clear face shield resists fog efficiently. Moreover, the inner sun visor is coated with anti-scratch solutions. Simultaneously, it blocks sunlight to ensure a clear view.
Comfort: The cheek pads are dramatically beefed up, which means they come down around your chin. This feature reduces wind noise, allowing you to have a relaxed motorcycle ride.
Efficient Vent System: It features the ACS system, 2 exhaust vents, and 2 intake vents. The exhaust and intake vents promote aerodynamics and minimize wind noise. Moreover, the ACS system is an extra layer of foam placed at the helmet base. It cuts out air from entering the helmet.
Safety Ratings: This helmet successfully passed ECE and DOT safety ratings, ensuring that your head and face will be protected if you fall from the motorcycle accidentally.
Upgraded Looks & Graphics: With a modern-looking flip-front and sleek-looking design, this helmet will grab your attention for sure. Superior fit and comfort are confirmed due to its upgraded CAD technology.
Final Thoughts
To sum up, it is an incredibly comfortable helmet, suitable for long rides. It will fit on big heads quite comfortably, and you will get the required size without any trouble. Both visors come with anti-scratch and anti-fog characteristics.
3. Best Eyewear Compatibility Helmet: Bell Eliminator Adult Street Motorcycle Helmet
Nothing can go wrong with this Bell Eliminator Adult Street Motorcycle Helmet. Plenty of features like less wind noise, comfortable wearing, carbon shell, anti-fog shield, large size, etc., enable it for big heads. It has a legendary reputation for providing ultimate protection.
Bell Eliminator Adult Street Motorcycle Helmet : Technical Details
| | |
| --- | --- |
| Size | Large |
| Color | Vanish Matte Blue/Yellow |
| Recommended Uses For Product | Motorcycling |
| Brand | BELL |
| Vehicle Service Type | Street Bike |
Features & Benefits
Contoured Cheek Pads: This helmet is equipped with contoured cheek pads, allowing the rider to fit the shape of your face snugly. Also, you will get superior comfort to enjoy every ride. More importantly, your face will not feel any unnecessary pressure.
Eyewear Compatible: A helmet that is compatible with eyewear offers several benefits without compromising comfort. Moreover, it vastly improves comfort level and allows you to wear sunglasses without putting any pressure on the side of your head.
Recessed EPS Speaker Pockets: The speaker pockets fit the speakers that came with the Sena 20s EVO. Additionally, they are deep enough to accommodate higher-quality, thicker speakers. These deep pockets are suitable for a more convenient fit and easier communication unit installs.
Anti-bacterial Liner: Helmets are a good habitat of bacteria, fungus, mold, pollution, which leads to a bad smell. You will love to know that washable liner prevents the growth of odor. Thus, bacteria and fungi can't build up. Besides, the interior is made of quick-drying materials, which saves valuable time when drying.
DOT Approved: This helmet is tested for public use, and it meets all the standards of DOT, allowing you to wear it without worrying about safety. It will protect your head and face from unwanted accidents.
Upper-Air Ventilation: To ensure enough airflow, this product has 9 holes at the upper. Whether you are riding faster on a bumpy or dusty road, the air vents offer sweat-free and moisture-free riding. But the vents are not closeable, so be aware of that if you intend on riding in the rain.
Final Thoughts
Undoubtedly, you can rely on the durability of this helmet. It is well-constructed using carbon shell, has DOT approved, and is equipped with industry-leading technology. This is a perfect combo of functionality and design. You will surely be satisfied with its performance for several years.
4. Best for Long Rides: FreedConn Motorcycle Bluetooth Helmet
An incorporated Bluetooth intercom, a receiver, and a helmet mic – FeedCon Motorcycle Bluetooth Helmet provides a universal solution to communicate with other riders when you are on the go. The interior is best in class, and the lining is outstanding in all senses, making it ideal for big head bikers.
FreedConn Motorcycle Bluetooth Helmet : Technical Details
| | |
| --- | --- |
| Brand | FreedConn |
| Color | Matte Black |
| Item Weight | 4.05 Pounds |
| Recommended Uses For Product | Cycling, Motorcycling |
Features & Benefits
Comfortable Helmet: The shell is lightweight yet strong ABS material to keep the user protected during a ride. Moreover, an advanced ventilation system makes your ride comfier than before. Overall, the comfort is great.
Modular Design: Due to the modular design, you don't need to use both hands to remove this helmet. Also, it is friendlier for day-to-day use. If you struggle to transform a closed-face helmet to an open-face helmet, this push-button technology makes the transforming task easier.
3.0 Bluetooth Motorcycle Helmet: It pairs with Bluetooth 3.0 version, allowing you to create a stable connection between smartphone, GPS navigation audio, and music player. With the GPS, you can save valuable time since finding a fuel station will become convenient. Moreover, the helmet allows you to make a hands-free conversation with ease.
Powerful Team Motorbike Communication: Using its patented Bluetooth intercom function, it supports up to 3 rider pairs, 2 riders create a talk room simultaneously, offering you a stable intercom call maximum of 1640ft. Besides, you will always get a clear and noise-free sound due to the upgraded DSP echo cancellation and noise suppression technology.
Final Thoughts
Bluetooth 3.0 technology makes it a great riding gear for long tours with the group. Also, a soft deodorant pad and a good enough air ventilation system help you remain sweat-free during long rides. If you travel a lot with your friends and loved ones on the motorcycle, this would be a great choice to maintain noise-free communication while riding.
5. Best for Comfortability: FreedConn BM12 DOT Full Face Bluetooth Helmets
FreedConn puts almost every feature in the BM12 DOT Full Face Bluetooth Helmets to make bike riding relaxed. It includes super long-range Bluetooth that provides a wide variety of advantages to a motorcycle rider, such as hands-off communication. Moreover, the helmet comes in XXX-large size, permitting a big head rider to wear it conveniently.
FreedConn BM12 DOT Full Face Bluetooth Helmets : Technical Details
| | |
| --- | --- |
| Brand | FreedConn |
| Color | Matte Black |
| Connectivity Technology | Wireless, Wired |
| Model | FreedConn BM12 Motorcycle Bluetooth Helmet |
| Item Weight | 3.9 Pounds |
Features & Benefits:
Size: FreedConn BM12 is one of the best Bluetooth helmets for the big head people in terms of comfortability, communication, and flexibility of sizes. It comes in five different sizes for different head sizes of people. The best thing about this model is it is designed with a replaceable liner that allows you to swap sizes between 1X larger and smaller. For example, with XXL size, you can use it as a 2XL and 3XL by keeping and removing the replaceable liner.
Strong ABS Shell: Acrylonitrile Butadiene Styrene (ABS) is a widely used material for helmet shell construction for its shiny and scratch-resistant quality. Also, it is so sturdy that a heavy impact can't damage it easily. Another worth-mentioning feature is; it meets all the relevant and standard regulations of DOT and CE. So, you can remain worry-free as safety is ensured.
Bluetooth Compatible Helmet: A full-duplex Bluetooth intercom allows riders to pair with 3 riders while 2 riders can talk simultaneously. As a result, you will always remain connected with the other bikers and get help during an emergency or unwanted incident.
Advanced Noise Control Mechanism: While motorcycle riding concentration is of utmost requirement. For this, it features noise suppression technology that provides incredible sound quality. The sound of the calls will be crystal clear all the time. In fact, it delivers close-to-natural audio sound.
Changeable Microfiber Liner: Your all-day ride will never be stressful when you wear this helmet due to the breathable padding. More importantly, you will have a pressure-less riding experience. Additionally, the microfiber liner is removable and washable, assisting you in keeping the pads odor-free.
Multiple Air Vents: This helmet helps you to remain concentrated and focused on the ride with its multiple air vents features. Even under the scorching sun, you will have sweat-free riding.
Dual Visor: It is designed with a clear outer visor and tinted inner visor for optimum safety. The combination of both visors provides safe riding by confirming clear sight. Moreover, the clear outer visor is fog-resistant. So, wearing it, you will never face trouble riding a motorcycle in winter.
Final Thoughts
The quality of this helmet is up to par. Durable and long-lasting construction, Bluetooth compatibility, crystal clear audio system, several air vents, anti-fog outer visor, etc., every feature aims to give you comfortable and safe motorbike riding. In addition, the included liner is replaceable from XX-L to XXXL size, making it an ideal choice for big heads.
6. Best Racing Helmet: AGV Unisex-Adult Full Face K-1 Motorcycle Helmet
Looking for the KING of sports helmets to win the daily challenges? Don't look further by the AGV Unisex-Adult Full Face K-1 Motorcycle Helmet. The craftsmanship, performance, design, and safety are so stunning that a few motorcycle helmets come close to it.
AGV Unisex-Adult Full Face K-1 Motorcycle Helmet : Technical Details
| | |
| --- | --- |
| Size | X-Large |
| Color | Matte Black |
| Recommended Uses For Product | Motorcycling |
| Brand | AGV |
| Vehicle Service Type | ATV, UTV, Snowmobile |
Features and Benefits:
AGV Racing Technology: It is made from racing technologies developed from MotoGP. This is an advantage in terms of performance and comfort, both for sports and daily rides. The fit is nice, and snug and the build quality is a plus point.
Aerodynamic Shape: With some clever shaping, this motorcycle helmet is designed to protect your head and face if you crash. The biggest benefit of the aerodynamically shaped helmet is; you will experience minor drag and pull when riding at a higher speed. It increases comfort as well, regardless of the head size.
High-resistance Thermoplastic Shell: The build quality is incredibly well as it is made from thermoplastic. Plus, the high-resistance feature enables it to resist heavy impacts and collisions efficiently. Thermoplastic can handle a maximum of 10X more impact than its counterparts.
Anti-Scratch Visor: This helmet's visor is coated with anti-scratch solutions, preventing damage to the visor for several years. Moreover, its fog-proof feature allows you a lateral field of vision and wider vertical sight.
5 Large Front Vents: Cool air enters the front vents to keep you free from sweat and moisture. Also, the inner materials remain dry to prevent the buildup of mold, fungus, and odor.
Removable and Washable Parts: All parts of this helmet are removable and washable. You can conveniently remove and wash soft and dry-comfort fabric interiors, nose guards, and wind protectors using warm water.
Final Thoughts
The helmet is specially designed to fit big heads with an aerodynamic design. Also, it resists scratch and smashes to keep you protected during both long and short rides. With the affordable price tag, this is ideal for entry-level bikers.
7. Best for the Safety: LS2 Blaze Extreme Adventure Helmet
Are you looking for a multifunctional helmet that big head persons can use for day-to-day riding and dirt bikes? The LS2 Blaze Extreme Adventure Helmet would be the best option for you. This dual-sport helmet comes in various sizes from XS to XXXL for different head sizes of people at an affordable price tag that you won't need to break your bank.
LS2 Blaze Extreme Adventure Helmet : Technical Details
| | |
| --- | --- |
| Size | XX-Large |
| Color | Red/Black/White |
| Brand | LS2 |
| Vehicle Service Type | UTV |
| Inner Material | Expanded Polystyrene |
Features & Benefits:
Structure, Size, and Design: The helmet has a pure adventure look. Kinetic Polymer Alloy is used to manufacture the shell, making the helmet lightweight, solid and stylish. With a robust color combination, this helmet looks badass and cool. Besides its elegant design and durable structure, it comes in various sizes for different head sizes of people. The size starts from XS and ends at XXXL; it perfectly fits people.
Ventilation: To make your motorcycle riding pleasant, it is well-ventilated that keeps you cool since air passes through the helmet. Even you will feel cool and warm on a scorching sunny day. You will love to know that the ventilation is adjustable as per your requirement.
Safety Measurement: This helmet is promised to help you reach the endpoint safely. That is why it is crafted with an emergency cheek pad release mechanism. This makes it easier for personnel to remove the cheek pads during an emergency, which is a life-saving feature undoubtedly. At the same time, it is DOT, and ECE certified, guaranteeing ultimate protection.
Large Face Shield: The helmet features a Class A Polycarbonate face shield, making it scratch-proof. A huge viewport is one of the notable features of this helmet. Thus, you will have clear and wide visibility, which is necessary on the road. In addition, the inner sun visor blocks harmful UV rays for comfort riding. Besides, pin-lock inserts lens on the visor prevents the buildup of fog.
Comfortable Interior: It has a moisture-wicking interior that keeps sweat and moisture away from your skin. So, you will always have an enjoyable, adventurous tour.
Final Thoughts
This helmet will never disappoint you, whether you go on an everyday street and off-roading ride. It perfectly fits on big heads. With a breathable, moisture-wicking interior, every ride will be relaxing. All in all, it is a bang for the bucks.
8. Best Budget-friendly: HJC C91 Street Motorcycle Helmet
The HJC C91 Street Motorcycle Helmet is an all-rounder that you can trust because it is SHARP 4-star Safety Rated. Its shell is made of polycarbonate, and its simplistic design offers a drop-down sun visor, double D-ring fastener, pin-lock ready shield to make your motorbike ride safe and secured.
But above all these things, the most impressive thing is the variety of sizes it offers (XS, S, M, L, XL, 2XL, 3XL, 4XL, and 5XL). Hence, it doesn't matter if you have the giant head in the world; this C91 from HJC will perfectly fit in your head.
| | |
| --- | --- |
| | |
| + More colors | + More colors |
| Available Size: XS, S , M, L , XL, XXL , XXXL | Available Size: XS, S , M, L , XL , 3XL , 4XL |
HJC C91 Street Motorcycle Helmet : Technical Details
| | |
| --- | --- |
| Size | 5X-Large |
| Color | SEMI-FLAT TITANIUM |
| Recommended Uses For Product | Motorcycling |
| Brand | HJC Helmets |
| Inner Material | Expanded Polystyrene |
Features & Benefits:
Comfort and Sizing: With 5X-Large size, it is designed to accommodate big heads quite conveniently. The supercool lining is a soft material that is anti-bacterial and moisture-wicking. If you are a glass wearer, don't hesitate to buy it because there are also some glass grooves.
Pinlock-Ready Clear Shield: The clear shield of this helmet features pin lock-ready. It creates a sealed chamber of air between itself and the inside of your shield and prevents the buildup of water and fog, ensuring a clear view. Also, the shield provides 99% protection from UVA and UVB rays.
Chin Guard: This helmet's chin guard performs well and offers the required protection during an accident. You can open it using the built-in button placed under the chin and raise it to around 45° angle. It is easy to operate and slide up high to give a wide view of a ride.
Sun Visor: The included sun visor can be operated manually in both directions. HJC didn't use springs in the sun visor intentionally because the springs quickly tired and stopped working. Moreover, the sun visor is tinted, reduces eye fatigue, and improves concentration. Additionally, a tinted sun visor keeps the sun's heat away from the helmet. As a result, you are cooler inside the helmet on a sunny day.
Final Thoughts
This is a versatile, good-looking, and functional motorcycle helmet that will fit well in big heads. It is lighter than its rivals, and from fully open to vent to fully closed, it performs flawlessly. The price is also reasonable for the quality of this helmet.
9. Best for Safe Riding: Scorpion R420 Helmet X-Large
Are you tired of finding a comfortable helmet for your big head? The Scorpion R420 4X-Large Helmet would be the ultimate solution for you. This full-face helmet sets a new standard in the motorcycle helmet industry by featuring the most advanced technology.
Scorpion R420 Helmet X-Large : Technical Details
| | |
| --- | --- |
| Size | 4X-Large |
| Color | Matte Black |
| Recommended Uses For Product | Cycling, Motorcycling |
| Brand | ScorpionEXO |
| Vehicle Service Type | Street Bike |
Features and Benefits:
Design, Size, and Comfort: You will experience utmost security and comfort as it is designed meticulously. With moderate fit, it doesn't provide extra pressure on any parts of your head. Another remarkable feature is the moisture-wicking liner which is detachable and washable. The liner soaks moisture effectively produced inside the helmet, keeping the inner part odor-free. Plus, it offers plenty of sizes (XS to 4XL) for different head sizes of people.
Top-notch Quality Construction: Advanced LG polycarbonate is used in this full-face motorcycle helmet. Also, 100% UV-protected face shield is scratch-resistant and features fog-free technology. Moreover, the fastener comes with a straightforward double D-ring closure allowing you to wear the helmet effortlessly.
Padding and Safety: The helmet is padded with high-quality foam, keeping the humidity low by reducing internal moisture. More importantly, the paddings dry quickly and come with an anti-bacterial feature.
Visor: High standard visor is a prominent feature of this helmet. Moreover, the visor is 100% UV protected, and depending on the rider's speed, it shows minor to no distortion. Furthermore, the anti-fog coating provides an optimistic view of the road in the winter.
Proper Ventilation: Basic level of oxygen is mandatory for a rider while riding a motorcycle. For this, the manufacturer built it with 3 sources of ventilation. 2 vents allow air to flow inside the helmet; on the other hand, another vent is an exhaust that expels the inside air. At the same time, the helmet maintains a low noise level successfully.
Final Thoughts
This motorcycle helmet has all the necessary features to ensure a distortion-free view. Also, it is designed in such a way that both male and female riders can choose it. In addition, it serves its sole purpose in style.
10. Best Open Face Design: Daytona ¾ Shell Open Face Motorcycle Helmet
Looking for a D.O.T.-approved open-face motorcycle helmet? Choose the Daytona ¾ Shell Open Face Motorbike Helmet that meets and exceeds DOT FMVSS 218 Safety Standards. This slimline-designed helmet includes a contoured and smooth helmet, eliminating the appearance of a mushroom.
| | |
| --- | --- |
| | |
| + More colors | + More colors |
| Available Size: XXS, XS , S, M, L , XL, XXL | Available Size: XS, S M, L , XL, XXL |
Daytona ¾ Shell Open Face Motorcycle Helmet : Technical Details
| | |
| --- | --- |
| Size | X-Small |
| Color | Dull Black, Bombs Away |
| Recommended Uses For Product | Motorcycling |
| Brand | Daytona Helmets "Leading The Way In Quality Headgear" |
| Vehicle Service Type | Sport Bike, Cruiser, Adventure Tourer, Street Bike, Chopper |
Features and Benefits:
Shell And Size: The shell of this helmet is very sleek and contoured that hugs snugly on big heads and provides ultimate impact protection. It comes in various sizes, from XS to XL, perfectly fitting your head even if you have a big head.
Nylon Strap Retention: This system provides quick release with a sliding adjuster for precise positioning. Nylon is the perfect choice when you need strength, durability, and safety in your helmet. Characteristically, Nylon stretches under tension. Thus, the length of the strap will extend when required, making the ideal helmet for big heads.
Moisture Wicking Inner Liner Fabric: It helps you keep your head relaxed and cool for long rides. Moisture-wicking fabric releases the heat that gets trapped inside the helmet. In fact, it resists odors in a way that man-made sweat-wicking fabrics don't.
Snap-on Gloss Bubble Visor: This helmet includes a Snap-on gloss bubble visor that performs exceptionally to shade your eyes from the sun. Besides, when necessary, you can easily remove the visor by unscrewing the nuts.
Final Thoughts
It is a multifunctional helmet that can be used for adventure tourer, chopper, street bike, sportbike, and motorcycle. You can effortlessly use it with the chin strap's quick release lock, even wearing gloves on. The helmet ensures proper head protection for the big head by following the D.O.T. safety standards.
How Does a Bike Helmet Protect Your Big Head?
Bike helmets are made of rigid materials. Also, they have shock-absorbing padding to protect your head from heavy collisions. Hence, it doesn't matter whether you have a big head or a small head; it'll protect your head if you get the right size helmet.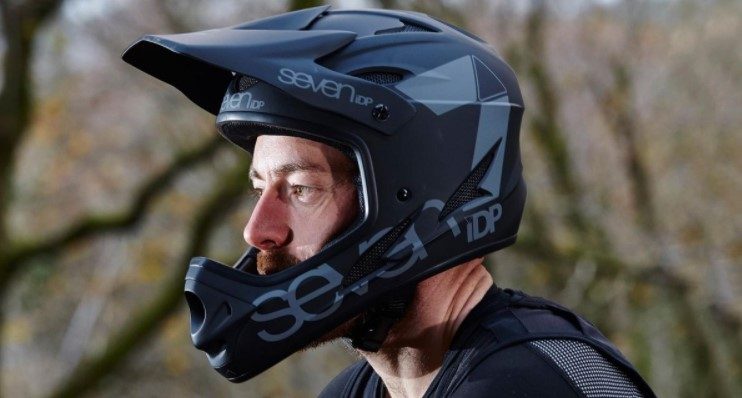 The prime responsibility of a bike helmet is to reduce the risk of severe brain and head injury when motorcycle riding. A helmet protects your big head in 3 ways.
It creates a mechanical barrier between the impacting object and the head. Thus, direct contact can be avoided.
Bike helmets evenly distribute forces on the head. Thus, the impact can't damage a specific area of the skull.
Impact energy gets absorbed by bike helmets and protects your head
The best motorcycle helmets for big heads are constructed with strong yet lightweight materials like fiberglass, A.B.S. plastic, etc. They absorb the impact in the event of a crash, reducing the chance of damage to the face, brain, and head.
How Can I Make My Helmet Fit Better?
The perfect fit of your motorcycle helmet is significantly essential because loose helmets minimize the chance of making out alive during an accident.
In this section, you will learn how you can make your helmet fit better.
Choose a Helmet of Right Size
Most people overlook the size of their heads and look for a stylish motorcycle helmet while buying. Yes, you can look at the style and design; fit must get top priority. Use a tailor's tape to measure your head size. This will help you find the right helmet.
Good Quality Cheek Pads
Cheek pads are one of the important accessories of motorcycle helmets. These pads tightly fit on the cheek to ensure the comfortable fitting of the helmet.
Cheek pads wear out over time because of friction and the conditions that they are exposed to.
Usually, cheek pads are made using soft materials that let the user feel comfortable.
So, before you buy a helmet for the big head, check the condition of the cheek pads. The pads should ensure a tight fit yet comfortable.
Helmet Position is the Key Secret
Even after buying the right fit helmet with good quality cheek pads, you may feel discomfort due to the wrong position of the helmet. So, check the helmet position after wearing it.
Your helmet can move sideways after wearing if it is fitted improperly when you ride. It happens due to the effects of heavy winds. Therefore, what is the right position of a helmet?
Make sure that the helmet is worn low on your forehead. The width between your eyebrows and the helmet should be less than 2 fingers.
With this position, you will be able to see the road without trouble. After positioning the helmet, see upwards and check whether the helmet's front rim is visible.
Frequently Asked Question
We covered a few quick answers to the most searched questions regarding motorcycle helmets for big heads.
Can you wear sunglasses when using a big head helmet?
Yes, you can wear sunglasses, prescription glasses, goggles, etc., wearing a big head helmet. For this, you need to select
If you intend to wear glass while wearing a helmet, you first need to buy a glass-friendly helmet. We recommend you go for a model with grooves and cutouts in the temples.
Motorcycle friendly glasses
Once you buy a glass-friendly helmet, the next step is to buy glass compatible with the motorcycle. Straight glasses with a thin arm are the best option in this case.
Check the fitment of the helmet and glass
Perfect fitment is also essential. Don't create enough pressure on your nose bridge. Thus, the glass fiddle can get damaged. Before starting riding, make sure the glass is fastened properly. If you don't do so, you will have a discomfort riding experience.
From the above-reviewed helmets, you can use eyewear when wearing the Bell Eliminator Adult Street Motorcycle Helmet. You will not feel additional pressure and discomfort after wearing your eyewear and helmet.
Is an open-face helmet safe enough?
Open-face motorcycle helmets offer less safety and protection compared to full-face helmets. Usually, the chin area gets injured first when a person falls and hits the ground. An open-face helmet can't protect in this case.
However, the benefits of open-face helmets are as below.
Provides a tremendous amount of airflow
Offers a wider angle of sight
Communications will become easy when you ride with a group
What size is an XXL motorcycle helmet?
A lot of people get confused regarding which helmet size to choose since different manufacturers follow different size charts. For this, it is quite challenging to define the exact size of XXL helmets. Here, we shared the size chart of XXL motorcycle helmets top-rated manufacturers.
| | |
| --- | --- |
| Brand Name | Size Range |
| For HJC | The size range is 62cm-63cm |
| For Roof Helmets | XXL = 63cm |
| For Schrubarth helmet | XXL = 62cm-63cm |
| For Daytona | XXL = 61.3cm-63.5cm |
| For Belstar | XXL = 63cm – 64cm |
| For Shoei | XXL = 63cm – 64cm |
| For Scorpion | XXL = 63cm – 64cm |
| For Arai | XXL = 63cm – 64cm |
| For AGV PISTA GP R/ CORSA R/ VELOCE S/ K-5/ K-3 SV/ K1/ AX9/ K-5 JET/ AX-8 EVO/ X3000/ X70 | XXL = 63cm – 64cm |
| For AGV Sportmodular | XXL = 61cm – 62cm |
Why does my helmet look so big on my head?
A helmet can look so big on your head due to several reasons.
First, due to the thick padding, a helmet looks big on the head. Helmets with the thick pad are safest as they protect a person's head in the event of a bike crash or other traumatic accident.
Second, a helmet can be too big if it is not according to your head size. If you feel the gap between your head and the helmet is too big, be sure, it is big in your head.
Final Words
Generally, people with big heads should buy a helmet with the right measurement and size. Otherwise, riding a motorcycle will be dangerous because of discomfort. The best motorcycle helmets for big heads are sturdy, lightweight, well-padded, and comfortable. It is crucial to understand that the helmet is the single most crucial motorcycle gear, and you mustn't invest in an inferior product.
We recommend you to go with the Bell SRT Modular Adult Full Face Helmet. The full-face design will provide ultimate protection to your neck, face, and chin. Also, it is lightweight for being made of fiberglass composite, providing superior comfort during motorbike rides. More importantly, it is SNELL certified, safety is assured.
Whatever model you choose, protection should get top priority over features. Don't put yourself at risk buying an inferior quality helmet for your big head. While choosing, be cautious and check every factor which is responsible to provide ultimate protection.