Due to the polystyrene foam used to design, the helmet lining can dispel impact forces at road jerks or crashes. But you can gain this if you fit the helmet appropriately on your head. However, over time, your helmet, which fits perfectly, may loosen up. When you have used your helmet for a long time, it loosens and will no longer give you a snug fit. In that case, you will need to learn how to make a motorcycle helmet fit better.
There are simple ways to make the helmet fit better. The first one is to fill any loose area between your head and the helmet. Also, you can change the helmet's liner by replacing it with a thicker one to ensure a snug fit. These and many other methods will help you keep the helmet on your head. Keep reading as we explore together.
Key Takeaways:
The basic needs of a biker are safety gear to protect him/her from serious injuries at the time of a lethal accident or crash.
Having a motorcycle helmet that fits you better should be your top priority. But when you wear a motorcycle helmet often for a long time, it tends to loosen up and can't fit you snugly again.
Since there are different sizes and types of motorcycle helmets available, getting your appropriate fit can be quite stressful. Moreover, even though you get one, it may not fit on your head flawlessly.
You can make some adjustments to the liners or get thicker ones. You can also use side straps or get the right size when buying.
How Do I Know My Helmet Size?
To pick out a perfect-fitting motorcycle helmet for yourself, you must consider certain factors.
Can it offer maximum protection?
Is the design stylish enough to suit you?
Can I find the right size to fit me perfectly?
You can find a modern motorcycle helmet design filled with the latest technology on safety. However, it cannot fit your head perfectly. By that, your head can't get the needed level of protection which is an error. So to know your helmet size, you need to do the following;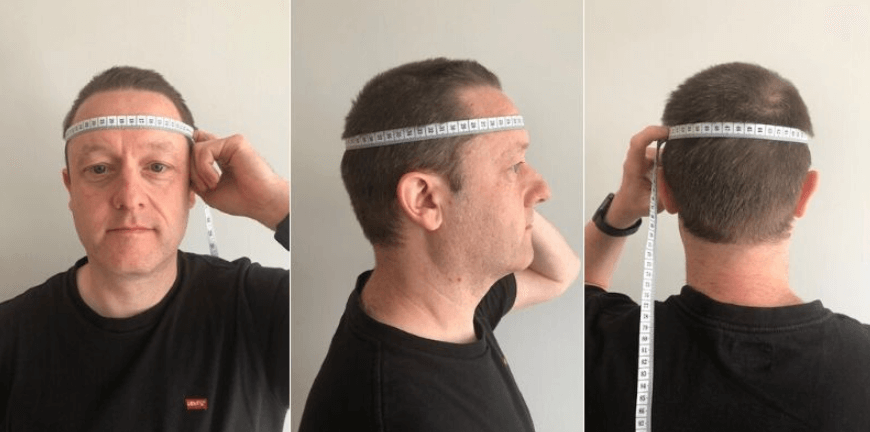 You can use a tailor's tape to wrap around your head circumference. Just a bit higher than your eyebrows.
Calculate what you measure in both inches and centimeters. Since different guides on sizes of dual sport motorcycle helmets may apply different measurements.
After you get the two measurements, you can then compare them with the size charts.
In case your head size falls in-between sizes, you can try out the helmet that is the least in size.
Getting your perfect helmet size for yourself is all about sizing and fitting, and you are good to go.
How to Make A Motorcycle Helmet Fit Better?
If your helmet doesn't fit you perfectly, it will not be sufficient to protect your head during a collision. There are ways you can follow to make your helmet fit better. Apart from getting your head circumference, the shape of your head also should be considered. Here we will properly describe about how to make a motorcycle helmet fit better?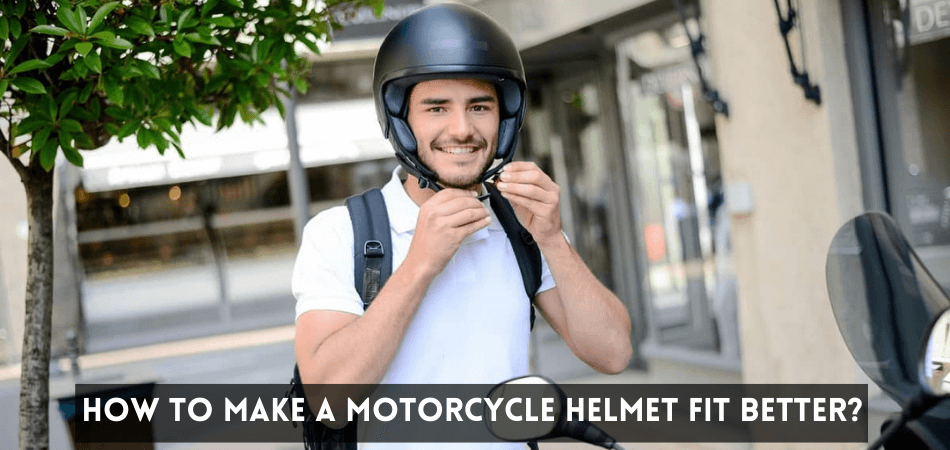 Head shapes differ according to different individuals. There are people with round, oval heads; some have long oval heads, while some people have intermediate oval heads. Therefore, you need to determine your head shape and then do the following;
Get The Perfect Helmet that Matches your Head Shape
Since people's head shapes differ from one person to another, you need to get a helmet that can appropriately match your head shape. So, for a proper fit, determine your particular head shape. Then browse through the stores selling motorcycle helmets that can match your head shape.
Accurate Measurement
Biker's helmets have a sizing chart to which they adhere. Therefore, you must first compare the sizing chart with your correct measurement before buying any helmet. There is a general chart for sizing. In addition, certain companies also provide their particular version of sizes which you are free to consult.
To get your accurate measurement;
Get a tailor's tape
Measure your head's largest circumference. That is the area across your forehead and on top of your ears. You can always find someone to help you take your measurement for more accuracy.
In case your size is in-between, you can take 1 size up
Adult Size Chart
| | | |
| --- | --- | --- |
| Size | Hat Size | Head Circumference |
| X-Small | 6-5/8 – 6-3/4 | 20.87" -21.26"(53-54cm) |
| Small | 6-7/8 – 7 | 21.65" – 22.05" (55 – 56cm) |
| Medium | 7-1/8 – 7-1/4 | 22.44" – 22.83" (57 – 58 cm) |
| Large | 7-3/8 – 7-1/2 | 23.23" – 23.62" (59 – 60 cm |
| X -Large | 7-5/8 – 7-3/4 | 24.02" – 24.41" (61 -62 cm) |
| 2X-Large | 7-7/8 – 8 | 24.8" – 25.2" (63 – 64 cm) |
| 3X-Large | 8-1/8 – 8-1/4 | 25.6" – 26" (65 – 66 cm |
| 4X-Large | 8-3/8 – 8-1/2 | 26.4" – 26.8" (67 -68 cm) |
| 5X-Large | 8-5/8 – 8-3/4 | 27" – 27.5" (69 -70cm) |
Source: https://www.godigit.com/motor-insurance/two-wheeler-insurance/helmets/how-helmet-size-is-measured
Use Liners
One other way you can make your motorcycle helmet fit you better is to add liners to it. You can use customized paddings and liners to achieve that. However, you must make sure that the helmet fits your head snugly. That is the only way it can cushion your head against impact.
All you need to do is fix in liners to those loose sections of your helmet. If the liners didn't do the job, you can always bring them out and change them with a thicker material.
One other way to make your motorcycle helmet fit you better is to have your liners custom-made. Any motorcycle shop can perform this service. They can use expanded polystyrene liners to cut your appropriate head size.
Examine your Helmet Position
One other thing you need to do is examine the helmet position on your head if you want it to fit better. If, after checking, you fitted your helmet at the wrong position, it will likely move sideways, especially when you go out on a ride with your bike due to the blast from the winds.
So, if your helmet position is wrong, correct it to fit low on your forehead. Let there be only lesser than 2 finger-width on top of your eyebrows. With this positioning, your site will not be obstructed; you can see the road.
While positioning your helmet, always face upwards to make sure that you can view the frontal rim of your bike helmet.
Use The Side Straps
The work of the side straps is to make sure that your helmet fits perfectly. So, you can use both the left and the right straps to form the Y-shape and join directly underneath your ear.
Adjusting the side straps come easy. It will only take you to roll its rubber band consistently until you are comfortable with the helmet. When you do this, make sure that;
You have placed the helmet on your head.
Make sure that the straps do not cover your ears so that you won't become uncomfortable.
Buckle Your Chin Strap
Another important feature that can help your helmet fit you better is the chin straps. You should pass 1 finger to make sure that only one finger can fit below your chin. The chin straps work well together with the side straps to ensure that you get a perfect fit on your head. How to do it;
Buckle your chin strap
Open your mouth widely
Test whether the helmet is constraining the top of your head
Tighten the strap a little bit if the helmet is not pressing the top of your head.
Modern straps have the advantage that the materials used in constructing them are absorbent. Therefore, the chin strap will not block sweat below your skin.
How To Break In Motorcycle Helmet?
Breaking in your motorcycle helmet is a very simple procedure. All you need to do is to wear your helmet because it's the safest way to do it. As time goes on, the foam material used as the lining inside the helmet will deflate and wear down. As a result, the helmet will adjust to the shape of your face. It will then contour to the features of your face.
You can wear the new helmet for about 15 to 20 hours. Or, you can wear the motorcycle helmet constantly for 2 days. After that, you can then take a ride in it. That will help the helmet's inner pads to get used to your face. As you continuously wear your helmet, the padding tends to wear down.
The major factor required to break in your new helmet is time. Just;
Wear the helmet around your house
You can use it and watch Television on it
Sit with it in your garden and read a book
Wear it for long hours until the helmet becomes comfortable on your head
Also, until the pads adjust as you wish to the shape of your head, don't remove them.
When you must have worn the helmet for 1 hour or more, you can conclude whether the helmet is your perfect fit or not. For instance, if your cheeks are not hurting, it fits. Also, if you don't feel any pressure point on your head anywhere, it fits properly. Moreover, if the helmet isn't falling off from your head when you move, then it fits you correctly. You can then feel free to embark on your motorcycle journey with all that checked.
Conclusion
The major duty of a motorcycle helmet is to ensure your safety. It can prevent you from sustaining injuries in the case of a crash. The shell of the helmet is also designed to safeguard your neck and head. Its lining formed from the polystyrene foam dissipates the force of impact. That is why; it is important to make the helmet fit better on your head before riding out.
On how to make a motorcycle helmet fit better, try to buy the right size by measuring your head before picking. Also, you can add a liner to close up loose spaces or change the pads to a thicker one. But if you notice that your helmet is loose or has aged, you can also get a new one; your safety is very important.