The most vital and effective safety precaution you should take as a motorcyclist is to buy a fitted helmet for yourself. It is the only gear of a motorcycle that can offer you greater protection or greater value for your money if a crash occurs.
That is why it is important not to purchase your motorcycle helmet according to its appearance or price. As a rider, you should go for the helmet that fits you perfectly. Also, you should buy a helmet that is highly rated, which you can afford.
If you want to buy a motorcycle helmet, you have to conduct broad research. That is the best way you can understand its different sizes, shapes and the best one that can fit you perfectly. What if you purchase the wrong motorcycle helmet? Will it pose a hazard to you? So what size head does a large motorcycle helmet fit?
Read on to know more! 
What Size Head does A Large Motorcycle Helmet Fit?
If a motorcycle helmet does not fit perfectly, it can make you uncomfortable. The helmet is also noisier and moves around as you ride if it is too big. On the other hand, if the helmet is too tight on your head, it can cause you headaches which is quite dangerous as well.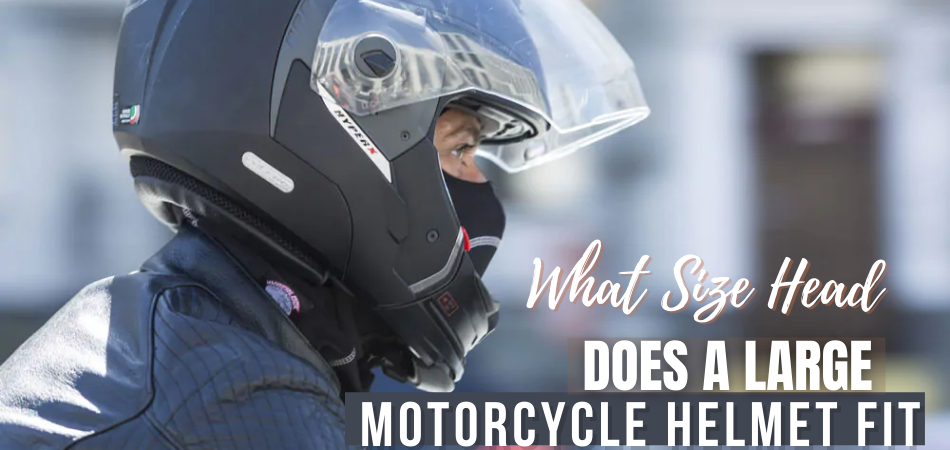 Any helmet that didn't fit snugly on your head cannot protect you against impact. That is why; if you have a big head, you should buy motorcycle helmets for large heads or go for medium or small size helmets if you belong to any of them. So what size head does a large motorcycle helmet fit?
Check out this motorcycle sizing chart for helmets!
Adult Sizing Chart for Motorcycle Helmets
| | | | |
| --- | --- | --- | --- |
| Adult Size | CM | Hat Size | Inches |
| Xx Small | 51-52 | 6 3/8 – 6 ½ | 20 -20.5 |
| X Small | 53 – 54 | 6 5/8 – 6 ¾ | 20.87 – 21. 26 |
| Small | 55-56 | 6 7/8 – 7 | 21.65 – 22.05 |
| Medium | 57-58 | 7 1/8 – 7 ¼ | 22.44 – 22.83 |
| Large | 59-60 | 7 3/8 – 7 ½ | 23.23 – 23.62 |
| X Large | 61-62 | 7 5/8 – 7 3/4 | 24.02 -24.41 |
| 2XLarge | 63-64 | 7 7/8 -8 | 24.80 -25.20 |
| 3XLarge | 65-66 | 8 1/8- 8 ¼ | 25.60 – 26.00 |
| 4XLarge | 67- 68 | 8 3/8 – 8 ½ | 26.40 – 26.80 |
| 5XLarge | 69 – 70 | 8 5/8 – 8 ¾ | 27 – 27.50 |
Sizing Chart for Youth Motorcycle Helmet
| | | |
| --- | --- | --- |
| Youth Size | CM | Inches |
| Small | 49 to 50 | 19.15 to 19.50 |
| Medium | 51 to 52 | 20.10 to 20. 45 |
| Large | 53 to 54 | 20.87 to 21.26 |
From this table, you can deduct that the accurate head size that can appropriately fit a large motorcycle helmet is 59-60cm 7 3/8 – 7 ½ hat size 23.23 – 62inches head size for adults. Whereas for youths, it is 53 -54 hat size for 20.87 -21. 26inches head.
Why is it Important to Know your Head Shape?
It is very important to know your head shape before buying a motorcycle helmet. With that, it will become easier to find the right helmet for you.
The reason you are wearing a helmet is to assist your head during a crash. Also, it widens the trauma impact across a wide area as well as stops direct collision to the head. For a helmet to protect your head, it has to fit your head perfectly. You must wear it correctly, and the helmet should be in excellent condition.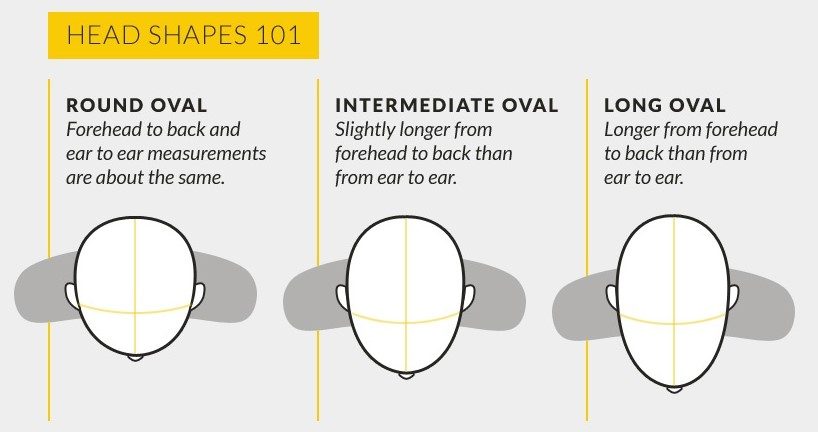 During a collision, your helmet can become loose and disappear if it isn't your right head size. That is why; it is important to know your head shape for a motorcycle helmet. Measuring the circumference of your head and the shape of your head helps a lot to ensure that the helmet you buy will fit you perfectly.
Moreover, it can perform its functions on your head without hindrance.
How do I Know my Motorcycle Helmet Size?
There are certain factors you need to know your correct motorcycle helmet size. They are as follows;
Get your Head Measurement
It is vital to buy your accurate size when buying a motorcycle helmet. So, get the measurement of your head before buying. To do that, use paper tape or cloth and wrap it around your head. The tape should cover above the eyebrows to reach that bulge behind your head. This procedure will get the circumference of your head. Measure in inches since it is what various manufacturers uses.
Find out The Shape of your Head
After knowing the size of your head, the next thing you need to do is determine the shape of your head. You can ask your friend to look down on your head from above. You can also take a selfie from above your head top.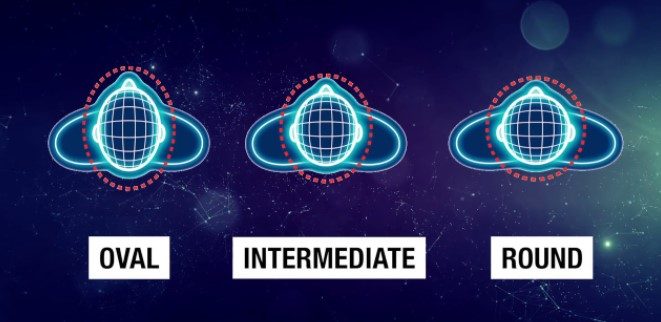 When you try to measure the shape of your head, you will find out that people's head differ from one person to another. Almost everyone have oval shape head. However, there are those that have larger heads, while others have narrower and longer heads. Although heads differ, most people fall into these 3 major categories;
Long Oval
This category of head is thin and long. Check your head if it appear like wide football when you look at it from above. Then you know that you have a long oval head. So you should go for a long oval motorcycle helmet which will feel snugger at your temples. Moreover, its pressure on the forehead or back of the head will be lesser.
Intermediate Head
Most people perfectly fit into the intermediate head category. The commonest human head is oval, which is longer than wider. The difference between the width and length is big. When you look at this head from above, it will look like a moderately squashed football instead of a wide one.
As this head size is the commonest one, many motorcycle helmets will fall into this category. You can always go for an intermediate motorcycle helmet instead of the round or long oval.
Round Oval
This particular head shape is as long as it is wide. If you have a head that resembles a football in shape, this means that your head shape is round oval. This shape of head is broader than the average.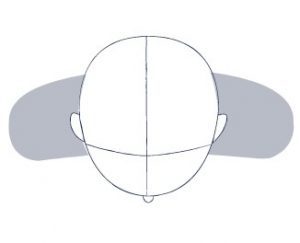 If you use an intermediate helmet which is the standard size, you will feel pressure on the sides of your head. Thus, your best option is to choose a round, oval helmet.
Try The Helmet On your Head
It is always advisable to test any helmet you want to buy on your head before buying. The helmet you should buy must fit snuggly on your head to avoid discomfort or pain. If you notice red markings on your head after removing the helmet, know that it is not a good fit. When you rotate the helmet on your head, and it moves up and down easily without pulling your skin a bit, it is a loose one.
Check out Helmet Styles
After you are through with the shape and size of your head, the next thing is to choose the helmet style you need. Choosing a style depends on what type of riding you will embark on. Also, your personal style plays a part as well. There are different types of helmet size to choose from. Such as;
Full Face Motorcycle Helmets
Full face motorcycle helmets are sturdy around its front, chin, and back. It also comes with a visor in its front. This style of motorcycle helmet provides all-around protection for your chin and head.
Open Face Motorcycle Helmet
This particular style of helmet can only cover the top and back of your head. In contrast, your chin and face will be left open to suffering in the event of danger. Open face helmet will require eye protection if you want to buy one. Also, its safety level is minimized. However, they look cool as sin.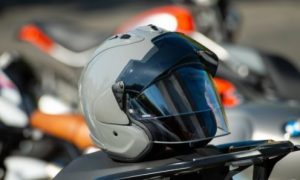 Modular Motorcycle Helmet
When you speak of a modular style helmet, it takes the best out of both styles. It consists of a flexible design so that you can remove the chin section. Also, you can flip up the chin section to change to a full face style helmet. As a result, you can still wear your helmet while you are eating or chatting without the need to remove it. However, the drawback to this helmet style is that it is not very solid. Thus, it is not quite safe as the full face style helmet.
Half Helmets
A half helmet can only protect your forehead upwards. Your back, face, and chin will be exposed when wearing this style of helmet. Vintage and cruiser riders always go for this style because of its style rather than safety.
How do you Fit A Helmet?
While fitting your helmet, your main goals to achieve are; stable, level, and snug. That said, this is how you can fit a helmet;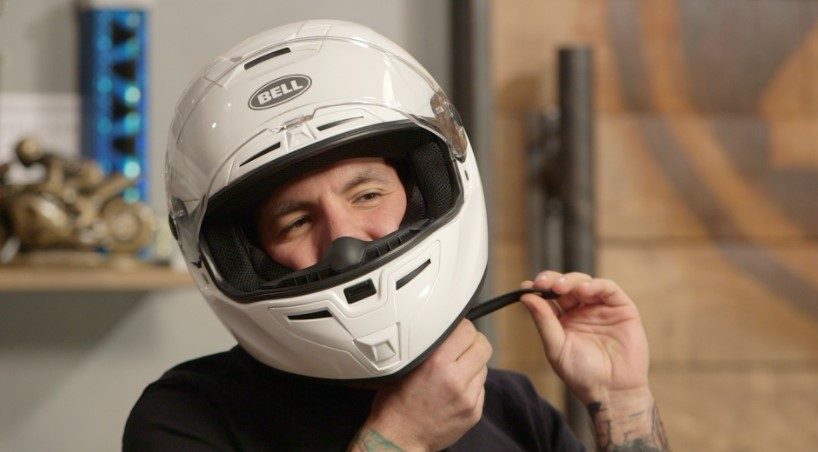 Adjust the Rings or Fit Pads
Most motorcycle helmets make use of fitting rings instead of side pads. Using this one-size-fit-for-all model, you can start by adjusting the ring size. The fitting rings may need to be tightened for a real stable fit on your head.
Or you may need to loosen the ring to get a loose-fitting which will indicate that that particular helmet is not your size. If the helmet you can use pads to fit is likely to consist of 1 set of foam fitting pads. You can also get a second set which is thicker to use for customizing the shape of the helmet.
Use the thicker pads to adjust the fitting pads at the side. That is; if you have a narrow head and there is room for it. If your head is shorter, you can put the thicker pads within the back of the helmet.
You can also move the pads around especially, those at the rear, in front, or corners. This will make room for airflow. However, always make sure that the fitting pads, touches all around your head evenly without becoming a too tight fit. Over time, the pads may compress, but it won't make it not fit.
Adjust the Helmet Straps
You can now put the helmet on your head and fasten the straps. Don't forget to place the front side at the front. Adjust the helmet to reach the "eye-ear-mouth" test created by BCM. Which are;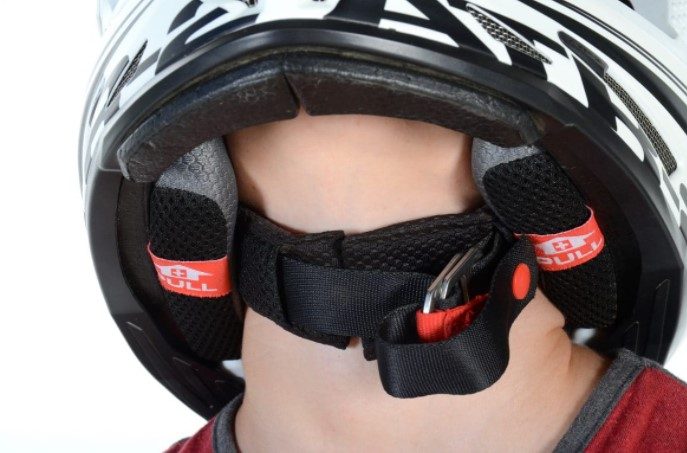 If you look upwards, the helmet front rim should be slightly noticeable to your eye.
The side straps Y can only join under your ear
The helmet chin strap have to be snug to ensure that as you open your mouth widely, you can feel a slight pulling down of the helmet.
When your helmet is rightly placed on your head, you can modify the front strap length. It will help you locate its Y fitting where the helmet straps join below your ear. If the helmet has a rear stabilizer, always pay attention to it. You can use it to prevent your helmet from wriggling while in use and make it feel stable. Although a well-adjusted strap is what can keep your helmet on your head during a crash?
Check It Out
The last check for the helmet fitting is to check out your handwork. You can check it on a mirror or if you are the fitter, look at the head of the person you are fitting. Move the helmet from one side to another. Also, move it from the front to the back and inspect the skin surrounding the eyebrows. It is supposed to move a bit as the helmet moves. If not, it means that the fitting pads are very thin at the back and front.
After proper fitting, your helmet is supposed to feel solid, be level, and comfortable on your head. It shouldn't collide with your glasses if you are wearing any. Lastly, ensure that the straps remain adjusted and lock it with its locking piece. That will prevent its migration during use. If your helmet doesn't come with a locking piece, you will have to use a rubber band to tighten it up below its side buckle. You can also sew the helmet straps at the appropriate fit. If you are using a heavy thread, the sewing maybe 5 or 6 stitches.
Conclusion
If you've been asking what size head does a large motorcycle helmet fit, you don't have to worry about it. You only need to find the right size for you. Moreover, if you are a biker with a large head, you don't need to worry about whether you can get a motorcycle helmet that can properly fit you. Going through this post, you will find out that there are also helmets for large heads which you can use.
With the different sizes of motorcycle helmets and different head shapes discussed here, you will surely get your perfect fit. So, take your time to find the one that fits you to maximize your safety at all times.