Motorcycling involves the risk of skidding, slipping or even an accident. The risk increases, especially when you are a beginner, as newbie motorcycling has a steep learning curve. If you want to ride safely, there are no alternatives except wearing the best motorcycle helmet for beginners.
Beginners should choose motorcycle helmets made of solid and sturdy materials, providing 100% head, neck and face protection. Moreover, comfortable helmets are also beneficial in different weather conditions because they come with multiple adjustable venting options.
10 Best Motorcycle Helmet for Beginners Reviews 2023
To avoid deadly injury, motorcycle helmets for beginners are integral riding gear equipment. Choose the best-suited helmet for safe riding by reading the below reviews carefully.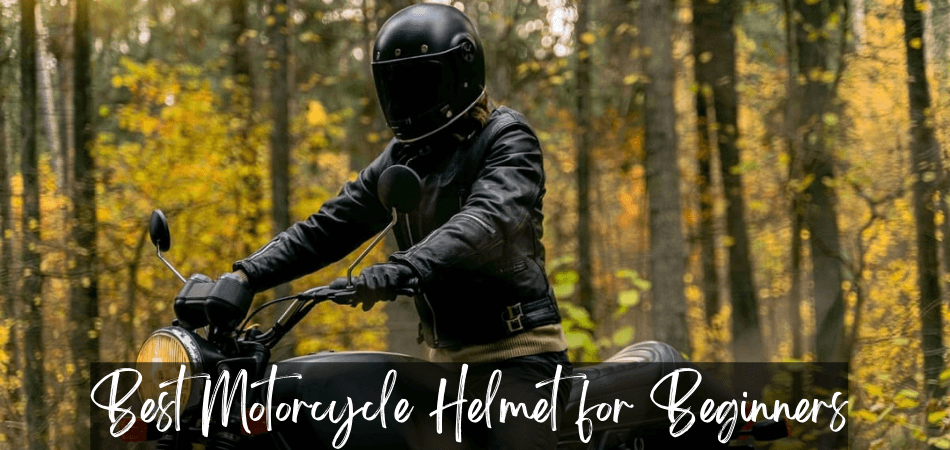 1. Best Overall: LS2 Helmets Full Face Stream Street Helmet
The LS2 Helmets Full Face Stream Street Helmet is great for beginners for its stylish yet convenient construction. It will fit well within a beginner's budget, offering several standard features such as removable and washable fabric liner, twin shield protection, etc. This helmet fits your head comfortably and meets DOT, FMVSS 218 safety rating. Moreover, adequate venting and full-face design are beneficial for long rides.
Technical Details of LS2 Helmets
| | |
| --- | --- |
| Shell Material | Polycarbonate |
| Inner Fabric | EPS Lining |
| Item Weight | 4.8 lbs. |
| Recommended Uses for Products | Motorcycling |
| Vehicle Service Type | Street-sport-motorcycles, Scooter, Street Bike |
| Safety Rating | DOT and FMVSS 218 Standard Approved |
Features & Benefits
Ultra Lightweight Full Face Design: This helmet covers the entire head and chin area with its full-face design. You will get superior protection on your chin and face. Also, it offers more protection from noise, bugs, stones, sun, rain, cold, etc. In addition, this is an extremely lightweight helmet with only 4.8 lbs. of weight. So, after wearing it, you will never experience extra weight on your head or neck.
Excellent Venting: The ventilation system of this helmet is of utmost satisfaction. Sufficient air will flow through the interior with the help of the channeled EPS lining. As a result, you won't sweat under the helmet while riding on hot or humid days. Cool air enters through the top vents, and hot air gets released via the exhaust vents. More importantly, the vents are adjustable, helping you ride comfortably on cold days.
Built-in Twin Shield System: Face shield and sun shield are available in high-end helmets. The good news is that; these shields are found in this budget-friendly helmet. Sun shield is helpful on scorching sunny days, protecting your eyes from UV rays and direct sunlight. An optically corrected face shield features a pin lock system, helping keep the fogging at a minimum level.
Washable Padding: Keep your helmet as fresh and new as it was on day one by removing and washing the technical fabric liner. Removal of the liner is so simple, and it is easy to wash with a mixture of warm water and mild soap. The liner becomes odor-free after washing. Moreover, the interior padding doesn't have any hot spots and fits comfortably on different head sizes.
Speaker Pockets: Another amazing helmet feature is the incorporated speaker pockets for installing communication or intercom systems. At the same time, this feature reduces wind noise effectively and lets you connect with your favorite radio stations or music on the road.
Comfort and Safety: The fabric liner of the helmet is impressively breathable and hypoallergenic, helping you avoid a sticky feeling. Moisture gets eliminated to keep you cool, even when driving in humid weather. Additionally, the reinforced chin strap and quick-release strap provide ultimate protection and make it easy to put the helmet on and off. It comes with DOT and FMSS 218 safety ratings, making it suitable for all types of riders.
Why Should You Buy It?
Comfort and safety should always get a priority when buying a motorcycle helmet for beginners. Happily, this helmet severs both features perfectly. In terms of reliability and solidity, it provides 100% protective performance during a crash. Overall, this helmet is built for protection more than anything else.
2. Best Stylish: Scorpion EXO R420 Helmet (Medium)
Beginner motorcyclists prefer to wear stylish and aggressive looking motorcycle helmets. No other helmet can beat the Scorpion EXO R420 Helmet (Medium) when it comes to style and value. It features an aerodynamic design that gives you an aggressive feel. The technically manufactured helmet offers high airflow, maintains low noise levels and has an anti-fog visor for the rider's comfort.
Technical Details of Scorpion EXO R420 Helmet
| | |
| --- | --- |
| Shell Material | Polycarbonate |
| Item Weight | 3.3 lbs. |
| Recommended Uses for Products | Motorcycling |
| Vehicle Service Type | Street Bike |
| Safety Rating | SNELL, DOT, and FMVSS 218 Approved |
| Gender | Unisex |
Features & Benefits
Polycarbonate Full-Face Helmet: This full-face helmet is made of advanced LG polycarbonate, giving it a rigid look. Moreover, a scratch-resistant face shield protects your eyes from UV rays and features fog-free technology. Furthermore, an intact face shield makes it an aerodynamic helmet. The helmet stays well-secured during an accident on the wearer's head with the double D-fastener closure. You will never experience difficulty wearing and taking off this headgear due to the easy-to-use D-fastener.
Design and Lock Mechanism: It is designed to provide ultimate comfort on both hot and cold days. The internal structure is between a neutral and an oval, resulting in higher security and moderate comfort. Additionally, its chin strap stays positioned to the chin and doesn't displace easily. Besides, an adjustable interior lets you modify the helmet according to your head shape and size.
Padding and Safety: Similar to all other SNELL and DOT-approved helmets, high-quality foam is used for making its interior. More importantly, the washable KwickWIck II fabric liner absorbs internal moisture and sweat created in the rider's head. The padding also features anti-microbial, minimizing the chance of mold build-up.
Elliptic II Face Shield: High standard visor is another steal at a reasonable price. This helmet's face shield is paired with an anti-fogging coat, providing clear vision on a foggy day. Also, a 100% UV-protected helmet lets you ride safely on a sunny day. Amazingly, it provides more side-to-side vision with minimal distortion, offering clear visibility at the other side's elements and increasing safety standards.
Several Air Vents: Basic levels of oxygen are necessary when motorcycling. You will get sufficient amounts of oxygen after wearing this helmet since it features several air vents. It has 3 sources of ventilation to keep you cool, relaxed and sweat-free. The top vent lets air enter the helmet, and through the EPS liner, cool air flows inside the helmet. Then the exhaust vent throws internal hot air outside. Interestingly, the ventilation comes with an aero-tuned feature, ensuring breathability.
Safe to Wear: You will barely find a helmet with a DOT and SNELL certificate at an affordable price. SNELL certifications mean the helmet is rigorously tested under all types of circumstances. Also, ensuring that the helmet will give you complete protection during an accident. It is ultra-lightweight and doesn't put any extra pressure on any point of your head.
Why Should You Buy It?
This helmet is promised to give you distortion-free visibility on the road. Also, the anti-fog coating is applied on the face shield to give you clear visibility on the winter and rainy days. A 3-way ventilation system will ensure cool riding in humid conditions. A beginner can ride a motorcycle with peace of mind by wearing this helmet for its SNELL and DOT certification.
3. Best Modular Helmet for Beginners: LS2 Modular Strobe Helmet
Do you love to enjoy the raindrops or fresh air on the face and simultaneously want safety when riding? Buy the LS2 Modular Strobe Helmet without thinking twice. It comes with a beginner-friendly price tag and features 2 visors, a removable and washable interior, 3D laser cut cheek pads, etc. Moreover, for optimum safety, it meets and exceeds the requirements of DOT and ECE.
Technical Details of LS2 Modular Strobe Helmet
| | |
| --- | --- |
| Shell Material | A-Class Polycarbonate |
| Item Weight | 4 lbs. |
| Recommended Uses for Products | Motorcycling |
| Vehicle Service Type | Street-sport-motorcycles, Scooter, Street Bike |
| Safety Rating | DOT and FMVSS 218 Approved |
| Gender | Unisex |
Features & Benefits
Modular Full-face Design: Many motorcyclists love the ability to pop open the front of the helmet to get fresh air, especially when riding in a hot climate. This modular full-face designed helmet lets you do so. Its modular design compromises between the breathability of an open-face helmet and the protection of a full-face helmet. Moreover, converting from full face to open face is simple, with the large button on the chin lock allowing you to operate it with just one hand.
Quick Release Reinforced Strap: The helmet is secured comfortably on the wearer's head, taking assistance from the quick release reinforced strap. Moreover, the strap prevents shaking when riding. Fastening and unfastening the helmet becomes a lot easier for the strap. Furthermore, its micrometric ratchet fastener is easy to use even when wearing gloves.
Removable and Washable Comfort Liner: Sweat and moisture on the wearer's head can make the inside of the helmet smelly. Thanks to the washable and removable comfort liner, you can remove the liner and wash it whenever required. Thus, the interior will always remain fresh and new. More importantly, mold or odor can't build-up, and you will have a comfortable long ride. All in all, it is comfortable to wear on long rides.
Dynamic Flow-through Ventilation: Several vents are strategically positioned in the helmet. It includes a single crown vent and a dual chin vent, providing great airflow at both high and low speed. A slider is also available in the vents, which can be operated even with gloves. The chin bar intake vent prevents fog build-up on the face shield, giving you clear vision. All vents perform together to give you a comfortable ride regardless of the weather.
Twin Shield Visor: The twin shield system of this helmet will surely satisfy you. It is equipped with a clear face shield and a built-in sun shield. You will get the necessary eye protection from UV rays and sunlight. On the other hand, when you enter a dark tunnel or low light condition, the visibility will be lighter immediately. Optically correct and scratch-resistant face shield a short-shift tool-less rapid release, letting you alter it effortlessly when required.
Noise Control: Generally, modular helmets are inefficient in controlling noise. Happily, this helmet controls noise excellently. The vents can easily be shut down to reduce noise. Innovative slide and cable technology flawlessly engage the twin shields, effectively minimizing wind noise.
Why Should You Buy It?
It is good quality and lightweight entry-level crash helmet, offering excellent value. You can wear it for all weather conditions because of the modular design. The outer shell is made of A-class polycarbonate, making it robust and lightweight. Also, it offers sufficient safety from heavy impacts and has a certification from DOT.
4. Best Bluetooth Helmet: TORC T15B Bluetooth Integrated Full-Face Motorcycle
Beginners will love the TORC T15B Bluetooth Integrated Full-Face Motorcycle for race-inspired graphics. It is the newest edition in the TORC family with advanced features, including Bluetooth, a replaceable fog-free shield, removable cool Max liner, etc. This is a helmet that efficiently absorbs many severe impacts in a crash.
Technical Details of TORC T15B Bluetooth Helmet
| | |
| --- | --- |
| Shell Material | Thermo Polymer |
| Item Weight | 5.15 lbs. |
| Recommended Uses for Product | Motorcycling |
| Vehicle Service Type | Street-sport-motorcycles |
| Safety Rating | DOT & ECE 22.05 Certified |
| Gender | Unisex-adult |
Features & Benefits
Built-in Blinc Bluetooth: Integrated Bluetooth is the biggest feature of this helmet. Improve your riding experience significantly by connecting your phone to it and communicating with other riders. You can make and receive calls using this Bluetooth helmet, and incoming calls will override any audio. Moreover, answering and rejecting a call is simple with the one-touch system that you won't need to stop the motorcycle every time.
Modifiable Top and Chin Vents: The helmet keeps you cool on hot and humid days with an excellent ventilation mechanism. Although it doesn't feature multiple holes, the smartly positioned air vents ensure enough airflow inside the helmet. As a result, it becomes suitable for humid summer days. Your face and head will always remain dry and cool on long rides.
Anti-fogging Shield: Tinted visors perform impressively to protect you from wind, dust, dirt, etc. Also, the visor has an anti-fog coating, resisting fog build-up in foggy conditions. This way, you are allowed to ride safely without worrying about unclear visibility. Since moisture or fog can't build up inside the helmet, you can keep the visor closed on the most terrible rainy days.
Safe and Convenient: The helmet is made of advanced thermo polymer, making it durable and strong. It resists harsh impact efficiently and evenly distributes the impact throughout the helmet, protecting your head from head injuries. Also, it is lightweight compared to its rivals, allowing it to carry conveniently.
Leaves No Wiggle Room: The fitment of a helmet plays a vital role during a crash. A too loose helmet may leave a wearer's helmet exposed to impacts. While a tight helmet puts extra pressure on the head, resulting in blurred vision. You will love to know that this helmet comes in the right size. The interior liners confirm stable and comfortable wearing that the helmet will not wiggle when riding on bumpy roads.
Minimizes Noise: Outside sound can distract you from the road, increasing the chance of an accident. Thankfully, it comes with a noise protection feature. The helmet has an incorporated rear spoiler responsible for minimizing wind noise. This feature eliminates outside noise, allowing the rider to concentrate on the surroundings. The rear spoiler minimizes wind buffeting and improves stability, whether riding on the town or highway.
Why Should You Buy It?
Overall, this is a good-looking, well-constructed helmet, protecting the wearer from impacts. A beginner will get complete protection on the road since it comes with several features like an anti-fogging shield, rear spoiler, updated thermo polymer shell, etc. It has a durable structure that beginners search for, and its futuristic design will give you a badass look when driving.
5. Best for Construction: ILM Motorcycle Modular Full Face Helmet
The ILM Motorcycle Modular Full Face Helmet provides the best riding comfort every time among so many beginner motorcycle helmets. It is a high-impact helmet and has ABS construction with aerodynamic shape and size. You can use it for all your long and short rides, traveling for miles after miles without discomfort. Moreover, its unique shape and design enable you to drive a motorcycle more comfortably.
Technical Details of ILM Modular Full Face Helmet
| | |
| --- | --- |
| Shell Material | ABS |
| Item Weight | 4.94 lbs. |
| Recommended Uses for Product | Motorcyclist |
| Athlete | Motorcyclist, Biker |
| Safety Rating | FMVSS-218 and DOT Certified |
| Gender | Unisex-adult |
Features & Benefits
High Resistant ABS Shell: ABS is a high-quality material ensuring the durability of the headgear. No impact can break this helmet for its high-resistant feature. At the same time, it is resistant to corrosive chemicals and heat. The headgear weighs only 4.94 lbs. quite lightweight than other helmets in this price range. After wearing it, there will be no pressure points on your forehead or neck or face for its lightweight characteristics. This means you will always enjoy your rides.
Micrometrically Adjustable Strap: The helmet will fit securely on your head with the micrometrically adjustable straps. It is pretty easy to use. Moreover, the strap comes in handy when you need to adjust the fit. The strap offers 5 different adjustability, which establishes user-friendliness.
Soft Helmet Liner or Cheek Pads: Its cheek pads or liners are super soft, giving you the ultimate comfort. Also, the cheek pads make sure it fits snugly and nicely. More importantly, the liners are removable, allowing you to adjust the helmet according to your head shape and size. Besides, you can wash them to remove odor and mold build-up, always giving you a fresh and new look.
Modular Flip-up Function: For its modular design, it performs as both a full-face and modular face helmet. Operating the modular function is pretty straightforward. There is a single button on the top of the helmet; press it to pull the chin bar. Thus, the helmet will become an open-face helmet. Simply pull down the chin bar and get 100% protection from a full-face helmet when riding at high speed. However, remember that when the chin bar is pulled up, you will experience considerable pressure on the face.
Anti-scratch Clear Visor and Sun Visor: It comes with an anti-scratch clear visor and a sun visor. The clear visor delivers pretty wide vision. Moreover, the cheek buffers are low down to see the speedometer without discomfort. You can easily remove the face shield by pressing the 2 screws on the sides and enjoy fresh air when riding at a decent speed. The sun visor blocks harmful rays and protects your eyes. Your nose will not disturb you by touching the sun visor because it is installed following a reasonable distance.
Air Ventilation: This helmet features basic ventilation with 2 chin vents, 2 top vents and 2 exhaust vents. You can open and close the front chin vents and top vents, taking assistance from a button. There will be no noise inside the helmet when the chin and top vents are closed. All vents perform together to keep you well-ventilated.
Why Should You Buy It?
This particular helmet stands out for beginners due to the ABS shell construction, which has guaranteed ability to withstand heavy collisions. Soft liners or cheek pads are easily removable and washable, keeping the interior free from odor. Also, vents in different positions keep the interior breathable and fresh.
6. Best for Off-roading: ILM Off-Road Motorcycle Dual Sport Helmet
If you are a beginner ATV rider, the ILM Off-Road Motorcycle Dual Sport Helmet will be the right choice. It is designed with various features that you can use for multiple sports such as dirt biking, motorcycle racing, ATV, street bike, city bike, and Powersports activities. Interestingly, this helmet can be used as a full-face helmet, dual sport helmet or dirt bike helmet.
Technical Details of ILM Dual Sport Helmet
| | |
| --- | --- |
| Shell Material | ABS and EPS |
| Item Weight | 3.52 lbs. |
| Recommended Uses for Product | Cycling, Motorcycling |
| Vehicle Service Type | Motorcycle, Cycle, Dirt Bike, ATV |
| Safety Rating | FMVSS-218 and DOT Certified |
| Gender | Unisex-adult |
Features & Benefits
Quality ABS and High-Density EPS Foam Construction: Characteristically, ABS is a highly resilient, scratch-resistant and impact-resistant material. This helmet uses ABS material that minimizes the death and severe injury rate from motorcycle crashes by 31%·. Moreover, high-density EPS foam absorbs energy to protect your head during a collision. EPS is a crushable foam that performs reliably in hard impacts.
HD Wide Angle Outer Shell: Clear visibility is of utmost essential when riding. The helmet offers an HD wide-angle view for safe riding regardless of the terrain type. Due to the wide visor, you can see everything that surrounds you. Moreover, you will get HD-quality vision in all weather conditions.
Inner Tinted Lens: Tinted interior lens facilitates you when motorcycling under bright sunshine. It minimizes the sun glare and eye fatigue to give you a comfortable ride. Also, the inner visor blocks UV rays, making the ride easy and comfortable for you. More importantly, the visor comes with a retractable feature with a convenient slider on the helmet to meet your different needs.
Efficient Ventilation System: Like all other standard beginner motorcycle helmets, it also employs a venting system in the front and top. The vents are designed in such a way so that fresh air can enter inside the helmet and replace hot air. Simultaneously, these air vents improve oxygen saturation, keeping the heart rate stable. Also, they help keep your body cooler, boosting motorcycling performance.
Replaceable Breath Box: One of the significant features of this helmet is the breath box. The responsibility of the breath box is to let fresh air in and fumes out to minimize fog or moisture build-up in the face shield. More importantly, you can remove the breath box whenever required. Also, replacement is possible.
Quick Release System: Taking the helmet on and off is not a challenging task. The buckle and quick-release chin strap allow you to wear and remove the helmet easily. In addition, both features let the helmet stay on the head securely during a crash. Besides, whenever required, they assist in quickly removing the helmet from the head.
Detachable Sun Visor: Another worth-mentioning feature is the detachable sun visor. This feature is indispensable for mountain biking. The Sun visor protects the helmet wearer from the sun, falling objects, leaves and other elements. It helps the rider to be attentive on the road. If you don't require it, simply remove it.
Why Should You Buy It?
In summary, this is one of the versatile helmets available today. Beginner and intermediate motorsport riders can wear it without hesitation. Its exterior is durable and designed for off-road biking. The inner sun visor could be flipped up into the helmet or removed off the helmet as you wish. It fits well and feels comfortable in every weather condition.
7. Best for Group Riding: ILM Bluetooth Integrated Modular Full Face Motorcycle Helmet
The ILM Bluetooth Integrated Modular Full Face Motorcycle Helmet is best for communicating with other riders and making and receiving calls. Beginners can enjoy group riding by wearing this helmet as it comes with a Bluetooth technology 3.0 version. It is also built with multiple exclusive features named removable and washable soft liners, clear face shield, anti-fog visor, etc.
Technical Details of ILM Bluetooth Integrated Modular Helmet
| | |
| --- | --- |
| Shell Material | Polycarbonate |
| Item Weight | 5 lbs. |
| Recommended Uses for Products | Motorcycling |
| Vehicle Service Type | Motorcycle |
| Safety Rating | FMVSS-218 and DOT Certified |
| Gender | Unisex-adult |
Features & Benefits
Built-in Bluetooth Technology: You can connect this helmet with your mobile phone to make and receive calls with the help of built-in Bluetooth technology. The maximum intercom distance is 3,280 ft., and 6 – 8 riders can successfully join and talk to each other simultaneously. The helmet comes with 9 hours of talk time, and the maximum standby time is 120 hours.
Fully Washable Microfiber Lining: It features a fully washable microfiber lining. The primary responsibility of the liner is to absorb the shock and distribute it within the helmet evenly during an impact. Moreover, the outer shell efficiently penetrates heavy collisions of foreign objects, protecting your head and face. Furthermore, extra comfort padding gives you ultimate comfort when motorcycling. The comfort liner is removable so that you can wash it to prevent odor.
Adjustable Vents: Another essential feature is the adjustable vent of the helmet. The chin vent, top vents and exhaust vent keep your head and body cool by allowing fresh air and releasing hot air. Cool air flows throughout the helmet, leaving a dry and cool head, preventing sweat. The adjustability feature of the helmet lets you wear it in different weather conditions. Since less sweat is confirmed wearing this helmet, comfortable riding is also promised.
Modular Flip Up Full Face Design: You can enjoy the benefits of full face and open face helmets after wearing it. It incorporates a hinge system, allowing you to easily lift or close the chin bar with a simple touch of a button. Flip down the chin guard when you need full protection. While enjoying full freedom of an open face helmet by flipping up the chin guard.
Noise Suppression Technology: When riding a motorcycle at high speed, communicating with fellow riders can be difficult for poor-quality sound. Keeping this point in mind, the manufacturer built it with noise suppression technology, ensuring crystal clear sound all the time.
Tinted and Clear Visor: Riding under bright sunlight is challenging because glare can distract the rider's concentration. Happily, this helmet has a tinted visor that eliminates sun glare to give you clear vision. Moreover, you can see your surroundings clearly in white or bright conditions where there is snow on the road. While the cleat visor is scratch-resistant, protecting your eyes and face from stone, dust, dirt, debris and other flying things.
Voice Assistant: After pairing the Bluetooth helmet successfully with your phone, turn on the voice assistant functionality by double-clicking the MFB button. This functionality will let you make a call without touching the making call button. It means you don't need to stop riding when making a call with the voice assistant feature.
Why Should You Buy It?
Bluetooth functionality lets you make and receive calls, enjoy favorite music, FM stations, etc. This will be a great helmet for those who love group riding. Adjustable vents, comfortable liners, replaceable tinted and clear visors are other features to make your ride comfy. Even, you will not face difficulty hearing your group riders due to the effective noise cancellation technology.
8. Best Budget-friendly: Bell Qualifier Full Face Helmet
What makes the Bell Qualifier Full Face Helmet suitable for beginners? Reliability, budget-friendly and comfortability – this helmet combines all these features and gives your head, face and neck complete protection from severe collisions. It is a multifunctional helmet ideal for motorbiking, auto car racing and bicycling.
Technical Details of Bell Full Face Helmet
| | |
| --- | --- |
| Shell Material | Polycarbonate / ABS |
| Item Weight | 3.5 lbs. |
| Recommended Uses for Products | Motorcycling |
| Vehicle Service Type | Street Bike |
| Safety Rating | FMVSS-218 and DOT Certified |
| Gender | Unisex-adult |
Features & Benefits
Rigid Shell Construction: The helmet is an elegant and stylish headgear constructed with polycarbonate or ABS material. For this reason, it becomes much lighter than its competitor, not putting additional pressure on your head. In addition, the aerodynamic design enables its user to enjoy a smooth ride without discomfort.
Photochromic Face Shield: One of the best things about this helmet is the photochromic and anti-fog face shield. Due to the photochromic visor, the shield adapts to the light condition, permitting a rider to ride on both roads and trails. Anti-fog properties prevent the formation of fog or moisture on the visor. As a result, you see everything clearly on a foggy or cold day. Ultraviolet rays also get blocked by this helmet because it has anti-UV rays coating. Moreover, the scratch-resistant characteristic makes the sun visor extremely durable.
Velocity Flow Ventilation Technology: Enough air flows inside this helmet as it uses velocity flow ventilation technology. Moreover, riders can regulate the airflow that touches their face according to their preference. Air vents in the chin area prevent fog and moisture formation. Top vents allow fresh air to enter, and exhaust vents release hot air. Overall, this helmet is crafted to give maximum comfort regardless of the weather and duration of the ride.
3D Laser Contoured Cheek Pads: The helmet's padding guarantees a comfortable fit. Due to the 3D laser contoured cheek pads, it grips the wearer's face easily without distortion. The pads absorb and soak up the sweat, making the interior dirty over time. Also, the removable and washable feature of the interior lets you clean the pads effortlessly, keeping the pads hygiene.
Padded Wind Collar: Wind noise is disturbing and annoying to motorcycle riders as it sways their attention. Thanks to the padded wind collar that reduces noise inside the helmet. It allows riders to concentrate on the road for safe riding. Moreover, the helmet has incorporated speaker pockets, enabling riders to enjoy their favorite tunes.
D-ring lock: The helmet features a D-ring lock, ensuring stable and steady positioning after wearing it. You can be assured that the helmet will not be knocked off if exposed to heavy collisions. It also meets and exceeds DOT and ECE certifications in providing you required safety on the road.
Why Should You Buy It?
Finding a beginner motorcycle headgear is tough, built with reliability and affordability in mind. In this case, this model from Bell is undoubtedly a lifesaver. Wearing this helmet is really enjoyable and easy for its lightweight and comfortable construction. The air vents keep you cool, dry and nice on long rides.
9. Best for Daily Use: Bell Pit Boss Half Helmet
Many beginners are satisfied with the performance of the Bell Pit Boss Half Helmet. This helmet comes with a classic and basic look. Additional padding around the ears and designed to fit perfectly, offering protection and safety during daily commutes. It has all the required features, including comfortable lining, robust construction, DOT certifications, etc., to become one of the best half-face helmets.
Technical Details of Bell Pit Boss Half Helmet
| | |
| --- | --- |
| Shell Construction | Carbon Composite Shell |
| Item Weight | 3.97 lbs. |
| Recommended Uses for Products | Motorcycling |
| Vehicle Service Type | Cruiser |
| Safety Rating | FMVSS-218 and DOT Certified |
| Gender | Unisex-adult |
Features & Benefits
Carbon Composite Shell: This helmet is made of carbon composite material, a blend of fiberglass, Kevlar, and carbon. Thus, it becomes resilient enough to resist the force of impact. At the same time, it weighs only 3 lbs., providing significant skull protection without being bulky on your neck. Undoubtedly, you can ride for hours wearing it.
Internal Drop Down Sun Shield: Its internal drop-down sun shield helps keep your eyes away from direct sunlight. So, if you don't wear sunglasses while driving on sunny days, riding will never be difficult. Interestingly, the sun shield can be positioned in 2 different positions. This way, you can use it depending on the sun's position.
Innovative Speed Dial Adjustable Fit System: Adjusting the helmet's fit is extremely straightforward. It can be worn by riders of different head shapes and sizes. The helmet features an innovative speed dial system, guaranteeing an optimum fit for every rider. You won't have to take off the helmet for adjusting because the dial is positioned at the bottom of the helmet, easily accessible. Moreover, the chin strap helps you adjust the helmet on your head.
Removable Neck Curtain: One of the satisfying features of this helmet is the convenient neck curtain. It prevents the crawling of bugs under the helmet. Simultaneously, your ears will remain warm in the colder seasons. More importantly, you can remove the neck curtain whenever possible, giving you the freedom to enjoy your ride regardless of the weather type.
Antibacterial Microfiber Liner: Antimicrobial and antibacterial properties are used in the liner of this helmet for outstanding odor control. The liner will keep you dry and clean when driving under the sun's heat. Moreover, you will not feel sticky for this material's impressive moisture absorbent quality for microbial properties.
Why Should You Buy It?
This helmet is superbly safe and comfortable to wear with a rigid composite shell and hygienic properties. The lining has great cushioning and shock-absorption materials that dampen impacts effectively. Moreover, it comes with a stylish design, giving you an elegant look on the road. If your preference is a glossy and matte helmet, this would be the perfect one.
10. Best Lightweight: BELL Qualifier DLX Full Face Blackout Helmet
The BELL Qualifier DLX Full Face Blackout Helmet is a beginner-friendly headgear for its affordable price tag. Despite its reasonable price tag, it features multiple features like a removable interior, robust shell construction, noise reduction system, etc., which are available only in expensive helmets. This sleek daily-wear and sturdy sports gear set the standard high for other headgears in its price range.
Technical Details of BELL Qualifier DLX Helmet
| | |
| --- | --- |
| Shell Material | Polycarbonate / ABS |
| Item Weight | 3.44 lbs. |
| Recommended Uses for Products | Motorcycling |
| Vehicle Service Type | Street Bike |
| Safety Rating | FMVSS-218 and DOT Certified |
| Gender | Unisex-adult |
Features & Benefits
Lightweight Polycarbonate/ABS Shell: Like standard motorcycle helmets, it is engineered using polycarbonate/ABS material, making it lighter at 3.44 lbs. and durable compared to its competitors. You can go for a long ride or travel through different terrains safely wearing this helmet. Your neck will not experience extra weight when riding for prolonged hours. Along with complete protection, comfortability is also confirmed.
Click Release Shield Change includes dark smoke and a clear face shield. Changing the shield is superbly effortless. Using any tool is unnecessary for shield changing due to the quick click release mechanism. Additionally, you will have perfect and wide visibility in all types of terrains, traffic and weather conditions.
Excellent Ventilation: In order to keep you cool, dry and warm, it is designed with multiple air vents. An ample amount of airflow enters the headgear for maximum comfort on sunny, hot and humid days. More importantly, the adjustability feature lets you close the vents on cold days if required. This means you have full freedom to adjust the airflow for a great riding experience.
Padded Wind Collar: Wind and road noise increase the risk of an accident by distracting the rider. Quietness is significantly important inside the helmet. For this reason, the manufacturer uses a padded wind collar in this helmet, reducing wind and road noise commendably. As a result, a rider can concentrate on the road and surroundings to avoid accidents.
Moisture-wicking Comfort Lining: The helmet is reasonably comfortable with moisture-wicking, removable and washable comfort liners. Simultaneously, it is adjustable too for a perfect fit. The liners absorb moisture and sweat to let you feel cool and dry. When you require to clean the liner, remove it and wash it with mild soap and warm water mixture.
Multi-directional Impact Protection System: It minimizes rotational force that may affect the helmet during transmission to the rider's head and neck during an accident. Your skull may twist due to rotational force, causing brain damage and neck injuries. Since shock gets absorbed, the chance of injury gets reduced.
Why Should I Buy It?
Skilled engineering and innovative technology make it one of the best motorcycle helmets for beginners. The shield comes with anti-fog, anti-scratch and UV-protected properties, keeping you well-protected in all terrain types. It efficiently absorbs impact in the case of collisions and stands out in the category of lightweight motorbike helmets at 3.44 lbs.
What Types of Motorcycle Helmets Are Best for Beginners?
There are many types of motorcycle helmets for beginners. Beginners should choose the one that meets their requirements. Here is a practical explanation for each type of beginner motorcycle helmet. Read the advantages and drawbacks carefully to make a precise decision.
1. Full Face Motorcycle Helmets
Full face helmets cover the whole head and face, providing safety from potential impacts. They also cover the user's neck to save the spinal cord during an unwanted accident. You will get the below benefits from full-face helmets.
Advantages
The chin, face and head are covered adequately
They serve almost all purposes, including touring, street biking, dirt biking, etc.
Front wide visor protects the face from flying things
Structurally stronger
Offers sufficient ventilation
Inconveniences
A little bit bulkier than other helmet types
2. Off-road Motorcycle Helmets
Off-road helmets are designed to wear away down the allies and roads. They are not a good choice for urban driving but are ideal for areas where bulb tires are necessary.
Advantages
They have more emphasized chin bar for greater ventilation
Consists of a bigger visor
Lightweight, preventing fatigue on the neck, head and shoulder
Inconveniences
They don't provide eye protection
3. Modular Motorcycle Helmets
Modular helmets are suitable for riders who need full coverage protection and openness of ¾ or half helmets simultaneously. The chin bar can be flipped upwards, allowing the rider to open the front position. Also, when required full protection, flip down the chin bar.
Advantages
Practical for everyday use
Easy to take on and off
Soft padding focused on comfort
Double visor system
Inconveniences
A lower aerodynamic efficiency increases noise in the interior
4. Half Face Motorcycle Helmet
A half-face motorcycle helmet covers the top of the head and leaves the wearer's face exposed. These helmets offer good airflow but less protection than other helmet types.
Advantages
Allows you to view the sights, hear the natural noise
Ensures good ventilation
Suitable for riders who prefer vintage and classic look helmets
Inconveniences
Provides minimum head, face, chin and neck coverage
5. Open Face Motorcycle Helmets
If you are a scooter rider or lower-speed motorcyclist, open-face helmets will be a good option. These helmets cover the sides of your head, back and top while keeping the face exposed.
Advantages
It keeps the head and face cooler
They have a longer visor, providing more weather protection
Offers comfort to the rider
Inconveniences
Your face will get exposed to road dust, debris, dirt, etc.
Things to Look for When Buying a Motorcycle Helmet for Beginners?
In fact, all helmets are designed keeping safety in mind. Consider the below factors when buying the best first motorcycle helmet as a beginner.
Check the Visor Quality
Poor visibility is responsible for collisions. So, your selected helmet model should have a crystal clear visor. At the same time, make sure the visor comes with an anti-fog, UV-protected coating. This will help you ride a motorcycle under any circumstances. More importantly, these features minimize the risk of an accident.
Shell Material
Falling and slipping is the most common motorcycle accident among beginner bikers. When an accident happens, the risk of getting hurt in the head is high. In this case, a durable, strong, and robustly constructed helmet can give the best protection.
Generally, most motorcycle helmets for beginners are made of polycarbonate or ABS material. This material is lightweight and long-lasting, resisting impact efficiently. Also, make sure the chin strap is perfect and lets the helmet sit on your head securely during an accident.
Soft Padded Interior
The interior should be soft enough to give you ultimate comfort on long rides. In addition, the soft lining has to come with a good absorbency feature. This way, moisture and sweat can't let you feel discomfort when riding for prolonged hours.
Moreover, removable and washable liners offer benefits in the case of removing odor and keeping the interior clean.
Ventilation
Whether riding on a sunny day or cold season, well-ventilation is a significantly essential feature. Choose a model that has multiple air vents in different positions. Air vents provide a sufficient amount of air throughout the helmet, giving you a comfortable riding experience. Moreover, vents in the chin area keep the front visor clear by preventing fog and moisture build-up.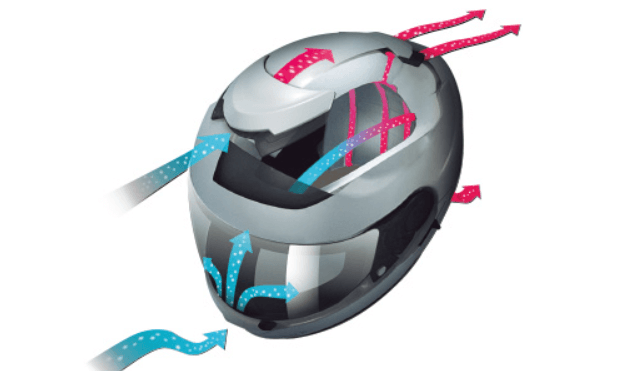 DOT Certification
DOT certification makes sure that your helmet has gone under several rigorous tests to resist heavy impacts. So, with DOT certification, you can be assured that the helmet will deliver reliable performance during an event of a crash.
Frequently Asked Question
Which helmet is best for daily use?
Open face helmets are a good option for daily use. They offer good protection on the head for being built with sturdy material. Air ventilation is also sufficient to give you a sweat-free riding experience. Moreover, you can enjoy nature and hear the birds chirping by wearing an open-face motorcycle helmet.
You can choose the Bell Pit Boss Half Helmet from our list. This open-face helmet has rigid construction, a dial for easy adjustment on various head sizes, DOT safety rating for your convenience.
How much should a beginner's motorcycle helmet cost?
A beginner motorcycle helmet can cost you between $100 – and $200. When selecting a helmet, make sure it fits your head and provides the required safety.
What does an AGV helmet stand for?
The full form of AGV is "Amisano Gino Valenza." This company is well-known for manufacturing quality and SNELL-approved motorcycle helmets, founded in 1947.
Final Words
Beginner riders are always excited about their first motorcycle riding. That is why most beginners try to ride at high speed, increasing the risk of accident and injury. You can minimize the potential injury by selecting the best motorcycle helmet for beginners.
If you are still confused about picking the right one, we suggest buying the LS2 Helmets Full Face Stream Street Helmet. It is constructed with polycarbonate, withstanding severe collisions. Also, a twin shield system will protect your face and eyes from flying things and sunlight. It doesn't have any hot spots since the internal padding is soft and well-cushioned. Overall, this is an amazing helmet at an unbelievable value.