If you own a new Harley Davidson, it's very natural that you will be confused about selecting the helmet. Therefore, most Harley riders wear a bandanna as a symbol of a helmet on the road. But most states have some laws about wearing helmets, so if the law doesn't specify, the rider prefers wearing a half helmet.
Except when they mention such as DOT-certified helmets, they wear open-face helmets with Harley. If you ask me, I prefer to wear a full-face helmet with my Harley.
You might think, Why do Harley riders wear full-face helmets? There's nothing that can be compared with my safety. A full-face helmet gives complete coverage of my head and chin. This will be the protective headgear for every tough time you face while riding Harley.
Is It OK To Wear A Full Face Helmet On A Harley?
If you own a Harley Davidson and wonder which helmet will suit you, this is the place. It's really okay if you ride your Harley Davidson with a full-face helmet. They will offer the maximum safety that you never get from other helmets. But most Harley riders are not comfortable with it. They use a bandana or scarf to protect themselves from the wind, but they will not wear helmets. Almost every rider asked, Why do Harley riders wear full-face helmets?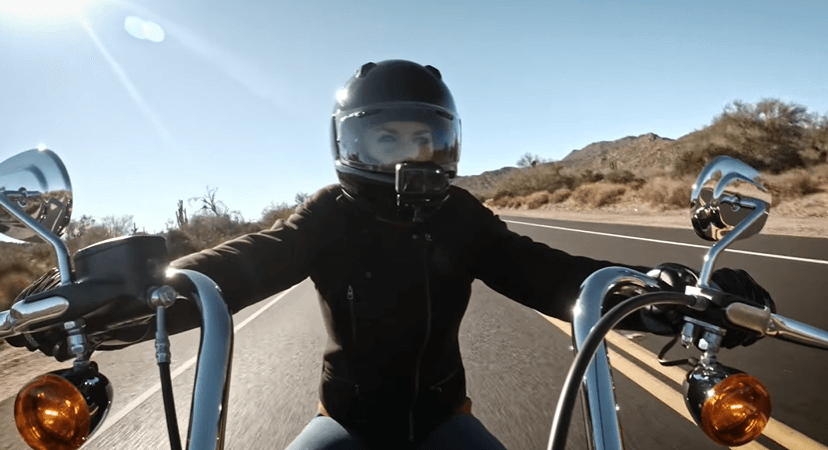 In hot summer weather, most riders don't want to wear a full-face helmet and are relatively rear also. Around 10 to 15% of riders wear these types of helmets. Some riders say no about the full-face helmets.
If you search for the Harley riders among them, the number will go down even more. But having a Harley Davidson will give you the power to wear any helmet. Most riders wear full-face helmets in heavy rain, early fall along with late spring.
On other days they choose a half shell, which is comfortable but dangerous too. And that's why original Harley riders love to wear full-face helmets, as they are fashionable and safe too.
What Kind of Helmets Do Harley Riders Wear?
When you research the helmet market, you'll see various kinds of helmets available for Harley Davidson Motorcycle riders. You can divide them into three sections. Here you get some details about these helmets-
Full-faced Helmet
Wearing a full-face helmet, including a flip-up visor, can protect you more than any other helmet. It offers the most coverage while riding around your neck and head, and you can also feel much comfort with a neck roll.
An impact-protecting full-face helmet is considered the safest. A sports rider uses a bike and has their own crouched riding position. The helmet they wear should prevent from lifting at high speeds.
This is why the rider loves wearing full face helmets for harley davidson. In a full-face helmet, you'll get a ventilation system to help evaporate sweat and reduce visor fogging. A full-face helmet with ventilation can keep you cool in hot weather.
Open-faced Helmet
People also called it ¾ faced helmet because it can cover the top back and sides of the rider's head. The main issue about the open-face helmet is they expose your face, which is dangerous when you fall into a difficult situation. These helmets are famous in the midst of the riders as they can feel the airflow on their hair. However, there is one major flaw, they do not have chin bars, which makes riding a lot less safe.
Some riders consider the open-face helmet as the full-face helmet. However, they won't protect the riders when riding in heavy rain or snow because of the openness. You have to purchase the visor to have full protection.
Half Helmet
These helmets can cover the top of the rider's head and forehead, which will give minimal safety. Inside these helmets, you can also find some covering the back of your neck and ears. But your face will remain exposed every time.
Because of the openness, the airflow will be enough, but it is also a sign of less safety than the other helmet designs. DOT-approved half helmets can also offer safety. In these helmets, there will be no visor or face shield; riders have to get extra eye protection. You can use riding glasses or goggles while riding with half a helmet.
Modular Helmet
This is the one helmet that is less narrow than the full-face helmet, including the open sensation of an open-face helmet. In this type of helmet, you'll get the chin bar which You can flip up for improved vision. By doing this, you can have fun watching the view on the back road.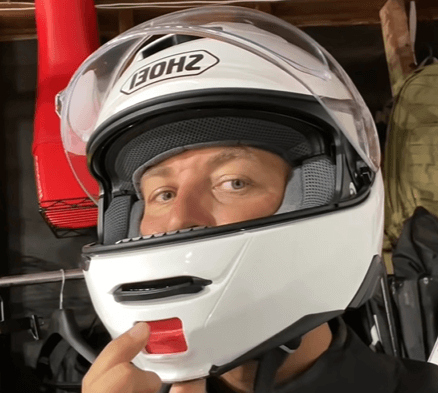 You can also put the chin bar down while hitting the highway for a rapid return to the city. These modular helmets can give the highest protection and show more of what's happening around the road.
Why Do Harley Riders Wear Full-Face Helmets?
Most genuine Harley davidson Riders wear full-face helmets, which is helpful as these helmets are promised to protect you from accidents.
Maximum Safety
In comparison to other automobile riders, motorcycle riders have less protection while riding on the road. As a result, wearing a full-face helmet can help protect their lives in the case of a mishap or accident.
A full-face helmet protects the Harley Davidson motorcyclists from head or chin injuries. Also, it can reduce the incidence of brain trauma-related fatalities along with the eye, teeth, nose, or face.
Coverage area
You can keep your face and ears protected from dust, rain, and other particles by wearing a full-face helmet. The downside is that you have to compromise your comfort for all these advantages. The biggest reason is the ventilation system, as the full-face helmet is not open like other helmet options. On the other hand, you'll get the utmost safety, which is advantageous.
Chin Bar
The best part of the full-face helmets is that they have a chin bar. This is the most important safety feature as it can protect your chin and jaw during any incident. In the middle of an accident, your chin will encounter 50% of impacts. This is another reason that Harley Davidson riders love to wear a full-face helmet
Bluetooth System
In recent years full-face helmets have been designed with some new features. In these helmets, you can get an in-built Bluetooth system, high-visibility patterns as well as a visor that you can simply adjust to the sunlight conditions.
Convenience features
You will find some new features in the new full-face helmets that are now available in the market. They have an in-built alarming system; they will beep when they find some alcohol or smoke there. With all these features, you'll get other features like a breath deflector along with a thermoelectric cooler, and other features too.
Certified Helmet
Choosing a certified full-face helmet could be the best if you want the outcome. Though several helmets on the market are not certified, you must check them before purchasing. Different types of certifications are available to certify your helmets. SNELL, DOT, ECE, SHARP, or FIM all these are the classifications of a helmet's standard.
Boosting Confidence
While owning a Harley Davidson, you won't lose your confidence in front of others. With a full-face helmet, you can boost your confidence level while riding. Without having any stress, you can enjoy your journey.
Full Face vs. Open Face Helmet
Full-face or open-face, which one will you choose for yourself? For your convenience, here we have given a chart where you can see all the characteristics of the full-face and open-face helmets.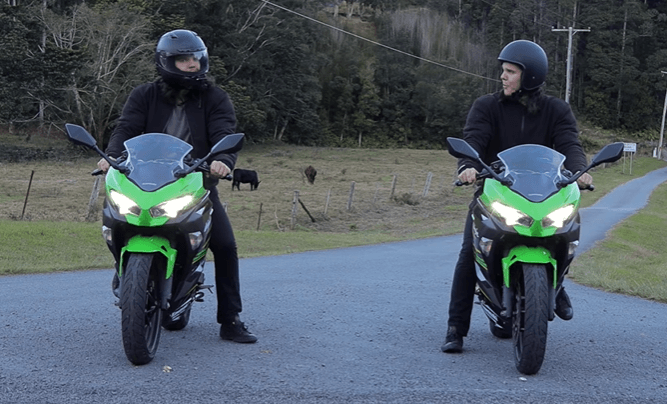 This chart can help you choose the best helmet as a Harley Davidson rider and offer the best trip.
Helmet Type
Characteristics
Full-Face Helmet

Coverage Area: Cover the rider's entire head and neck.
Visor: Have a visor that you can adjust to the sunlight. Limited visibility.
Safety: offers the utmost safety.
Ventilation: Ventilation system available but not that much.
DOT Approved: Yes.
Comfort: If you're in hot and humid weather, wearing it can feel you dizzy.
Distinguishing Feature: Attached chin bar, Bluetooth technology

Open Face Helmet

Coverage Area: Covers the head's top back and sides (3:4); the face will remain exposed.
Safety: Not safe as the full-face helmet.
Popularity: Scooter owners, cafe racers, tourers, along with cruisers.
Visor: No visor available. Purchase separately partial or full-face visor.
Affordability: Much more affordable than a full-face one.
Weight: Lightweight than a full-face helmet.
Ventilation: Full ventilation as there's no visor.
DOT Approved: Yes.
Comfort: Much more comfortable than a full-face helmet.
Distinguishing Feature: Lack of chin bar
Which Kind Should You Use?
The whole thing depends on whether you want a full-face or open-face helmet. If your riding styles are comprised of full speed or other risky parts, you should select a full-face helmet. This will be the best helmet for you while riding your Harley Davidson.
On the contrary, if you prefer some extra airflow and comfort rather than safety, you can go for the open-face helmet. An open-face helmet will allow you to enjoy your trip fully. It provides demandable airflow, which is helpful for hot weather.
Conclusion
While riding a two-wheeler, first, you have to think about safety. After that comes the comfort and other essential things you need to consider while riding. When you own a Harley Davidson, going for a long trip and thinking, 'Why do Harley riders wear full-face helmets?' Because of the safety issue, almost every Harley rider thinks about it.
This helmet offers the best head protection not only for the Harley riders but also the others too. The built-in chin bar of the full-face helmet makes it stronger than the other helmet. This little extra feature makes a full-face helmet a safer one.