Welcome to the world of motorcycles and the joy of riding.  You are just starting out and have a plain helmet, but you want to make it your own.  You want to make it unique and one that screams your name.  telling everyone that the helmet and motorcycle are yours.
The first thing on the agenda is to know how to customize your motorcycle helmet. Most choose to paint their motorcycle helmet.  This can be done by a professional or yourself.  We will show you how.  We will also talk about decals, how to put on stencils, and more.
Customizing your motorcycle helmet can be done to revitalize an older helmet or to make your new one unique.  In this article, we will cover everything you need to know about how to customize your motorcycle helmet.  You need to have special paint and sealer that is just for helmets.
Can I Customize my Helmet at Home?
Yes, you can customize your helmet at home but there are steps that you must follow before you can paint it.   You also need to know what material your helmet is made from so you can get the paint that is compatible with that material.
If you are not which paint to use, look at the website of the manufacturer or call them to see what paints you want to avoid, and which ones are safe.  Painting your helmet, either yourself, or a have a professional do it, is the best way to personalize your motorcycle helmet.
Why Should you Customize Your Motorcycle Helmet?
Many times, a person will customize their motorcycle helmet because they want to stand out from the crowd.  They want a different design from what everyone else is wearing.
Most helmets that you purchase are available in the same colors such as black, blue, gold, and red.  If you want a motorcycle helmet in a different color or shade, you will probably have a hard time finding one.  This is why many decide to customize their helmets using a variety of methods.
Some other reasons you might want to customize your motorcycle helmet include:
Safety: Customizing your helmet helps you minimize the chances of having an injury when you are on the road.
Sun protection: It will help to protect your face and head from the sun.  This is especially good if you are traveling for a long distance.
Legal compliance: It will help to ensure that you do not err on the wrong side of the various laws and regulations that govern cycling.
Bug protection: It will be easier to keep the bugs out of the way the more customized your helmet is.  If you have an open-face helmet and pair it with a mask, it will help to keep them out of your mouth.
Personal expression: This is one of the most important reasons to customize your motorcycle helmet.  You get to express your personality.
How to Customize Your Motorcycle Helmet (Complete Guide)
You can customize your motorcycle helmet by painting, adding decals, or stencils.  There are many ways in which you can customize your helmet.  If you design to use a custom model helmet you have to make sure that the design will pass safety standards to keep you safe on the road.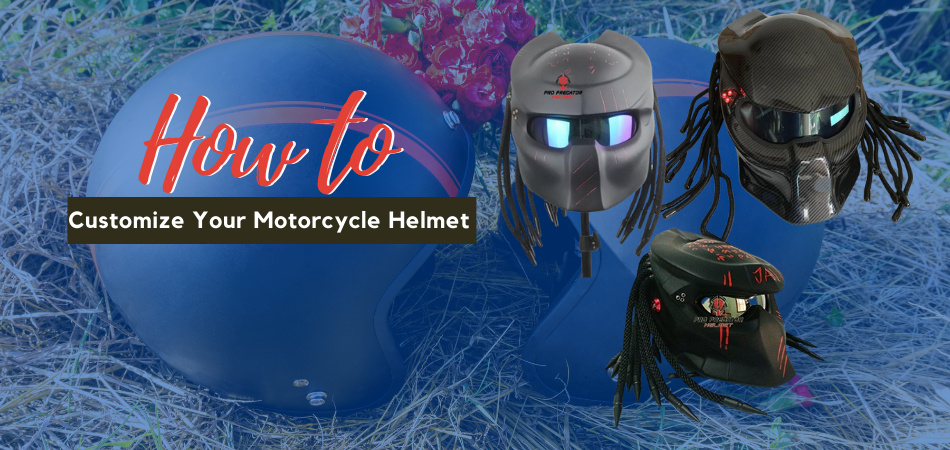 1. Steps to Customizing Your Helmet With Paint
Remove all the hardware before you start. This includes the visor, straps, pads, and liner.
Carefully clean the exterior of your helmet to remove and dirt, dust, and grime.
Using sandpaper, move the coating on the outer shell. This will help the new paint to stick to your helmet.
Make sure that you cover any part of your helmet that you do not want to get paint on.
2. Sealing
Another way to customize your motorcycle helmet is using a sealant.  You will need to apply at least two coats of urethane.It will give your helmet have a shiny finish.  Although you can get by with two layers of urethane the pros recommend two to three layers.
After the sealant is dry, you will need to buff it using a compound specifically for this purpose.  After this, you can reattach all of the hardware you took off.
3. Stencils
If you have any stencils you want to put on your helmet, this is done after you paint it.  Make the stencil design using paper and tape.  Focus on the details of your design so it lines up and looks straight.  Take the stencil down and paint the stencil onto the helmet.
4. Decals
Using decals is the most affordable and quickest way to customize your motorcycle helmet.  There are many designs and styles to choose from  Make sure that before you apply the decal(s) that you clean your helmet to remove dirt, grime, dirt, or anything that prevents the decals from sticking to your helmet.
Line up the decal you want to use correctly on the helmet.  They are virtually impossible to remove, and if you do, they may get torn trying to remove them.  Also, if you do not line them up correctly, your helmet will have a lopsided look.
After you know where they are going to be placed, you a grease pencil to mark lightly the places where the decals are going on your helmet.  When applying your decals do it slow and easy.  This will help to ensure that the center of the decals touches the helmet first.  This will help to prevent bubbles and wrinkles.
Carefully press the decal down from the center out.  Using this technique will help the decal conforms to the helmet.  If you have done this right, there will be no bubbles or wrinkles.  The last step is to use gentle pressure on the decal starting from the center moving to the endto smooth the design out.
5. Pinstriping
If you have any experience in painting, you can give your motorcycle helmet a unique look.  It is simple and affordable.  The drawback is that if you have never done pinstriping, it is one of the easiest ways to ruin the look of your helmet.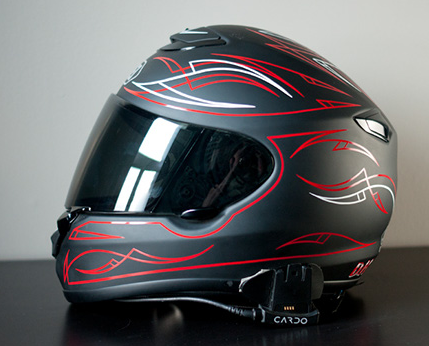 You will need to use paint that is specific for pinstriping.  You will also have to tape off your helmet before you start so you do not ruin the interior or get paint in the wrong area.  There are complex and simple pinstriping designs or you can create your own.
When you pinstripe something, you use a very thin line of paint.  You need to have careful steady hands.  If you have never done pinstriping before, it is best to let a professional do the job.  There are three types of pinstriping but freehand and mechanical are the two most used.
Freehand:This is the most difficult and advanced method of pinstriping. The reason is that you are doing it by hand using a brush.  Freehand pinstriping gives a person unlimited creativity.  You have to practice in order to be able to do it this way as it requires a very steady hand.
Mechanical: Pinstripes are put on the motorcycle helmet by a machine on an assembly line.  The key advantage of this method of pinstriping is that it puts the stripes of consistent width.  This allows more concentration on being able to keep the contour of the stripe aligned with the work surface of the helmet.
Using stencil tape: This method is a cheap alternative to painting.  When doing it this way, you get simple, clean stripes.  The downside is that it takes away or limits the design's creativity.  You lay stripes of different colors down firmly on the helmet.  Press out the air bubbles and any kinks.
Peel the release tape from the surface to set the guides.  Using this method, you can put down the different colors without having to wait for anything to dry.  You will have to use a paintbrush that is designed for pinstriping.
You paint between the guidelines and when the paint becomes tacky, then you can peel off the tape to see the final result.
6. Skins
These are different from decals but still affordable.  Decals and stickers are smaller than skins and will not fill out a large area.  The skin for a helmet is much bigger and covers the entire helmet's surface.  It can be used to replace the original paint job.
These will allow you to basically redesign what your motorcycle helmet looks like.  It can also help to protect the paint job from scratches, dings, and chips.
7. Masks
This is not doing anything to your motorcycle helmet, but it is a facial covering.  The mask you choose should be compatible with the style of helmet you have.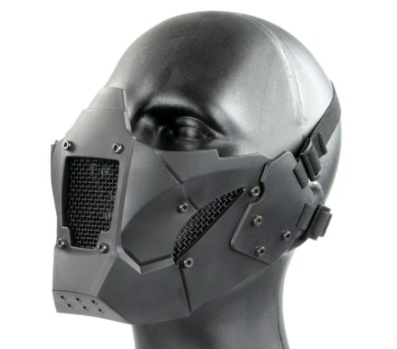 Wearing one can help to protect you from low temperatures, rain, wind, and bugs.  It is recommended that you only wear a mask with a three-fourths or half helmet.  It cannot be worn with a modular or full-face helmet.
There are several types of masks, which include:
Neoprene: This type of mask is generally worn during cold weather.  It is the type of mask that will give you the most comfort when you are going full speed.  The way it is designed, and the material used, these are very wind resistant.
You can even print on the material to add coolness by having a special design printed on them.  The one big disadvantage is that it does not offer much coverage for your neck.
Leather: These are made from leather and come in many unique designs.
Tubes: This is a style of neckwear and face mask that is lightweight when compared to the neoprene or balaclava masks.  These are usually made from Polyester Microfiber.  This is the type of material that can be used to quickly print designs.  They are small and can easily be packed in your pocket or bag so you can get to them easily when needed.
Balaclava: This is a longer face mask that will cover your neck area, unlike the neoprene mask.  These are commonly used also for skiing and snowboarding.  They were first created to help the war troops from freezing noses, faces, and necks.
Bandanas: These are made of some type of synthetic material and cotton.  One big advantage of using this type of face mask is they always come in handy and are lightweight.
Is There any Benefit to Custom-fit Motorcycle Helmets?
Yes, there are some benefits to having a custom-fit motorcycle helmet.  First off, it has been fit for your head so it can protect you better by not sliding or coming off in a crash.  It will also protect you from wind noise as it can be very loud when it rushes past your ears.
They help to protect you from weather conditions such as bright sun, heat, cold, rain, and more.  They also help to protect your head, neck, and face if you are in a crash or fall off the motorcycle.
Where to get Custom Motorcycle Helmet Design?
You can check online or at your different motorcycle shops to find someone that does professional customizing of motorcycle helmets.  If you do not want to pay hundreds of dollars to have it professionally done, then you can do it yourself.
Some customized shops that will customize your motorcycle helmet include:
HelMade Custom Motorbike Helmet Designs: With this customized shop, you design your own helmet online along with choosing the brand you want so they can get the details correct.  They will make sure that all the safety requirements are met.
Blaze Artworks Custom Helmets: Once you know what design you want, they will paint your helmet quickly and get it to you.  They also do airbrush with a matric helmet, or they will customize your helmet to match your visor.
Liquid Color Custom Helmet Designs: This shop uses unique paints to make sure they give you the best design and paint job and finish possible.  They offer a Design Process Guide, which will allow you to let them know what type of design you want plus how you want your helmet to look.
How Much Does it Cost to Customize my Helmet?
The price can vary according to how you want it customized if you do the job or let a professional do it.  If you have it professionally done, it will depend on what they charge.  On average, to get a professional custom design, it can cost $300-$500.  If you do it yourself, you can do it for under $50.
Here is a chart with approximate prices for paint job on helmet but will vary from shop to shop.
| | |
| --- | --- |
| Basic Paint Job on Helmet | $500+ |
| Custom Name on Both Sides | $40+ |
| Gold or Chrome Base | $450+ |
| Partial or Flat Matte Clear Coat | $125+ |
| Motocross Number Both Sides | $50+ |
| Helmet Attachment or Matching Wing | $80+ |
Customize Design Helmets
Below, you will see some of the many unique customize designed motorcycle helmets that have been done.
This design is by Rek at Rekairbrush.  One of the coolest airbrush helmet designs we have seen is the red bandana skull helmet by Rek at Rekairbrush.
Custom painted Mandalorian Motorcycle Helmet.
Deathstroke Helmet
Freehand Abstract Art Helmet
Glory Daze TE Customs Helmet
Is it Illegal to Paint a Motorcycle Helmet?
There are some places that do require a motorcycle helmet to have a safety standard sticker that has been provided by the local government, like DOT stickers in the United States.  You cannot paint over or delete them under any circumstances.  In addition to questioning if it is legal or not to paint your motorcycle helmet, you need to question whether it is safe or not.
When you customize your helmet to be colorful and unique, you are increasing the attention of others when traveling on the highway.  This will enable them to see you easily and safely move around you.  On the other hand, it may make it more difficult for them to notice any other vehicles on the highway.
The prerequisite for whether painting your motorcycle helmet is legal or illegal will depend a lot on the paint that was used.  The reason is that the paint used could affect the helmet's integrity.  In some instances, the chemicals in the paint used could cause changes in the texture of the surface of the helmet.  This could cause a lot of risks in case of an accident.
Repainting Helmets by Hobbyist
It is legal for you to repaint your helmet because most helmets have already been factory-painted.  After factory painting, they are tested for safety and quality by the law before they even reach the consumer.  There is nothing wrong or illegal about re-coating the paint that is already on the helmet.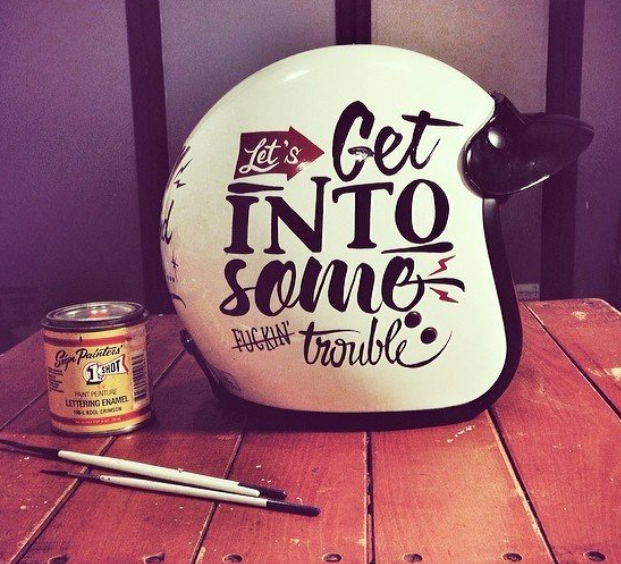 If you repaint it and not re-coat it, then for the helmet to be used, it has to pass several tests to be able to comply with the safety regulations and be able to be worn on the highway.
ANDRA test
Kart racing
Formula 1 and 2 racing tests
When you repaint motorcycle helmets, under the following circumstances it would be illegal to paint them.
The helmets are damaged when rubbing the surface too hard and it affects the fiberglass and plastic, and it causes the surface of the helmet to weaken.
If any components of the helmet are removed without permission.
The paint solvent softens the helmet's surface material.
It is recommended if you repaint your motorcycle helmet, you use acrylic and spray paint.   You can also use airbrushing.
Motorcycle Helmets Painted From the Manufacturer
Many times, when you check the tags and labels on the motorcycle helmet, there are warnings regarding the helmet's paint.  Mist manufacturers will not recommend painted helmets.  This is because the solvent in the paint used will affect eh ABS of the helmet greatly.
This is especially true of the older motorcycle helmets.  This is because the material will determine the safety of the helmet.
To sum it up whether it is legal or illegal to paint your motorcycle helmet, where you live will play a part in that decision.  Consult the necessary legal information carefully before you start to paint your motorcycle helmet.
Conclusion
There are many ways to customize your motorcycle helmet.  You can paint them yourself or have them done professionally, put stencils on them, and more.  In this article, we have covered all that to help you decide how to customize your motorcycle helmet and why you should do it.