When it comes to vehicle requirements and licensing laws, there could be slight differences for some jurisdictions. This is mostly because they could have different opinions about their vehicle definitions and classifications. You may want to know if a Honda grom is street legal? If so, do you need a motorcycle license for a grom?
Generally, you need a motorcycle license to ride a grom legally. This is because a Honda grom is a 125-cc variant brand of motorcycle. Hence, most states demand that all grom riders must have a motorcycle license.
Keep reading to know more about riding a Honda grom and its license requirement. Also, we'll explain if a grom is street legal and whether you can classify it as a scooter or motorcycle.
Article Summary:
A Honda Grom is a 125cc variant mini motorcycle, though some states could classify it as a scooter.
Generally, riders require a motorcycle license or an A1 license (for 17 years and above) to ride a Grom.
With an M1 license, ride all types of motorcycles with a Honda Grom inclusive.
In most states, it's legal to ride a Honda Grom on public roadways.
Can You Drive Honda Grom Without A License?
Most states don't allow riders to drive Honda Grom without a license. A Honda Grom is 125cc which demands that riders must have a motorcycle license to drive it. Some places could have laws of exemptions for smaller scooters or mopeds. These are particular for those with engines of 50cc and below. However, the laws generally require that the rider have at least a regular driver's license. This ensures that the person fully understands the traffic rules and other road regulations.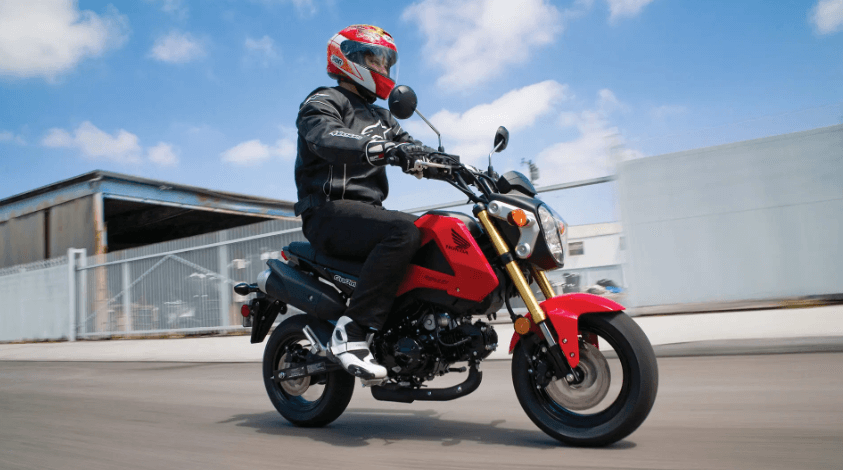 Moreover, some jurisdictions are very strict with laws for driving on the roads. For instance, Canada demands that driving any vehicle (which includes all types of motorcycles) must be with a license. The only exemption is for mini bikes that are 50cc and below.
Is A Honda Grom A Scooter Or Motorcycle?
It could be quite tricky to place a Honda grom either as a scooter or motorcycle. Due to its small size, some people would take it as a scooter. But a Grom is a small motorcycle showing its resemblance through the engine, shape, headlights, and even frame.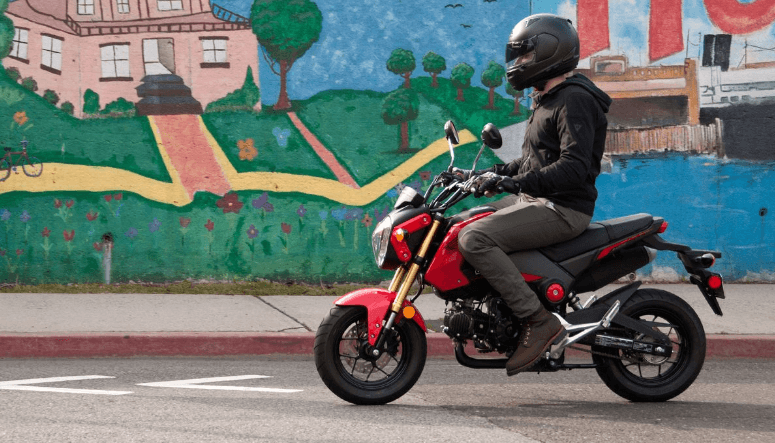 Moreover, Honda Grom is a 125-cc variant of a motorcycle, while scooters are 50cc powered. Also, a scooter always has an automatic transmission which is absent in Honda Grom. However, Honda Grom inculcates a manual transmission mechanism that is made up of 6 speeds on its gearbox. Also known as a pit bike which means a kid's bike, Honda Grom is not really for kids. Most grownups stick to it as it creates fun for riders. Its design is not for any functional purpose.
The Honda Grom emerged in 2013 and in the US in 2014, after which it meteorically became popular. The Japanese refer to the grom as MSX 125, while its English meaning stands for FUN. The small and compact size of the Grom has made it a great option for most riders. In places with little spaces, they could easily maneuver bigger vehicles due to the grom's low height and size.
Distinguishing Features of the Honda Grom
Engine – The engine type is a single-cylinder with four-stroke powers. Its engine size is 124.9cc (approximately 125cc). Its design is a single overhead cam (SOHC) comprising an electronic ignition, fuel injection, and double valves. More
Maximum Power – The maximum power is 7.4 kW (9.7 HP) at 7,250 RPM.
Maximum Torque – The maximum torque is 11.1 Nm at 6,000 RPM
Rear Disc Brake – It has a single disc of 190mm. This is unlike lots of cheaper motorcycles that would just have a rear drum. Also, it's an ABS with a single-piston caliper.
Front Disc Brake – Its single disc is 220mm. Also, it's an ABS with a dual-piston caliper.
Flipped Forks – Unlike sports bikes, a Grom has forks that are adjustable and positioned upside down.
Fuel Injector – The motorcycle has a fuel injector instead of a carburetor. This eliminates the process of kick-starting the engine. It relies on electronic self-starting to bring the engine to life.
Kerb Weight – A Honda Grom's Kerb weight is 103 Kg (227 lbs). It can carry a maximum weight of about 136 Kg. The bike can convey two people provided their total weight doesn't exceed the bike's maximum carrying weight.
Do You Need A Motorcycle License For A Grom?
You would need a motorcycle license to ride a Grom. Though it's small in size, a Honda is a 125cc variant motorcycle. Hence, a rider should have at least an A1 license (if 17 years or above) to drive a Grom.
There is no need for a license to ride smaller bikes with an engine of 50cc and below for most states. But once you have a 125cc engine bike or anything above, you must have a license to ride it. Some laws recognize and allow using an A1 license which you can get for teenagers of 17 and above. This creates a little flexibility that includes the younger generations enjoying the fun of cruising on a Honda Grom.
However, some states' laws place a strict regulation that requires only an M1 motorcycle license to ride a Grom. They believe that using the license will create more legality and reduce the breaking of traffic rules, especially on highways.
Other Requirements for Honda Grom
Some laws could add more requirements besides a motorcycle license for riding a Honda.
Below are other requirements for riding a Honda Grom.
Motorbike Registration
For some states, the only way to ride a Honda Grom legally on their roadways is with full registration. Most motorbikes with engines of 50cc and above require that riders would register them. This is in addition to the rider's motor driving license as the state laws demands.
The registration cost and period for the motorbike vary according to the state of residence. It may take a rider about 16 months and at least $130 to register a Honda Grom in Indiana.
Motorbike Insurance
Insuring a Grom could be a mandatory law in some states besides having a motorcycle license. Riders would get different insurance rates depending on the insurance provider they choose. In some cases, annual insurance could be between $100 to $500 for both facilities and services.
Most insurance providers are quite flexible with the young adults on their rolls. Since Honda Grom is mostly youth-based from high schools and colleges, it gets more benefits from the providers. They offer discounts on rates ranging from 10% to 15% for those that maintain a GPA of 3 and above. Also, the students may receive more facilities as incentives.
Some Safety Gear
Safety is a priority once you hit the road with any form of vehicle or motorbike. Though Grom is not a high-speed bike, most laws require that you appear with your complete safety gear. Also, this is part of the rule to use public roadways legally.
Some of the safety gear includes
Gloves – Gloves as necessary since the most impacts after a motorbike collision affect the hands. There's always an instinctive impulse to use the hand for protection. So, you require good quality hand gloves that will protect your hands from scratches and bruises during accidents. You can settle for those with strong palms but are also light and flexible.
Helmet – The head, face, chin, and neck are majorly injured in any critical motorcycle accident. You should never compromise the safety of your head. Riding on a bike require that you use a high-quality helmet for the protection of your head down to the neck. Ensure you select the right size for your head.
Some riders feel that covering their face with a helmet is a disadvantage while riding the bike. To them, the helmet will deprive the feel of the cool breeze on their face. Using a ventilated motorcycle helmet would ensure that you receive great airflow even as you ensure your safety. So you can enjoy your rides on your Grom even as you maintain the safety rule.
Riding Boots – Good riding boots should be over your ankles. In most cases, the boots could be quite high on your legs.
Jacket – Wearing a jacket could be optional for some places. Most riders prefer using their jackets only during the weekends. They feel like a goon by wearing a riding jacket to offices or classes after a ride.
Do You Need An M1 License To Ride A Honda Grom?
With an M1 license, you can ride any motorcycle, including a Honda Grom. However, as Grom is 125cc, anyone with an A1 license (gotten from 17 years and above) can ride the bike.
Different states may have different laws on the basic requirements for riding some motorcycles. Despite the various rules on licenses and their uses, having an M1license would give you an upper hand with motorcycles. A rider with an M1 license can ride a Honda Grom through any public road.
In most states, to ride any motorcycle, you must have an M1 license. They use the license classification to limit minors from accessing and riding higher bikes that are more than 250cc. Minors only have motorcycle permits that would allow them to ride smaller bikes below 250cc. They have restrictions when it comes to higher motorcycles.
Furthermore, different jurisdictions are placing some rules on motorcycle insurance and registrations. Additionally, there are some recommended requirements concerning the engine sizes of motorcycles. This would determine their use on some of the public roadways, especially on interstate routes and freeways.
Is The Honda Grom Street Legal?
Honda is street legal giving riders no restrictions to explore on public roads. The design of a Grom makes it a comfortable bike that you can ride on both on highways and around a city. It features an engine that is 125cc with a fuel injector that enables electronic ignition. Also, with its 6-gear speed, the bike provides a thrilling performance that makes it a top preference among riders.
Be it for both short and long commutes; a Honda Grom gives you the fun around the town or city. Its power is sufficient to match the flow of traffic. Moreover, its speed ensures a rider can swiftly maneuver through traffic flows with the aid of its small size.
Frequently Asked Questions
How Much Is The Insurance For The Honda Grom?
The cost of insurance for a Honda Grom varies depending on several factors and could range from $400 to $800. Also, different providers make a series of considerations to evaluate the rate for each rider. Some variable factors are state of residence, rider's age, driving history, riding experience, insurer's motorbike classifications, and others. For instance, the variable insurance range rate could be $500 to $700 per year.
Can You Drive A Honda Grom On The Road?
You can legally drive a Honda Grom on public roads with the required motorcycle license or an A1 license. Using the motorbike on freeways would depend on the state laws where you reside.
Does A Honda Grom Need To Be Registered?
The registration of a Honda Grom could be mandatory in some states. In addition to having a driving license, riders would have to register any motorbike with an engine that is 50cc or more.
Is A Honda Grom Considered A Moped?
A Honda Grom is a 125cc variant motorcycle. However, some jurisdictions could classify it as a scooter, placing it between a motorcycle and a moped.
Conclusion
Honda Grom is one of the most thrilling motorbikes to explore. Its simplicity, small size, and great performance create an attractive aura for the piece. Going through this article clears all ambiguity about do you need a motorcycle license for a Grom.
With a 125cc engine, riders require a motorcycle license or an A1 license to drive a Honda Grom. With a special design for young adults, Grom provides the rider with a safe speed that is not excessively overboard.