Motorcycle riding at night can be irritating and dangerous without the right pair of glasses. With the glare of headlights from other vehicles, you will hardly see anything on the road, increasing the risk of an accident.
Thanks to eyewear manufacturers developed an anti-reflective coating used on clear lenses. It blocks and reduces headlights glare effectively. Moreover, these anti-reflective lenses offer 100% UV protection during the day. Overall, they ensure a comfortable ride both day and night by minimizing eye strains.
The best motorcycle glasses for night riding provide the required eye safety and a clear vision of the road. In this guide, we are going to share how to find them.
Are Night Driving Glasses Useful?
If you don't enjoy riding at night or feel nervous due to the glare and reflections of headlights, then motorcycle night riding glasses would be useful for you.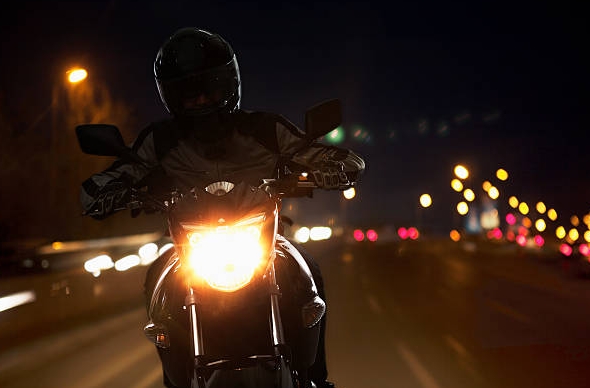 Motorcycle driving at night has its own set of complications. The oncoming car's headlights stay bright until the utmost last seconds before dipping. Your eyes will become temporarily blind due to the glare effects. Once your eyes adjust themselves to dark, you will be able to see the road clearly again.
Undoubtedly, you may put yourself, your passenger, and pedestrians when you go temporarily blind. Wearing night glasses can improve the condition, and it is something that you need to consider seriously.
Motorbike night goggles effectively block the headlight's bright light, thereby having a clear view. More importantly, you can wear them in all weather conditions.
Do Night Vision Glasses Really Work?
According to the wearers of night vision glasses, they can better see clearly at night or in cloudy weather after wearing the goggles.
Night riding glasses will enhance the depth and contrast of your view. Also, your eyes will handle reflections efficiently after you wear night goggles. Additionally, the created reflections by the lens themselves also get eliminated.
10 Best Motorcycle Glasses for Night Riding Reviews 2023
Selecting the right night vision glasses is not easy. Here are a few recommendations for you from reputed brands.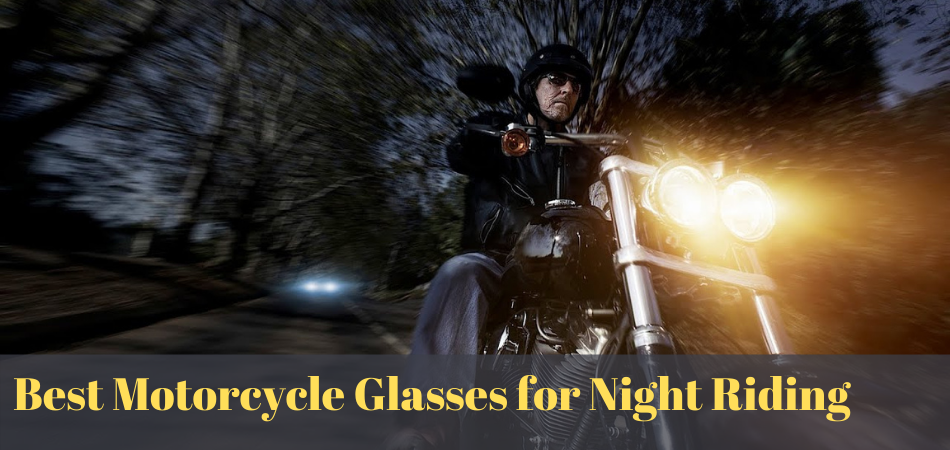 1. Best Overall: Harley-Davidson HDTAN05 Men's Tank Sunglasses
Do you spend most of your time on the urban streets and looking for night-riding sunglasses? The Harley-Davidson HDTAN05 Men's Tank Sunglasses would be a great option for you. It is ideal for riding from dusk into the night due to its optical clarity.
Harley-Davidson HDTAN05 Men's Tank Sunglasses : Technical Details
| | |
| --- | --- |
| Gender | Men |
| Functional Features | RX is available |
| Certification | Meets ANSI Z87.1 |
| Weight | 5.29 oz. |
| Lens Type | Smoke Gray |
Features & Benefits
Light Adjusting Smoke Lens: The main characteristic of night riding goggles with smoke lenses is to protect the eye and ensure maximum relaxation with very intense light conditions. Smoke lens evenly absorbs any chromatogram, making the view darker, but obvious chromatic aberration will not be there. Moreover, the lenses darken based on the brightness of the sun.
Offers Real and Natural Feeling: Smoke color is categorized as neutral. It efficiently absorbs UV and IR without changing the original color of the scene. Due to the smoke lens, this sunglass offers a mild and natural feeling to the wearer, offering comfort when you travel around.
Lightweight Frame: This pair is lightweight and not heavy, suitable for all-day comfort. You will not feel them as much as it doesn't weigh much. In fact, you will feel more comfortable with them. Moreover, it is cleverly designed, and you will not feel any pressure on your nose and bridge. As a result, you can wear them for a whole day without trouble.
Patented Removable, Soft Foam Facial Cavity Seal: These are a great fit and perfect for keeping wind and debris out of your eyes while riding. Furthermore, you will always have tear-free riding. The face seal works as advertised.
Removable Gasket: Removable gasket helps limit eye exposure to nuisance dust while providing added comfort and cushioning. Small vents in the gasket help reduce moisture buildup. So, you don't have to stop to change them for clear glasses.
Final Thoughts
This sunglass pair provides a better fit under the helmet. It is brilliant in absorbing UV rays and blocking dust, debris, cold, etc. Wearing them, you will never feel discomfort as it is promised to give you clear sight with great comfort.
2. Best for Protection: Outlaw Eyewear Tactical and Motorcycle Sunglass
Sunglasses are essential gear on the open road on a motorcycle. The Outlaw Eyewear Tactical and Motorcycle Sunglass will allow you to see the road without problem, especially at night. You will enjoy the ride the way it is meant to be. Most customers are pleasantly satisfied with this pair of glasses.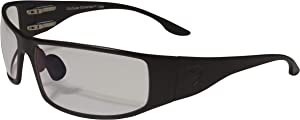 Outlaw Eyewear Tactical and Motorcycle Sunglass: Technical Details
| | |
| --- | --- |
| Gender | Men |
| Material | Black Tactical Aluminum Frame |
| Lens width | 65 mm |
| Frame Width and Height | 70 mm and 36 mm |
| Certification | Meets ANSI Z87.1 |
Features & Benefits
Black Tactical Aluminum Frame: It provides superior comfort for its aluminum construction under your helmet. At the same time, aluminum makes it a much strong and more durable frame compared to other sunglasses. The frame adjusts itself automatically to the expected place where you want it to be in. Simultaneously, eliminating air leaks.
Polarized Lens: The lenses are polarized, proving utmost safety and protection from irritating glares of headlights or other reflective objects. More importantly, the glasses increase contrast and minimal color distortion.
Dual-Spring Reliable and Replaceable Hinges: Dual-spring hinges offer the highest flexibility. The biggest technical difference between standard and spring hinges is that the spring hinge allows greater movements. Thus, frames are not limited to conventional 90° angles. Moreover, it offers supreme adjustability as you can conveniently put it in your hair without worrying about possible misalignment.
Poly-carbonate Pathfinder Lenses: The lenses are 10X more resistant to impacts than plastic lenses for their poly-carbonate pathfinder feature. It is durable, delivering additional safety to your eyes and promoting better eye health.
100% UV Protection: The lens is coated with UV-protected, anti-fog, scratch-resistant, and anti-reflective components. This coating eliminates fogging on the surface of the sunglasses. It benefits you in your daily use.
Final Thought
The sunglasses are mainly designed to protect you from dust, dirt, and debris without compromising the clear visibility. If you require, you can upgrade it into custom-made Prescription lenses. The build quality, clarity, toughness, sleek look, and field of view are superb on this polarized model.
3. Best for the Durability: ATTCL Polarized Wrap Sunglasses for Men
The ATTCL Polarized Wrap Sunglasses for Men is manufactured with durability in mind. This pair is made of super-light and stiff plastic, making it a good choice for everyday riding. They have good vision and stay securely on your head, on top or down over your eyes. They are tough glasses; you do not have to worry about them breaking.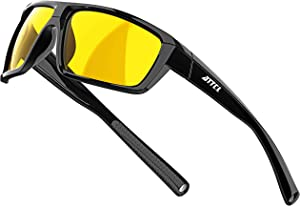 ATTCL Polarized Wrap Sunglasses for Men : Technical Details
| | |
| --- | --- |
| Frame Material | Plastic |
| Lens | Triacetate cellulose |
| Lens width | 56 mm |
| Lens Height | 42 mm |
| Weight | 5.29 oz. |
Features & Benefits
Tri-Acetate Cellulose lens: TAC lenses are a special design primarily made of an organic biodegradable polymer film. This new lens technology is formulated for superior visual and polarization clarity. It is one of the strongest and most durable materials available for eyeglasses. Characteristically, this material is lightweight, making it very comfortable for an extended period.
Exquisite Workmanship: ATTCL wrap design sunglasses protect your eyes from all angles. The polarization is superb, the color is not distorted, and everything is crisp and clear, even in low light conditions. Also, it has very low light leakage from any angle.
Neutral Color Shift: Color shifting plays an important role in visual perception. The neutral tint helps you see colors in their purest form. So, whether you wear it on scorching sunny days or nights or rainy days, you will always get crisp vision.
Excellent Fit: They fit well and appear to be good construction for the money. Also, they fit nice and are comfortable, even with a smaller and larger face both. This pair fits snugly and looks very good. The pair covers the eye to ensure tear-free riding. Its nose guards are molded, allowing the sunglasses to stay perfectly on your nose without wobbling.
UV Protection Coating: Harmful sun UV rays can damage your eyes. In order to maximize protection from UV rays, a UV coating is applied to the lens. It helps prevent the damage UV radiation can do to your eyes.
Final Thought
If you are looking for non-prescription motorcycle glasses for night riding, this glass will be an ideal choice. With a lightweight construction, it never lets you feel pressure on your nose and bridge. By wearing this pair, eliminate scattered and reflected light, restore true color and let you enjoy ride time.
4. Best Budget-friendly Night Riding Glasses: URUMQI Night Driving Lenses
Are you looking for an affordable alternative to prescription night vision glasses? Buy the URUMQI Night Driving Lenses and wear over glasses. You can wear it directly on existing regular glasses, allowing you to save many troubles. It is suitable for all kinds of glasses.
URUMQI Night Driving Lenses: Technical Details:
| | |
| --- | --- |
| Gender | Men and Women |
| Frame Material | TR90 |
| Lens | Triacetate cellulose |
| Lens width | 2.52" |
| Weight | 0.96 oz. |
Features & Benefits
Yellow Tinted Lens: The benefit of the yellow-tinted lens is, it can efficiently absorb blue lights, making the vision clear. It is popular among motorbike riders, cyclists, hunters, etc. Additionally, it improves the contrast and offers clearer images in foggy weather and dusk. Overall, the glass makes the road clear regardless of the light conditions.
Polarized Coating: High beam lights are annoying, and they can lead you to a dangerous accident. This sunglass has a polarized coating in the lens, reducing high beam and ensuring a soft field of vision without dazzling at night. It filters out roughly 28% of glare and reduces 86% of potential traffic accidents.
Sturdy Internal Hinge: The internal hinge prevents screws from loosening, easy to open and close the temples. It makes the sunglass structure more flexible. The structure reduces reactive stresses effectively.
Non-slip Rubber Covers: Make the glasses are worn stably during sports to prevent falling. Moreover, the glass stays in its position firmly when riding at high speed. Furthermore, this feature makes wearing glasses more comfortable.
Conjoined Nose Pads: Comfortable to fit the nose without pressing the bridge of the nose. They keep the frames in place and help shape your nose. At the same time, it prevents eyeglasses from slipping when sweating. Nose pads increase the life of your glasses themselves.
Side Lens and Air Holes: Better peripheral vision is always important when riding a bike at night. These glasses take all that glare away; it's pretty amazing. Another worth-mentioning feature is the air holes. It will be more likely that heat and humidity will move through those vents.
Final Thought
These glasses are great for wearing over your existing prescription glasses. Even if you don't wear prescription glasses, they have a good stylish look. The design is excellent, stylish, very comfortable, and light. As far as wearing them at night, they are just perfect.
5. Best Multi-Functional Night Vision Eyewear: VCAN Polarized Motorcycle Riding Glasses
The VCAN Polarized Motorcycle Riding Glasses is a multifunctional eyeglass, ideal for motorcycling, cycling, and hiking. If your budget is tight, you are probably interested in this glass. The glass comes with 4 interchangeable lenses: Neutral Grey polarized lens, Clear MLC non-polarized lens, Copper, and Cadmium Yellow tint.
VCAN Polarized Motorcycle Riding Glasses: Technical Details
| | |
| --- | --- |
| Gender | Men and Women |
| Frame Material | Plastic |
| Lens | Polarized Polycarbonate Lens |
| Weight | 8.29 oz. |
| Frame width | 6" |
Features & Benefits
Polarized Foam Padded Sunglasses: Polarized lenses efficiently reduce reflective glares off of highways or other reflective surfaces. If your eyes continuously get exposed to reflective glasses, you will more likely have eye fatigue. These specialized polarized foam-padded sunglasses ensure comfort in every weather condition.
UV400 Protection Polycarbonate Lens: Polycarbonate is a widely used material for eyewear lenses. It naturally filters out blue lights from UV rays. These glasses are lightweight, safe, and comfortable to wear in any environment. Overall, polycarbonate lenses help minimize digital eye strain and the risk of macular degeneration.
Four Interchangeable Lenses: Eyewear with the interchangeable lens is significantly useful. You can wear different sunglasses for different activities by exchanging the lens. However, don't be worried, thinking that the lenses are hard to interchange. The truth is, they are extremely effortless to exchange. All you need to do is, follow the manufacturer's instructions to remove and install the lens.
Rubber Ear Pads: Glass legs are designed with non-slip rubber, increasing stability when wearing. They allow the eyewear to stay securely in place without slipping down your nose or falling off.
Durable Construction: The frame is made of plastic and has a matte black finish, giving the eyewear a stylish look. These things are tough and comfortable.
Final Thought
If versatility and top quality are your priority, grab these night riding glasses without thinking twice. All the lenses are polycarbonate, shatter-resistant and scratch-proof. It also includes a hard case, cleaning cloth, pouch, and sports headband for protection.
6. Best Impact-resistant: Eagle Eyes FitOns Polarized Sunglasses
Promote your eyes health and improve your vision when riding a motorcycle at night by wearing the Eagle Eyes FitOns Polarized Sunglasses. It absorbs 95% harmful blue lights for optimum safety and protection. These lenses will give you a crisp and clear image all the time. You can see super clear without darkness or distortion.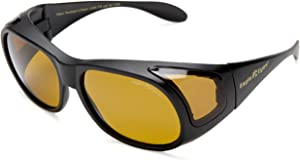 Eagle Eyes FitOns Polarized Sunglasses: Technical Details
| | | |
| --- | --- | --- |
| Gender | | Men and Women |
| Frame Material | | Technol PC |
| Lens width | | 63 mm |
| Lens height | | 45 mm |
| Bridge | | 16 mm |
| Temple | | 120 mm |
Features & Benefits
Polycarbonate Frame: Polycarbonate is well-known for its durability and flexibility. Being constructed with a polycarbonate frame, this frame is 10X more impact-resistant compared to plastic or other components. Thus, the frame doesn't break or shatter easily. Simultaneously, it resists scratch effectively, providing long-lasting service.
Polycarbonate Lens: Characteristically, polycarbonate is lighter than plastic and provides 100% UV protection. This way, these lenses are the best choices for active adults and kids.
TriLenium Polarized Lens Technology: The TriLenium polarized lens technology offers dual-action benefits: superior eye protection and maximum optical clarity. Also, the technology helps to block out 99.9% of harmful UVA and UVB rays.
Side Lens: Side lens prevents anything from entering the eyes from either side of the glass.
Scratch-guard Coatings: The lens has scratch-guard coatings on it. Thus, dust, dirt, stones, or debris can't put scratch marks or spots over the lens. The most important thing is; the lens protects your eyes efficiently from impacts.
Final Thought
These particular sunglasses are good for sharper images in reflective light, low light situations, nighttime driving in traffic. Overall, these Eagle Eyes glasses are simply perfect, attractive, and reasonably priced, providing clear views and intensified colors that make everything look cheerful.
7. Best for Comfortability: BLUPOND Night Driving Glasses for Men/Women
Comfort, support, and durability – these words perfectly match with the BLUPOND Night Driving Glasses for Men/Women. The yellow tint eliminates bright lights in the night and provides a crisp and clear vision. In addition, it resists dangerous UV rays and protects your eye successfully.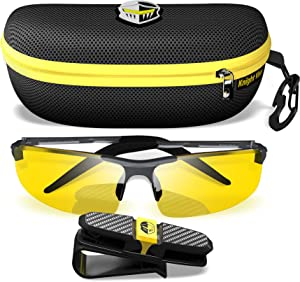 BLUPOND Night Driving Glasses: Technical Details
| | |
| --- | --- |
| Gender | Men and Women |
| Frame Material | Metal |
| Lens | Semi-polarized 105 UV 400 Protection Lens |
| Lens width | 2.7" |
| Weight | 7.2 oz. |
Features & Benefits
Premium Night Vision Glasses: This night glass is equipped with HD night vision lenses that provide sharp, crisp, and clear sight in low light conditions. These lenses amplify the lights surrounding you. They are specially designed for people who drive a motorcycle at night. Even truck drivers can use it conveniently. Moreover, it helps reduce eye strain.
Blocks Bright Light of Oncoming Headlights: It uses an amber optical filter. The responsibility of this filter is to transform annoying white light to warm yellow light. This way, you can drive safely on the roads without eye fatigue. Also, its semi polarized integrated layer blocks harmful light waves from entering your cornea. As a result, it eliminates headaches and blurry vision.
Metal Frame: This motorcycle night glass is extremely flexible due to its metal frame construction. If bent, the frame will return to its original shape without making trouble. Also, the frame is much more durable compared to its counterparts. Metal frames have a minimalist look and are generally thinner and more lightweight than plastic glasses frames.
Semi-rimless Design: The semi-rimless design gives it an elegant and stylish look. Moreover, it provides a larger field of view while driving. This means you can clearly see your surroundings, helping you avoid a dangerous accident.
Protective Scratch-proof Coating: Lenses are prone to scratch and ugly scrapes on the surface. These scratches can reduce the lifespan of the lens. Keeping this point in mind, this night glass features scratch-proof coating, preventing spots on the lens.
Reinforced Hinges: The frame includes reinforced hinges that protect the eyewear from breakage due to sudden squishes or drops.
Final Thought
This eyewear transforms distorted light into a crisp and sharp view with the highest quality materials and 100% UV 400 lenses. It immediately cuts glare and ensures a safe drive on the road at night. Also, this pair is pretty lightweight and comfortable.
8. Best for Different Light Conditions: Paukis Night Driving Glasses
Do you consider yourself to be a fan of night motorbiking? Buy and wear the Paukis Night Driving Glasses, which will make your driving safe and sound. It will also add style by giving you an elegant look. This is a premium quality night glass, suitable for various weather conditions. Your night or low light condition riding will be trouble-free for its anti-reflective yellow lenses.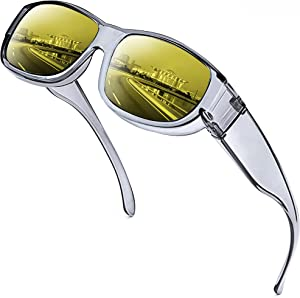 Paukis Night Driving Glasses: Technical Details
| | | |
| --- | --- | --- |
| Gender | | Men and Women |
| Frame Material | | TR90 |
| Lens | | Tri-Acetate Cellulose Lens |
| Lens width | | 61 mm |
| Bridge | | 15 mm |
Features & Benefits
Anti-reflective Yellow Tinted Glass: It boosts contrast and clarity during night driving. Also, by cutting sharp headlights, it promotes clear vision. The glasses perform efficiently in the daylight as well. It enhances vision and reduces blinding glare from the sun during the day. Overall, this pair of glasses reduces light glare, eliminating headaches and eye strain.
Screwless Hinges: No concern to loose screws. It offers ultimate comfort as well as minimalism and a stylish look. This design type is best if you have a highly active lifestyle. You will have the eyewear in place on your face during the activity.
Flexible Temples: Manufactured with soft, flexible, and bendable TR90, it gives extra comfort. The flexible temples keep the glass on your face stably. It is narrow, and adds a sleek look to your eyewear. In addition, these glasses are light and comfortable to wear.
Nose Padless Design: The revolutionary design allows you to wear the glasses without discomfort. Light enough to float on the nose. Using nose pads is entirely unnecessary. These are fabulous! Very sharp optics, amber lens, stylish and comfortable.
Fits Over Existing Eyewear: This high-performance eyewear is crafted to fit conveniently over the existing glass. Not only do they protect your eyes, but the quality of the lenses and the fact that they are polarized make your vision much sharper than polarized glasses.
Final Thought
From eliminating light glare to reducing eye fatigue, these glasses efficiently make your night drive enjoyable and safe. Most of the time, riders face trouble riding a motorbike at night due to oncoming headlights. These glasses minimize the hassle efficiently.
9. Best Lightweight Night Riding Glass: Peekaco Night Driving Glasses
The Peekaco Night Driving Glasses are engineered for both men and women. It is impressively designed with premium features to help you stand out from the crowd. With a wide viewing area, it ensures better viewing. It fits snuggly and stays in its place firmly even when you are doing movements.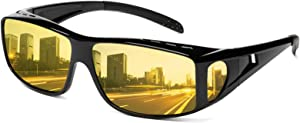 Peekaco Night Driving Glasses: Technical Details
| | |
| --- | --- |
| Gender | Men and Women |
| Frame Material | Plastic |
| Lens | Polarized |
| Lens width | 2.52" |
| Bridge | 16 mm |
Features & Benefits
Maximizes Vision at Night: Dazzling light disturbs motorbike riders when riding in the night. These glasses are responsible for preventing dazzling lights. It features a TAC polarized lens, improving color clarity and protecting your eyes from reflections and harsh lights. Wearing the glasses, you can go for a long trip conveniently.
Humanized Design: Breathable hole design, keep your prescription glasses free from fog after a long time wearing. Sufficient air enters the glass and prevents moisture buildup from giving you crystal clear view. The side lens offers a better peripheral view.
Byphalor Lens: In terms of filtering most of the headlight glare this glass is CHAMPION as it is equipped with Byphalor lens. These lenses are designed with a 7-layer membrane that ensures proper eye protection by filtering 99% of harmful lights. You can completely see pedestrians and other things.
Non-slip Silicone Temple: The temple is covered with silicone, making it anti-slip and friendly to the skin. Wearing the glass over your regular eyewear, you will never feel itchy. More importantly, the glass will stay on your face securely.
Lighter and More Comfortable: The plastic frame and nose padless design make these night vision glasses lighter than their rivals. It doesn't put extra pressure on your nose, ears, and other parts of your face. It is promised to make your night driving safe and memorable.
Final Thought
Want to get comfortable wearing night vision glasses throughout your night motorcycle ride? Don't hesitate and buy this pair of glasses. This ultra-light gives you all-day comfort, and the sleek design is the best option for daily use.
10. Best for Active Riders: DBWEAR Polarized Night Vision Glasses
The DBWEAR Polarized Night Vision Glasses will be your best companion during every night ride with its perfect construction. Its frame is plastic-made, allowing it to deliver long-term service. The half-frame design fits most people. For its flip up functionality, you don't need to take the glasses off when using it temporarily. Moreover, this feature protects your prescription glass from scratches.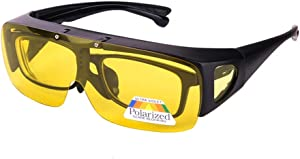 DBWEAR Polarized Night Vision Glasses: Technical Details
| | |
| --- | --- |
| Gender | Men and Women |
| Frame Material | Plastic |
| Lens | 100% polarized |
| Lens width | 70 mm |
| Weight | 3.21 oz. |
Features & Benefits
100% Polarized Lens: Polarized lens glasses are perfect for anyone who spends lots of time outdoors. During high-glare situations, these lenses can enhance your vision. So, you will have less eye strain when riding for long hours.
Flip-Up Design: The worth-mentioning feature of this night vision glass is the flip-up function. As a result, taking it off has become unnecessary when you don't use it for the time being. Additionally, the flip-up feature protects your prescription glass from scratching. However, these glasses are ideal for both non-prescription and prescription mirrors.
Sturdy and Soft Nose Bridge: Adjusting the height of the frame according to your face shape is convenient for its soft and sturdy nose bridge. They can also trap facial oils or sweat, minimizing the chance of slippage of the sunglasses.
Anti-skid Arms: Constant slipping off and non-centered alignment of your eyewear will happen if the night vision glass arms are of cheap quality. You will love to know that this night riding glass comes with anti-skid arms.
Impact Resistant Glass: Dust, dirt, stones can enter your eyes while riding a motorbike. These glasses are 100% impact resistant, protecting your eyes from unwanted things. The glasses come with the highest strength and convenience during rides.
Final Thought
These glasses are great; you can see much better at night with all the lights. Things appear much sharper and crisper. These night glasses can efficiently take care of reflections and glares from the opposite vehicle's lights, streetlights, and wet pavements.
What Are the Benefits of Night Driving Glasses?
People think that night driving glasses are similar to sunglasses. Although some overlaps are there, motorcycle night riding glasses are worn for more important purposes. Riding a motorcycle can be dangerous without eye protection. That is the reason you should wear night vision glasses.
Here are a few benefits of night driving glasses.
Protection Against Glare
Headlight reflections, sun glares, and streetlights are common reasons for motorcycle accidents at night. The best motorcycle glasses for night riding reduce glares for your convenience. You will see clearly without distraction after wearing night ride glasses.
UV Protection
Most night riding glasses are suitable for wearing both day and night. During day rides, UV rays of sunlight can damage your eyes if you go for a ride without a pair of glasses. The good news is that night riding glasses effectively block UV rays and protect your eyes.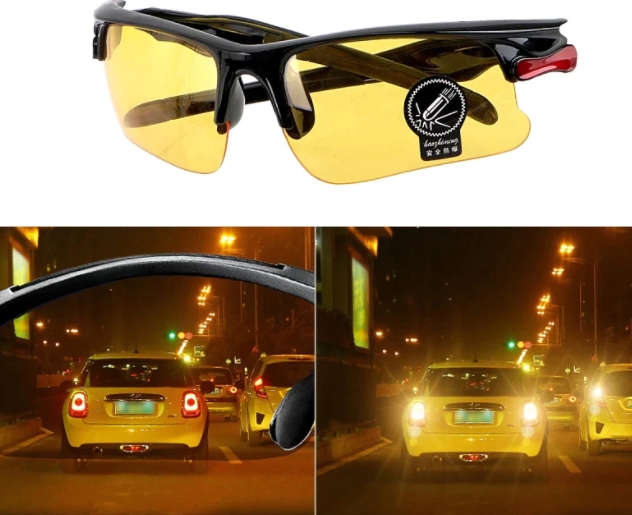 Wind Protection
Many of us wear a helmet without a visor. For those people, a pair of night vision glasses are significantly important to protect their eyes from the wind. When driving a motorcycle, wind directly enters our eyes, making it difficult to look at the road. Motorcycle night vision glasses are the perfect solution to this complication.
Dust Protection
You have to worry about dust as well when riding a motorbike. Insects, debris, and dust can also enter your eyes along with the wind if you don't wear a night-riding glass.
Minimizes Eye Fatigue
Our eyes wrinkle naturally when we ride a bike to block out the reflections or glare. If you wrinkle your eyes for prolonged hours, you will start feeling fatigued. A buffer gets created between our eyes and the sun after wearing night-vision eyewear. Thus, it helps reduce eye strain.
How to Pick the Best Motorcycle Glasses for Night Riding – Buying Guide
All night riding glasses are not built the same. The below features are the differences between poor quality and premium night vision motorcycle glasses.
Tint
The tint is significantly more crucial than you might think. Before choosing a night riding glass, you need to determine how you will be using the glasses. Night vision eyewear comes with different tints.
Generally, the dark tint is best for bright sunlight. While the yellow tint is suitable for low light conditions or night. If you dislike tinted glasses and want something that provides physical protection only, go with a clear lens.
Good Fit
Well-fitted glass is another important factor that you mustn't overlook. The glass can't be loosely fitted or tightly fitted.
Continuous slipping off of the glass will happen if the fitting is loose. On the other hand, you will feel discomfort if your selected glass fits tightly. Both will invite danger in the road.
It would be best to choose the right fitted glass for bike riding, to help you get the expected protection.
Lightweight
The lighter, the better – remember this advice when buying a pair of night vision glasses.
Lightweight glasses will let you feel comfortable for sure, and comfortableness is mandatory when motorcycling. You can go for a long ride wearing lightweight glass.
Helmet Compatibility
Can you ride a motorcycle without a helmet? Undoubtedly, the answer is NO. So, when buying motorcycle night riding glasses, make sure it is compatible with your helmet. Your selected glass has to fit under the helmet snugly. At the same time, it has to be comfortable to wear.
All the reviewed glasses in the review section featured helmet compatibility. Whether you wear a full-face or half-face helmet, you can put on any of the glasses with your helmet without hesitation.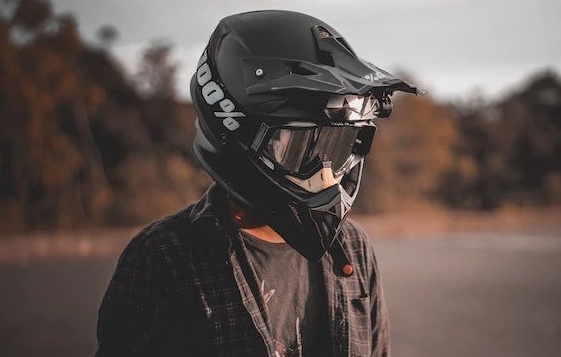 Durability
Buying motorbike night riding glasses frequently is impractical. In this case, durability is vital. The glasses are made of different materials such as plastic, polycarbonate, steel, aluminum, etc. All these materials are good in terms of durability and offer long-lasting service.
Scratch Resistant
The best motorcycle glasses for night riding come with a protective coating to make them scratch-proof.
Night riding glasses face lots of dust, dirt, or insects. These things can create spots or marks on the surface of the glass, and you may have unclear visibility due to this.
So, buy a pair of glasses that has a scratch-resistant coating on them.
Air Venting
Riding in low-light conditions is harder, and things can become more complicated if moisture or fog builds up inside your motorcycle glasses.
Air vents come in handy in this case. Fog or moisture can't build up in the lenses if there is proper venting. Make things better by choosing a pair of glasses with a proper ventilation system.
Good Padding
Padding around the lenses has to be good enough to block wind and dust from entering inside of the glass. This will double the comfort, clear visibility, and convenience level.
Frequently Asked Questions
After reading this article on the best motorcycle glasses for night riding, there might be a lot of questions that arise in your mind. Get most of the answers to these questions from the below sections.
Are Polarized Sunglasses Good for Riding Motorcycles?
Polarized sunglasses are the perfect solution for riding motorcycles as they offer the below benefits.
Filters out blue light and eliminates glare
Absorbs 100% of UVA and UVB lights
Allows 100% visible lights to enter your eyes
Improves vision in night rides
Reduces eye strain
Are Polarized Glasses Worth It?
Polarized glasses will be the best option to drive safely if you drive a motorbike or truck, or other vehicles too frequently. These glasses block unwanted sun glare, the reflection of oncoming vehicles, streetlights, and ensure clear visibility. A polarized glass will allow you to enjoy glare-free motorcycle riding.
Can You Wear Regular Sunglasses on A Motorbike?
Yes, you can wear it. Whether prescription glasses or regular sunglasses, there is no valid reason you can't wear them on a motorbike.
However, wearing glasses can be tricky sometimes. The glass can swipe off from your head when riding at high speed and leave your eyes unprotected. In this case, make sure the glass is perfectly fitted.
Do Motorcyclists Wear Goggles?
There are different goggles available in the market, specially designed for motorcyclists. While riding a motorcycle, the most important thing is to wear eyewear to protect the eyes. Goggles are efficient enough to provide the required eye protection. At the same time, they promote your vision, making them a good option for motorcyclists.
Can You Wear a Motorbike Helmet with Glasses?
Wearing a motorbike helmet with regular-designed glasses is far from ideal. It can be uncomfortable. Even the glasses may disturb you when you are concentrating on the road.
The good news is that you can wear a motorbike helmet with glasses – all you need to do is buy an eyewear-compatible helmet. This type of helmet will offer the necessary room for your glass so that you can wear both comfortably.
Last Words
Night riding glasses are not a fancy item, and make sure to buy from a renowned manufacturer. Eye protection is mandatory when you ride a motorbike, and it goes double while riding at night. We suggest you buy a couple of pairs of the best motorcycle glasses for night riding so that you can switch between rides.
All the above glasses are an excellent choice for night riding; you can choose any of them. However, if you're still looking for our suggestion to help you pick one, our vote goes to the Harley-Davidson HDTAN05 Men's Tank Sunglasses. You can ride your bike for prolonged hours at night with great comfort wearing them. The smoke gray lenses ensure the required safety and protection by blocking blue lights and offering real vision.