When it comes to motorcycling, one surprising thing to note is that the price of gears is seldom what you plan for. One unique motorcycle gear is the motorcycle helmet, and it sometimes can cost more than your expectations. Asides from that, you'd find out that some motorcycle helmets are usually more expensive than others. That brings us to the question, "Are Expensive Motorcycle Helmets Worth It?"
Expensive motorcycles usually consist of batter design enhanced and lighter materials such as carbon and fiberglass. These better materials, design, and enhanced features make some motorcycle helmets more expensive than others. Typically, helmets that comprise cheaper materials such as polycarbonate are bulkier and provide lesser ventilation than the costlier ones.
This article has discussed all the important things you need to know about motorcycle helmets. Are expensive motorcycle helmets worth it? What makes them worth it? What are the differences between cheap and expensive helmets? We have outlined all in the segments below. On we go.
Are Expensive Motorcycle Helmets Worth It
Are Expensive Motorcycle Helmets Worth It? Expensive motorcycle helmets typically comprise more durable, portable, and lightweight materials than cheaper ones. Manufacturers create these helmets to provide you value for your money. They are usually more efficient and provide more ventilation than lower-quality helmets. Now, consider the following reasons expensive motorcycle helmets are worth it.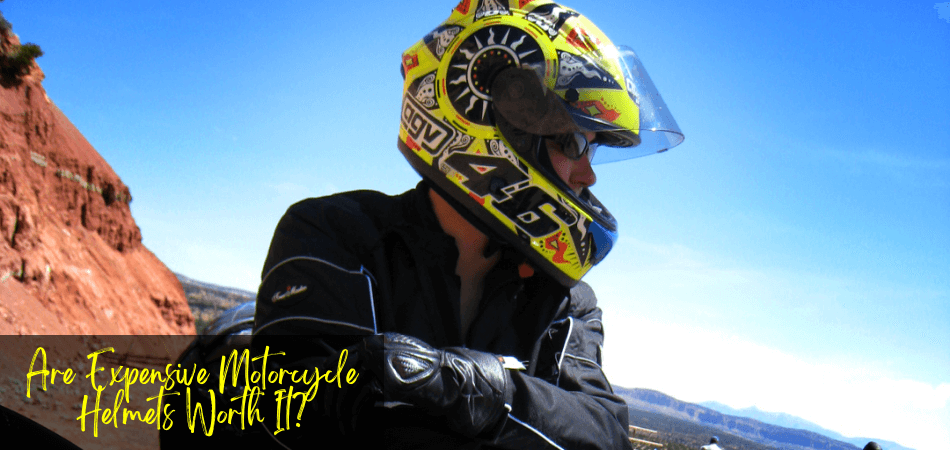 What Makes an Expensive Motorcycle Helmet Worth It?
The materials used in manufacturing them
One main that determines what makes your expensive materials worth it is the material it's made of. As we've already stated, cheaper motorcycle helmets are often heavier, bulkier, have fewer features, and provide lesser ventilation than expensive ones. Additionally, these helmets are usually not long-lasting and prone to abrasions.
It's important to note that motorcycle helmets are composed of materials like fiberglass, carbon, polycarbonate, and other materials. While cheap motorcycle helmets are most often made from polycarbonate, high-quality ones are made from carbon or fiberglass.
These materials are more durable, lightweight, resistant to abrasion, more portable, and of course, more expensive than cheaper-quality motorcycle helmets.
The Production Process
Another important thing to note is that there are several different manufacturing processes for motorcycle helmets, just as there are different motorcycle helmets. Generally, some motorcycle helmets like modular, dirt bikes, full-face, and dual-sport helmets cost more and are more difficult to manufacture and design. On the other hand, open-face (3/4) helmets and half-helmets are simpler and easier to manufacture; Thus, they will be more affordable to obtain.
While shopping for high-quality motorcycle helmets, you can check e-commerce platforms like amazon for modular motorcycle helmets under 200.
The Safety Certifications
For your motorcycle helmets to be more accepted on the street, they must be certified by certain safety certification standards. Theoretically, these certifications should impact most motorcycle helmets equally and shouldn't affect their prices.
Moreover, some companies have unique certifications and standards tests that are more demanding and detailed. These extra tests impact the cost of these motorcycle helmets they manufacture, causing them to become quite expensive to afford.
The Additional Features
We all know this one, extra features! The more options, accessories, and amazing features a motorcycle helmet has, the costlier it will be.
For instance, the helmet's visor can greatly impact the helmet's price. Usually, helmets with additional features like photochromic visors or mirrored visors are more expensive than those that don't have these features. Additionally, even simple additions like helmets with unique designs or stickers will be more expensive than plain, non-decorative ones.
Endorsements
The last factor affecting the cost of motorcycle helmets is endorsements. If a renowned pro-biker is promoting a specific motorcycle helmet brand, this will invariably affect the price of these helmets. It's simple maths—influencer marketing. While we can't exactly define how much impact the endorsement of an influential person or celebrity has on the price of your motorcycle helmet, we all know that it affects it alright.
Now that we've seen the factors that affect expensive motorcycle helmets let's consider the benefits of expensive motorcycle helmets.
Benefits of Expensive Motorcycle Helmet
As we've earlier stated, while certain helmets are more expensive than others, they come with various benefits. More expensive motorcycle helmets are superior to cheaper motorcycle helmets. There are other advantages of expensive motorcycle helmets, and we'd talk about them in the sections below. If you're ready, then let's go.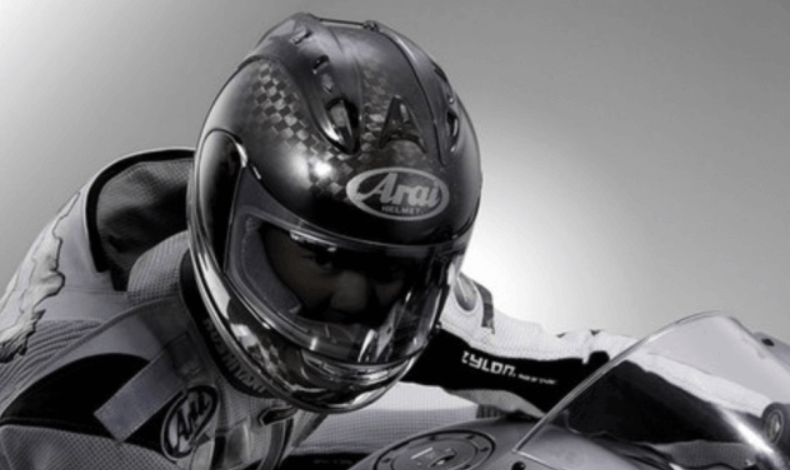 Better Design
Expensive helmets have better designs than cheaper ones. As a rule of thumb, manufacturers produce motorcycle helmets with a more effective design. Generally, these helmets are sleeker and more enhanced than cheaper helmets.
More Comfortable
Expensive helmets are more comfortable to put on. The foams and texture of the materials are softer and very durable. Every material used in making the interior of your expensive motorcycle helmet is created to give one major thing—comfort.
More Features
It's true that the more you spend on your motorcycle helmet, the more features you can expect. More importantly, higher-quality motorcycle helmets aren't only equipped with sophisticated features and accessories, but these tools are more durable to work with.
Noiseless
As we've stated, the costlier a motorcycle helmet is, the more sophisticated it will be. So said, cheaper helmets aren't efficient enough to reduce noise while riding. On the contrary, most expensive motorcycle helmet brands come with more efficient noise removal features. So, you can use these to commute your journeys silently.
More Water-Resistant
Another great perk about expensive helmets is that they are water-resistant. While most helmets are water-proof, the more expensive ones provide tougher water resistance. So, while riding with this kind of helmet on a rainy day, you don't have to worry about water permeating your glass, entering your helmet, and splashing on your eyes.
Lighter and More Portable
If you are looking for a high-end but portable motorcycle helmet, go for an expensive motorcycle helmet. Generally, motorcycle helmets weigh between 2.65 pounds to 5.50 pounds depending on the design, kind, and materials it comprises.
Better Vent
Additionally, expensive motorcycle helmets come with better air vents, as they come in better designs and structures. So, riding with this kind of helmet, you will be able to commute seamlessly and not worry about receiving better ventilation.
Comes in various sizes
One other perk of expensive motorcycle helmets is that they come in various sizes. They offer various sizes instead of using cheaper and more affordable helmets.
Supported on Track Day
Last on our list of benefits of expensive helmets is that you can use them on track days. When it's time to go out sports biking, it'd be much easier for you to ride your motorcycle without having issues of verifications while on the track.
Expensive Vs. Cheap Motorcycle Helmets Differences and Comparison
While, from a broader view, all motorcycle helmets look the same, on a closer perception, there are a lot of distinctions between them. It's very important that, as you're shopping for motorcycle gear, you go for something more efficient, durable, and portable. On the contrary, most often, it's not possible to get all these qualities for a motorcycle helmet without it being expensive. That said, let's look at the differences between an expensive motorcycle helmet and a cheap one.
Ventilation and Anti-fogging
Riding under the summer sun is truly amazing, especially when it's breezy noon. But in a case where the temperatures reach high extremes, one thing you'd truly appreciate while riding is sufficient ventilation. However, expensive motorcycle helmets most times provide more efficient air ventilation than the super-affordable ones. Essentially, as a rider, you can choose to open or close your vents.
Costlier motorcycle helmets come with over 8 to 10 various adjustable vents, whereas they come with over 3 to 4 vents that aren't flexible. While this generally won't matter, it will do on hot days.
Comfort
Typically, more expensive helmets are more comfortable than the more affordable ones. Also, we must agree that this isn't always the situation as people's head sizes differ. However, some motorcycle helmet brands have researched to create more comfortable but costlier helmets.
The ideal way to find out is to try it out, but this access isn't always available. All the same, it's best to note that most expensive helmets are designed to enhance comfort, reduce noise, and be lightweight. But, there's not much focus on these qualities for cheaper ones.
Portability
One major distinction between pricier helmets and cheaper ones is that expensive laptops are more portable and lighter than cheap ones. They usually comprise lightweight carbon fiber, whereas the affordable helmets comprise hard plastic.
A limitation of heavy helmets is that they add more pressure to your neck while riding. Also, while using heavy helmets, you'd begin to notice their weight as you continue riding for long-distance, which is annoying.
Safety
Generally, since expensive motorcycle helmets are made from high-quality, durable, and lightweight materials, they provide more security than cheaper ones made from hard plastic. The materials used in producing them are often tougher and lighter and safety-certified.
Features
Also, costlier helmets are designed with more amazing features in them. They often comprise better straps or face shields that come with tech features. For instance, the photochromatic transitioning features with the visors are meant for auto-darkening. Also, they come with simpler-to-remove padding that is of superior quality.
Additionally, if you want some wireless communication, these helmets come with antennae embedded in them for Bluetooth connections.
Build Quality
Lastly, pricier helmets are usually designed and engineered better than cheaper helmets. These are displayed in the materials used in their production and the quality control production level. What do we mean? Simple. You can know just by holding the helmet if it was properly designed or the manufacturers didn't pay much attention to the structural design of your helmet.
| | | |
| --- | --- | --- |
| Differences | Expensive Motorcycle Helmets | Cheap Motorcycle Helmets |
| Ventilation and Anti-fogging | The materials used in making them are suitable for anti-fogging. Also, they provide sufficient ventilation for riders. | Since their visors are low-cost and low-quality, they don't provide you with very efficient anti-fogging capabilities. In addition, they don't provide very efficient ventilation. |
| Comfort | Materials such as pads and linen are made to be more comfortable for riders. | The materials used in making these kinds of helmets do not provide comfort for users. |
| Portability | One great perk about these expensive motorcycle helmets is that they are designed to be more portable than their cheaper counterparts. | The cheaper motorcycle helmets are usually bulkier, larger, and heavier to carry about. |
| Safety | Since these helmets are costlier, they are made from higher-quality materials. Their frames and other components mainly come from high-quality materials like carbon and fiberglass. | Cheaper motorcycles helmets are made from lower-quality materials like hard plastic. |
| Features | These helmets come with additional features and accessories which make it easier and more fun while riding. | They don't come with many such features. The majority of cheaper helmets don't come with any additional accessories. |
| Build Quality | While building, the designers of these products spend more time ensuring that the helmet is portable and well-structured. | One thing about the cheaper helmets is that they're not designed with a clean structure in mind. |
How Much Should a Good Motorcycle Helmet Cost?
Generally, a motorcycle helmet can cost you circa $150 — $200 for a modest quality. However, for a DOT-certified motorcycle helmet, or even one that is Snell/ECE certified, you should consider spending around $250. On the other hand, if you're looking at a high-end motorcycle helmet, then you should consider $450 to $650 to get it.
Conclusion
We've finished considering the topic of "Are Expensive Motorcycle Helmets Worth It?" now we can say those expensive motorcycle helmets are worth every dime of the pay. Moreover, some helmet brands overhype their products, and you should be wary of such brands. Thus, we recommend you patronize renowned motorcycle helmet brands.