If you're among those people who regularly wear glasses with helmets, you know how disturbing is this if your helmet is not comparable with the glasses. You can smoothly wear motorcycle helmets with glasses but, What motorcycle helmets are good with glasses? When selecting a helmet, you can go for the one which offers enough space inside the helmet to fit and adjust your glasses. Full-face helmets are better for glasses wearers.
These types of helmets have an internal visor as well as offer the flexibility to wear goggles, prescription glasses, and sunglasses. You can also use the half-face helmets as they offer much more space than the full-face helmets.
Can You Wear Glasses In A Motorcycle Helmet?
Various types of helmets are popular among the riders, which are comfortable to wear with glasses. However, you can find some high-quality helmets which have built-in sunglasses. You can use them as sunglasses, or even you can find one that you can use at night. If you're wondering about the safety of wearing them, you don't need to get worried.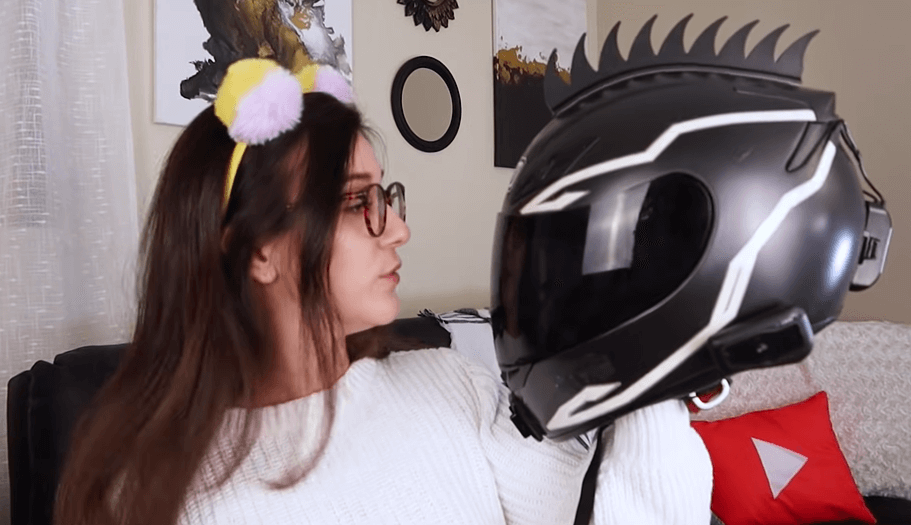 You can use these glasses anywhere, but they can give you a comfortable riding experience before dusk. If your helmet doesn't have any safety shield, you'll almost certainly need to wear some sort of eye protection.
Some states have specific legislation for wearing eye protection. However, you can wear sunglasses beneath the helmet though it has a safety shield-like visor. If you have a visor attached to a full-face helmet, it can protect you from dirt, debris, or rain.  Some sports glasses have little silicone tips on their end. With this, your sports glass can grip the side of your head better.
What Motorcycle Helmets Are Good With Glasses?
Each of the bikers knows that helmets are not designed equal. Unquestionably you can wear helmets with your glasses. But the question is, What motorcycle helmets are good with glasses? There is no special design of a helmet that is compatible with glasses. You can choose any glass-friendly helmet for you. First, you must be concerned with your glasses because you'll require thin, straight-arm glass. These types of glasses can smoothly fit under your helmet.
Don't try to bend the arms of the glasses behind your ears, as it can cause you pain. After selecting your glasses, go for the helmet design. Select a motorcycle helmet for glasses that have enough space inside them.
This extra space will help you wear your glasses properly without any pressure on your nose as well as your brows. While searching for the right helmet, you can find some designs that are best for this purpose. If As long as you wear a full-face helmet, you will have complete head coverage during an incident. However, you'll get less space in these helmets than in the half-face ones.
This can make you less comfortable fitting your glasses inside the health-face helmet. That's why you must check the ease through a trial before purchasing any of the helmets.
How Do You Put On A Helmet With Glasses?
If you wear glasses and have a motorbike, you know how difficult it is to simultaneously handle the glass and a helmet. There are several models of a motorcycle helmet for glasses that you can use in this circumstance. Here are the details on how do you put on a helmet with glasses-
Prescription Glasses
You need to select a helmet with cutouts or groves in the temples to accomplish with a prescription glass. These types of helmets can help your glass arms to hold on in the right place and avoid hitting the templates. Otherwise, wearing glasses can be painful for you and your ears. You can choose the flip-up and open-faced helmets and have a great experience.
Goggles With Helmet
A high-quality goggle can protect from wind, insects, or debris which can cause crashes. To comfortably wear the goggle and see clearly while riding, you need to wear them with your helmet. You can wear your favorite goggles with an open-face helmet, as these helmets can protect your head during any incident. Be sure to choose a goggle with a leather or cloth strap that can be adjusted.
Sunglasses with Helmet
Wearing sunglasses with a bike helmet is similarly challenging to wearing prescription glasses. To wear sunglasses, you have to put on the helmet first. Then try to wear the sunglass outside the straps. Wear the sunglass this way will be helpful as they'll not take off suddenly. But you can put your sunglasses inside the straps if they have thin temples.
What To Consider While Purchasing Motorcycle Helmet For Glasses Wearers
Buying a helmet for glasses requires consideration of several factors. In this section, we will try to give you some tips on this-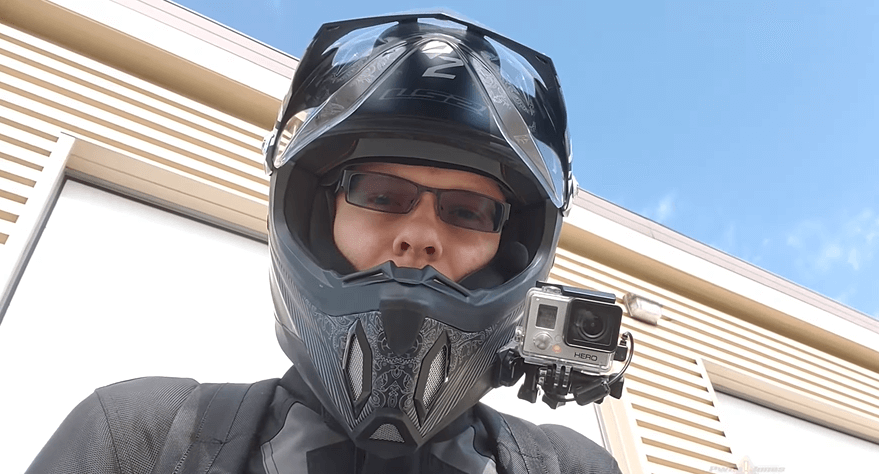 Weight And The Right Size
We all wear helmets for head protection, which is an essential component for a rider. Most helmets weigh most 3 to 5 lbs; sometimes, their extra weight bothers long-distance riders because of the weight.
Meanwhile, you can not wear a lightweight helmet because of your safety. That's why the best solution for this issue is to find out the right-sized helmet. Make sure it has some weight that will help the helmet stay secure in the right place.
Design Type
Helmets have different model and type, which offers different levels of safety. Full-faced helmets are aimed to cover the whole head, but not all of them are compatible with glasses. On the other hand, open-faced as well as half-helmets are suitable to wear with glasses. Also, they offer proper safety for the top and back sides of your head.
Helmet Safety Ratings
Check the safety ratings of your helmet, as it will provide head protection while riding. There is some safety regulation in the USA that your helmet should meet the DOT certification. If you're purchasing your helmet from the UK, this should meet ECE standard requirements. Other safety ratings are Snell-certified. It's helpful to go with these safety ratings and buy the best helmet.
Ventilation
All the glass wearers always face a typical issue: lens fogging up. Though most helmets have a pinlock visor system, that doesn't mean your glasses will be fog-free. Using anti-fog sprays is not the main issue, but having the best helmet with a good ventilation system will make it easier for you. Proper ventilation will not allow condensation to build up inside your helmet.
Before purchasing your helmet, ensure it has a big intake, including capable exhaust ports at the back. It'll help you to keep the airflow in your helmet.
Fit And Comfort Features
Helmets are available in different models. Some of them have straps with which you can set the helmet according to the dimension of your head. You can measure helmet comfort in several ways. The most popular one is how long you'll be wearing the helmet and feel well. After so many features, some helmets have a special padding system that will fit with glasses.
Frequently Asked Questions
Before selecting the helmet that is good with glasses, it'll be best if you asked yourself some hard questions. You will get a better idea of which helmet suits you when you know the answers to these questions.
What Can I Do If The Glass Is Broken Inside My Helmet?
Glass is essential to your helmet because it helps you ride safely. You must be careful while cleaning and washing to deal with these sensitive products. If you ride with a helmet when the glass is broken, it'll be a risk. The best thing you can do is to change the glass and reuse the helmet.
Is HJC Motorcycle Helmets Are Good With Glasses?
The HJC model is perfect for glass wearers at a reasonable price. These helmets are lightweight with superior fit as well as comfort. They used advanced CAD technology to design it and have a pinlock pin-prepared visor.
HJC has a micro buckle fastening system along with glasses grooves. That's why these helmets are good for the glasses wearers. With the modular system, you can put your glasses on easily.
Do Glasses Fog In A Motorcycle Helmet?
Due to the weather like cold or rain, your helmet glasses can start fogging. Though foggy motorcycle helmet glasses are mostly annoying, they can be dangerous too.
While riding your motorcycle, if you can't see properly, something bad can happen on the road. This is an ultimate issue that you can't ignore and go for a ride. However, there are several preventive things you can do to prevent fogging your helmet.
Can I Wear Glasses Under Motorcycle Goggles?
Googles and glasses are not the same, glasses have arms to hold, but goggles need adjustable straps to fit, which are made of elastic material. There are several models and designs of motorcycle goggles that you can put on over your glasses.
If you use prescription glasses, try them on OTG goggles, which you can easily fit over your glasses. These types of goggles are really helpful as it's designed to protect prescription glasses and prevent any damage.
Conclusion
Wearing a motorcycle helmet with glasses can be difficult if you don't choose the right helmet. So, What motorcycle helmets are good with glasses? While selecting your helmet for glasses, don't try to put your head in a narrow helmet that fits your head dimension.
It can cause pain and create difficulty when you try to fit your glasses. Choose a glass with a standard plastic frame that is very light and thin. If you're among those who have fashionable frames, you need to change the liner, top liner, and the end of the cheek pads.
Thus you can fit your glasses with the helmet effortlessly. If you spend some more money, you can fit your glasses in a better helmet, and the liners of your glasses will be smooth and soft to fit in your helmet.